The corona virus lock-down taught me many things which I never though of in my life, one of the most hectic thing was washing utensils for which I did not have any machine so far in my kitchen. For washing cloths, even for grinding floor I bought Atta chakki, but I never though of dishwasher as an option since my house maid did everything at an ease. So before the lock down reopens now I am ready with my research on best dishwasher in India with lot of discussion with family and friends who already own different Indian brands of dish washers, google reviews, amazon reviews …
So far I had seen dishwashers only used in big restaurants and hotels, but very few of my family and friends own a dishwasher, mainly due to the low cost of servants (I mean housemaids) in India. Also due to typical spicy cooking ways across India, people never think that a machine can clean the spicy & sticky utensils the way a housemaid can do it.
One more point in India is the kitchen space is not such as to accommodate one big machine only to wash dishes! there are no special plumbing done or high pressure piping available for dishwashers. So even though one thinks of buying a dishwasher, he will not do it unless pushed to limits, or he is too much tech savvy.
Pro Tip – If you buy a dishwasher, best is to keep it at some height rather than arranging on lower floor height with kitchen rack, this is for the simple reason that loading and unloading utensils in the lower tray needs bending every time, which is a pain.
Time has changed now!
Covid-19 has taught me to be independent of housemaids!!
Now I am no more interested in piling up dishes at night so that the maid will do the work next day!!!
I don't like the smell created due to warm India climate in case I pile up dishes, I want things to be clean every day after each meal.
Technology has changed suiting Indian way of cooking !!
Firstly the dishwashers were used only in rich countries which are essentially machines to remove the soiling and dirt from the utensils and dishes by cleansing it, spraying hot water, rinsing and drawing. Which later came to countries like India where the standard of living is steeply increasing and people are ready to spend.
OKay, as I began my research on best dishwasher in India I am amazed to know the progress made over years with lot on innovations which made the dishwashers suitable for typical Indian cooking which is always oily and spicy.
The dishwashers now are equipped with heaters too which let the utensils and dishes dry in minutes which is specially useful in monsoon season (And also important part of hygiene now in Covid-19 situation)
Examples of India specific features of dishwashers –
Most of the dishwashers now advertise an intensive kadhai feature which guarantees removal of all stubborn masala stains, turmeric and oil.
Secondly they hold flexible racks to accommodate variable sizes and shapes of Indian cooking vessels, most importantly the pressure cooker.
Dishwasher is best solution to Water shortage 
One more learning I had during my study is dishwasher is a powerful solution to water challenge that most of the Indian city extensions facing today. Yes, enormous growth has caused this problem rescently.
In such areas where water is valuable resource and costly too, dishwasher will save lot of water for you. Just observe, how much the housemaid is wasting as she washes utensils under flowing water taps.
Along-with saving the water, the heat and steam combination of dishwashers allow utensils to clean better, with less water, than hand washing.
Just for your information, the tap which is left open during cleaning consumes between 3.5 to 5 times as much water as a dishwasher with its hot, high-pressure jets ! Wow!! its lot of saving when we buy water in tankers each day!!
How I have selected the Top 5 Dishwashers in India?
As I am a research person, I know that more time I spend initially to finalize the brand and size of dishwasher, less time I will spend later on maintenance and issues.
So first way was to have initial research over internet to shortlist the experiences of people all over India. And later I personally called my family and friends who already own dish washers since 3-4 years.
I did video calls to see how the machines are working, visited one of close friend to get an idea of noise levels, discussed pros and cons of each brand, value for money as they think over years of use …
Again each had different views, but being R&D person I am able to make out what is the best (already used to have customer interviews for new product making)
Anyway – remember that not only the selection of dishwasher is important but also you should know upfront does and don'ts, correct way how to use dishwasher in Indian conditions, use of detergents etc. else you will find that output is not good. So I have tried to cover all video guides as a part of my investigation on best brand of dishwasher in India. And also added few videos in the article for quick reference.
What is a 12 Place size setting in dishwasher?
As I started looking into specs of dishwashers, I saw something like 12 place setting?
I wondered … What the hell is this 12 place setting?…
Its simple, it means that your dishwasher can hold around 12 dinner plates, 12 soup plates, 12 teacups and saucers, 12 dessert plates, 12 tumblers, 12 individual knives, forks, soup spoons, teaspoons and dessert spoons.
So you can say that 12 place size is suitable generally for family size of 6 members.
How much space I need for dishwasher in my kitchen or bathroom or dry balcony?
Now next challenge is availability of space for keeping dishwasher (which is generally difficult to find if you have old flat or house in India)
So since the dishwashers are based on European or American designs, they mostly have standard size of fitting into a 35×24 inch cavity.
Also important is provision of Water Inlet, Water outlet and a Power point. Also I recommend keeping the machine at some height say 1 feet above the ground level for easy loading and unloading inside lower tray.
Other misc things which I detailed out at the end of this article are about –
How much noise my dishwasher will make?
Generally the noise levels of dishwashers are around 40-50 dB which are not that much. In fact my cousin sister loads plates at night time and the program runs overnight. I was staying at her house last year and did not notice the noise in bedroom. I think this much is more than suffice.
Better to look at actual dishwashers in shop to know more about rack features like Third racks, Adjustable or Removable racks or Silverware caddies.
Ask how is the auto cleaning system.
To keep the electricity bills – buy Energy star rated dishwashers
There are other options too like soil sensors, half load options, drying cycles and speed or eco-wash cycles.
Water saving considerations
So I think remaining information I am covering at the end of this post – so if you want to know more details on dishwashers, you read it, else simply go by my top 5 dishwasher in India list.
List of Best Top 5 Dishwashers In India for 2021
Dishwasher Brand
BOSCH
IFB
Siemens
BOSCH
Whirlpool
Dishwasher model
SMS66GI01I
Neptune VX
SN256I01GI
SMS40E32EU
PowerClean
WFC3C24 PF IN
Price
Best Buy
Best Buy
Best Buy
Best Buy
Best Buy
Dimensions, cm
60 x 60 x 84.5
60 x 60 x 84.5
60 x 60 x 84.5
60 x 60 x 84.5
65 x 67.5 x 91
Noise level
52 dB (A)
49 dB (A)
52 dB (A)
52 dB (A)
44 dB (A)
Water consumption
13 litres
9 litres
13 litres
14 litres
9.5 litres
Energy consumption
1.02 kWh
0.9 kWh
1.02 kWh
1.02 kWh
1.9 kWh
Weight
44.5 kg
46 kg
45 kg
43.4 kg
49 kg
1) IFB Neptune VX Fully Automatic Dishwasher review
This model is my own selection and tops in my list with benefits of Lower power consumption, low noise, and low water consumption.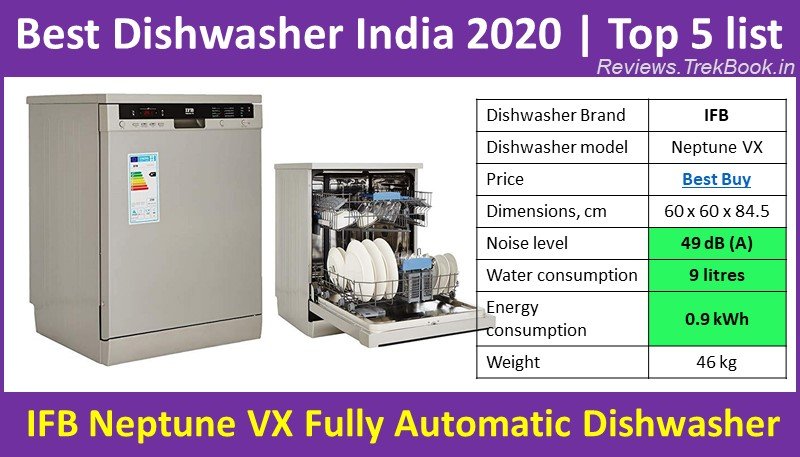 IFB is present in India since last thirty years in range of home appliances including laundry, kitchen and living solutions.
They are known for the Contemporary Design with Great Functionality 🙂
Another plus point is their wide service area network across India. (this is very important for those having service with frequent transfers – like a military service)
Salient features of IFB Neptune VX dishwasher :
Overall packaging dimensions are 60 x 60 x 84.5 cm
Net Weight is 46 kg
Energy Consumption 0.9 kWh
Water Consumption 9 litres
Noise Level – 49 dB (A)
Breakable glass utensils :
Inbuilt heater washes and sanitizes your utensils simultaneously at high temperature.
Jet washer mode (fast 18 mins only and efficient  too)
For cleaning the lesser greasy utensils like coffee mugs, teacups, milk and tea making utensils. With this mode, you can use its four-place settings capacity, You get quick wash in matter of minutes.
Water & Energy-saving :
Consumes just 9 Lit of water each cycle, with 0.9 kWh electricity consumption. So tonnes of saving on water and power.
Huge space
Racks and shelves adjustable through its height. This means more utensils can be packed inside with variable sizes which are inherent part of Indian cooking.
Flexible half-load mode
Allows one to load either the upper rack or the lower rack or both of them together depending on the kind of utensils lined up for cleaning.
Water softening device
If you have issue of hard water in your area, then no need to worry, its water softening device can soften hard water up to 60 dh so that the detergent can dissolve perfectly in it, thereby cleaning the dishes and utensils more efficiently.
Steam drying option
This function allows vaporization of moisture, leaving the utensils perfectly dried out without leaving a speck of detergent or moisture mark over them.
Pros:
Water softening device for better cleaning.
Cons:
Slightly expensive.
2) Bosch 12 Place Settings Dishwasher Review
Top in my list is Bosch dishwasher for the known reason that Bosch German technology makes it the best in terms of ruggedness, innovation, utility over the years. Bosch holds number of patents btw.
The model I am suggesting here is SMS66GI01I which will be suitable for a family of 6 persons.
Salient features of BOSCH SMS66GI01I dishwasher :
Overall packaging dimensions are 84.5 x 60 x 60 cm
Net Weight is 44.5 kg
Energy Consumption 1.02 kWh
Water Consumption 13 L
Noise Level – 52 dB (A)
Auto program mode which takes care of all kind of soiled dishes. Program automatically adjusts the water usage, water temperature and rinse time to deliver you an optimum wash even for the dirtiest of your dishes.
Intensive Kadhai mode :
This dishwasher model have intensive Kadhai 70° mode which runs a special program for heavily soiled Kadhais, Pots and Pans applying intensive washing and drying cycles.
Extra Dry Option :
This dishwasher model have an Extra Dry option which enhances dry cycle to deliver perfectly dried dishes even in monsoon season or items like plastic plates.
EcoSilence Drive :
This machine uses brush-less motor which inherently delivers power at high efficiency and almost noiseless (silent). Also durability of brush-less motor will be high (low maintenance, almost practically no-maintenance)
No water wastage :
The light beam senses the level of soiling and turbulence of water and adjusts the water usage hence saving any wastage of water.
Breakable glass utensils :
The dishwasher is designed to take care of serious washing of these soft utensils. So no worries.
Rusting of machine from inside :
The interior surfaces are treated with special surface treatment which prevents rusting of panels ensuring lifelong service without any worries.
In fact this is endorsed by the 10 years warranty against rusting by BOSCH (conditions apply)
Operating the machine :
Operating the machine is quite simple, you can refer to the video which I have embeded into this article (since all machines have similar operation mode, any video is okay, plus BOSCH person will come to your home for demonstration, just remember to keep some soiled utensils like milk cooker ready for demo :0)
So all that you have to do is open the front loading door, look at the simple directions (SOP) on door.
Load the Rinse aid at indicated location (its generally a small opening) which lasts for about 20 wash cycles.
Dishwasher detergent to be loaded just beside with the rinse aid hole.
Finally Dishwasher salt is loaded in a hole deep inside the machine.
Pros:
Childproof door lock and door latch. So safe for those having kids at home.
No breakage of expensive crockery
Cons:
Loading utensils in the lower tray one needs to bend every time.
Best solution is to keep the machine at height of about 1 feet from ground.
Pro Tip – Milk cooker – to get best cleaning pourwater inside milk cooker and keep for about 15 minutes and then load inside dishwasher
3) Siemens 12 Place Settings Dishwasher Review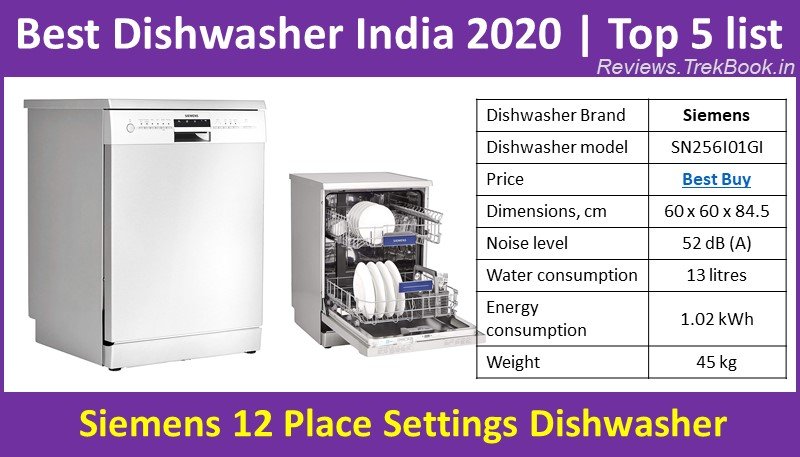 Again one more giant company Simens with its robust dischwasher model SN256I01GI which will serve you for years to come.
Salient features of Siemens SN256I01GI dishwasher :
Overall packaging dimensions are 60 x 60 x 84.5 cm
Net Weight is 45 kg
Energy Consumption 1.02 kWh
Water Consumption 13 litres
Noise Level – 52 dB (A)
Preactivated VarioSpeed
Reduces wash cycle time without compromising on wash results delivering clean and dry dishes under an hour.
HalfLoad
This cycle cleans the dishes without having to wait for the machine to be fully-loaded while saving water and energy at the same time.
iQdrive
Ensures highly efficient, quiet and long-lasting motor operation.
Other features of this dishwasher includes Top Shower, DosageAssist basket, HydroMix glass care protection technology
Pros:
Childproof door lock.
Cons:
Less known than brands like IFB for dishwashers area
Pro Tip – Remove big food particles from all the plates and vessels to avoid outline clogging. 
4) Bosch 12 Place Setting Dishwasher Review
Although the top 5 features one of the Bosch models in this list. I am again including one more model SMS40E32EU from them which will be an alternate cost effective option for you.
Salient features of BOSCH SMS40E32EU dishwasher :
Overall packaging dimensions are 84.5 x 60 x 60 cm
Net Weight is 43.4 kg
Energy Consumption 1.02 kWh
Water Consumption 14 litres
Noise Level – 52 dB (A)
The racks are large, optimal for almost any kind of Indian utensils.
Super quite operation
Good for family of 5-6 persons
4 wash programs
Water Consumption of 14 Liter.
Half load function saves water,electricity and time
In case there is a lesser load, you can opt for the half load function
Manufacturers Warranty of 2 years on product.
10 year rust warranty
Using best surface treatement on tub, Bosch is able to provide 10 years warranty against rust-through of dishwashers inner-tub.
Pros:
Water leakage detector
The machine detects any water leakage and automatically stops water supply to make sure that your house is not dirty due to water overflow
lifetime warranty.
Light on your pocket
Cons:
Pro Tip – Scrub sticky kadhai and vessels, and keep them filled with water for 15 minutes for best results. (which you also do while the housemaid washes utensils)
5) Whirlpool 14 Place Settings Dishwasher Review
Whirlpool entered India in the late 1980s. Later Kelvinator and TVS acquisitions were merged to create, Whirlpool  India Limited in 1996. Now they are into washing machines, refrigerator, microwave ovens, dishwashers and air conditioners with their three state-of-the-art manufacturing facilities at Faridabad, Pondicherry and Pune.
Whrilpool has expanded market share due to their intelligent, intuitive and innovative home appliances delivering better than expected results in everyday tasks at home.
The model I am recommending is PowerClean-WFC3C24 PF IN.
Salient features of Whirlpool PowerClean-WFC3C24 PF IN dishwasher :
Overall packaging dimensions are 65 x 67.5 x 91 cm
Net Weight is 49 kg
Energy Consumption 1.9 kWh
Water Consumption 9.5 litres
Noise Level – 44 dB (A)
Powerclean pro-technology
its a kind of an intelligent 6th sense technology delivering outstanding cleaning results with up to 50% savings of time and water. (you can see that specs itself shows lowest water consumption)
Innovative power clean loading system
With 8 fold-able lower racks and 4 fold-able upper racks. This dishwasher has flexible loading solutions of up to 14 place settings.
Pros:
Silent operation (so good to be used during night time while you goto sleep)
44 dB this is quietest  of all dishwashers that we are comparing here. .. you will barely hear it running with that typical water swashing sound.
Cons:
Comparatively lower brand value .. its like comparing Apple iPhone with other phones .. so owning BOSCH or IFB vs Whielpool is something like that.
Dishwasher Buying Guide for Indian cooking conditions :
First thing as an Indian buyer is you are reluctant to go for a dishwasher 🙂
Second thing is Indian market is flooded with plenty of options of dishwashers !! You will surely get confused which one to buy and why?
Fortunately one of the common thing in case of dishwashers is that they all have (almost) same size (few cms difference) so major chunk of finding space is gone (which is case in say microwave oven, refrigerator, washing machines etc)
First question first … Is dishwasher useful in Indian cooking style?
Typical Indian cooking involves spices roasted / fried in lot of cooking oil making the kadhai difficult to clean.
Its obvious that people believe that only a housemaid can rub it and get things clean.
However in cities where big housing complexes are built and no slums nearby, its highly difficult to get housemaids, if at all you get one, you need to pay in thousands. Also if both husband and wife are working, its tough to leave home keys to the maid ! putting things on risk.
And that is the reason why dishwashers are becoming equally important like washing machines. (remember in the beginning people were not ready to believe that washing machines can clean cloths, but now things have changed)
So if you ask me "Is dishwasher useful in India?' I will say surely Yes for 2 reasons, first is availability of housemaids and their payment as well as availability of water is becoming difficult.
Also with new situation of Covid-19 which will persist over year or so in 2021, dishwasher will be a necessity rather than a luxury for each home in cities across India. So SAFETY Supersedes over cost of purchase.
Also when you compare if the dishwasher vs hand washing which cleans better? …. I have added some photos showing that modern dishwashers with the proper dish washing soap will do equally or better job than a housemaid.
So what are other important points you can check for a good dishwasher selection in Indian conditions?
What are the types of Dishwashers available in India?

There are three types of dishwashers available in India.
1) Built-in dishwashers,
2) Free standing dishwashers
3) Table top small dish washer or counter top dishwasher.

Built-in dishwashers, are built into the kitchen cabinets, and hence cannot be moved to a different position.

Free standing dishwashers are floor standing dishwashers that can be moved as per your requirement only needing a water inlet and drain provision.

Table-top or counter-top small dishwashers are small sized cheap option especially suited for a small family who do not have many dishes to be washed and no special plumbing needs.

What dishwasher place settings mean and is it related to family size?

Dishwasher place settings are defined by an international standard for the capacity of a dishwasher.

So one place setting consists of one each of the following items:
Dinner plate, dessert plate, dessert spoon, soup plate, soup spoon, glass, cup, saucer, teaspoon, knife, fork.

Obviously the IS refers to the Western or European eating habits, but in due course of time Indian manufactures have modified these places as flexible to accommodate utensils like Kadhai or milk cookers or odd sizes and shapes of utensils used across India for cooking.

What is Running cost of Dishwasher? Is it expensive?

Apart from initial buying cost of dishwasher, you want to know
How much does it cost to run a dishwasher every day?

So simple calculation from my side is as follows –

Consumables = Rs.9 (branded dishwasher soap or detergent powder + cost of Rinse Aid + salt.)
Electricity charge = Rs.7.50 (1.5 units of electricity and electricity costs Rs.5- per unit)
Around 20L Water = Rs. 1

Total cost = Rs.17.50 per day of one dish wash cycle.

However if you want to use a branded all-in-one dish washing tablet then, instead of Rs. 9, cost might go upto Rs.45 per dishwasher wash cycle.

So in approximately Rs 500 per month you will be able to get automatic cleaning without fear of Covid-19 or absentee of housemaid or handing over home keys to her.

Depreciation cost (Assuming 7 year life for dishwasher)

Dishwasher cost including interest, at about Rs.42,000

Hence cost per year Rs.6000 or cost per month is Rs.500

Hence Total cost of dishwasher including initial price put in = Rs.1000- per month.

Reference for prices is taken from Amazon India as on May 2021 (lockdown period)

The Finish Quantum Max Dishwasher Tablet available in India from Amazon India – 18 tablets

Another cheap alternative is 'Fortune Dishwasher Detergent' from Amazon India.
Note – 1 Kg of Dishwasher soap will last for about 40 washes,

Rinse Aid 500ml bottles at Amazon India.
500ml bottle will last for about 90 cycles so for 40 washes the cost will be half the cost of one bottle

2Kg Dishwasher salt at Amazon India.
1 Kg.of dishwasher salt will last for 90 days for normal tap water, so the cost will be half of 1Kg price

Pro Tip – Do not forget to look for Combo pack on Amazon where you can get dishwasher soap, rinse-aid and salt together on a special deal.

How much Electricity cost to run dishwasher in India?

If you fear that dishwashers consume a lot of electricity …. then don't worry.

On an average dishwasher consumes less than 1.5 units of electricity per  dishwasher wash cycle. (with heater) and less than 1 unit without heater (in Eco mode)

How it compares Dishwasher vs hand washing cost?

Housemaid cost in most of the cities like Chennai, Bangalore, Hyderabad, Mumbai, Pune will surely be around 500 to 2000 Rs (depending upon location)

Also consumables will be more in case of housemaid in terms of water consumption as well as soap used is more by a housemaid as per my own observation and discussion with different owners.

So overall if you see 1000 Rs per month for owning a dishwasher including all consumables and electricity, versus 1000 to 2500 Rs for having a housemaid. Surely dishwasher makes a great deal with additional safety and eliminates any dependency especially for working women.

Which is the Best dishwasher detergent in India?

There will be special soap or detergent required for a dishwasher to get good results.
Amazon.in has almost all brands of dishwasher soaps available in India

Simple thing to remember is to use branded dishwasher soap which uses enzymes to break down starch and proteins in burnt-on or baked-on residue on dishes and make dishes spotlessly clean.

Here modern dishwashers provide sufficient time to break down food stuck to plates and dishes, so the eco cycle may take around 3 hours to complete, but that is perfectly fine since they use less electricity and water still delivering clean pots.

Why to put salt in a dishwasher? Is it MUST?

Salt is used to regenerate the water softener resin used in the dishwasher water softener.

Most of modern Dishwashers are equipped with built in water softener
(Hard water causes several problems like scale on inner cage, ineffective detergent, scaling on the heating coils, blocking of the jet holes on the rotating sprayer hence increased load on the dishwasher pump and high electricity consumption)

So the dishwasher removes the calcium and magnesium ions from hard water replacing with sodium ions to make soft water. Obviously the sodium ions comes from the salt that is put into the dishwasher.

What is Rinse Aid in Dishwasher?

When all washing and cleaning is over, there will be a final rinse cycle. When you sprinkle water on plates, droplets will formation will happen on plate surfaces, when dried it will form spots or stains 🙁

So you add Rinse Aid to the final wash cycle which consists of a chemical called as surfactant which reduces the surface tension of water, preventing the water droplet formation on dishes. Resulting into spotless dry dishes 🙂

Further the rinse aid solution prevents any scaling on the dishes which generally causes them to look dull and cloudy. (Rinse aid consists of soluble acids like citric acid, which does the job)

What is Condensation drying in dishwashers?

Its simple, in the final rinse cycle, dishwasher uses hot water with rinse aid solution.

Now the water is drained leaving the dishes hot, the water evaporates and condenses on the cold walls of the dishwasher inside stainless steel body so no issues.

Other option to dry dishes is to have separate heater coil for drying, however they use more electricity as well as have fear of melting plastic items in lower racks.

So in nutshell condensation drying is better and preferred option in dishwashers.

Noise levels (Sound heard during operation) :

Noise levels are important if you wish to run the dishwasher during night time. My cousin sister is using dishwasher since last 3 years and she always like to run it during night time. So she simply puts it ON with fully loaded which runs for 3 hours .. so by morning she gets things done and dry ready :-)So look for dishwasher which have noise level below 50 dB (decibels) – Voltas noise levels are 44 dB only which is quietest in all.When I experienced it during nighttime when its silent everywhere, most noise is of water swashing like and nothing else. So if you have separate bedroom, then it works fantastic.

Warranty and Maintenance :

Most of the manufacturers provide rust warranty of about 10 years, mainly since the cages and inner walls are made of stainless steel, nothing should happen for lifetime unless you screw it with some mishap.For all other items look for dishwasher with warranty of minimum 2 years.But most important thing is make sure that you have service center nearby in your area, or at least in your city. This is almost important for those who have job seeking for relocation every couple of years, like defense services etc.Other regular item of maintenance is the Filter.
Its not rocket science but simply making sure that the out drain pipe does not get choked generating smell. So its a 10 minute job which you may have to do fortnightly.

How to use dishwasher in India – yes it will be slightly different due to way of cooking

When you have life with housemaid, then also you need to ensure that you put water inside pots so that they do not become dry, else the housemaid will not be able to deliver best results!

She will ask why you have not put in water?

Similarly for a dishwasher you need to take basic precautions to get best results – like removal of solid big particles of leftovers or thick gravy from dishes (this will avoid drain pipe clogging), putting water inside milk cooker or oily kadhai for at least 15 minutes. Rest the machine will take care.

Many people rinse the dishes before putting it inside dishwasher – in my experience it is not required at all, only simple things to do which I have mentioned in above paragraphs are sufficient.

With this simple guidelines, simply load dishes, switch the cycle ON and next day morning you get clean, dry and sparkling plates, glasses and dishes 🙂

A 12 place settings capacity dishwasher is more than suffice for general Indian family.

I have added a video here for giving you an idea and general guidelines on How to use a dishwasher. It shows easy way of using a dishwasher.
I hope this dishwasher buying guide for Indian people created by me while doing research for self buying will be equally useful to you all. And you will find it worth spending sum of hard earned money which you are gong to put inside dishwasher.
Please do comment if you liked it or not. Any improvements / suggestions are always welcome.
I have added List of Best Indian Dishwasher Brands for your ready reference –
Since I went to each manufacturers website to check the features, price, warranty etc. I think you may also like to do same thing. So to help quickly I have added direct links to the best brands of dishwashers in India.