EPF vs NPS Scheme Which money option is better for retirement fund? This is what my study found based on taxability, benefits & withdrawal rules. Download PDF for FREE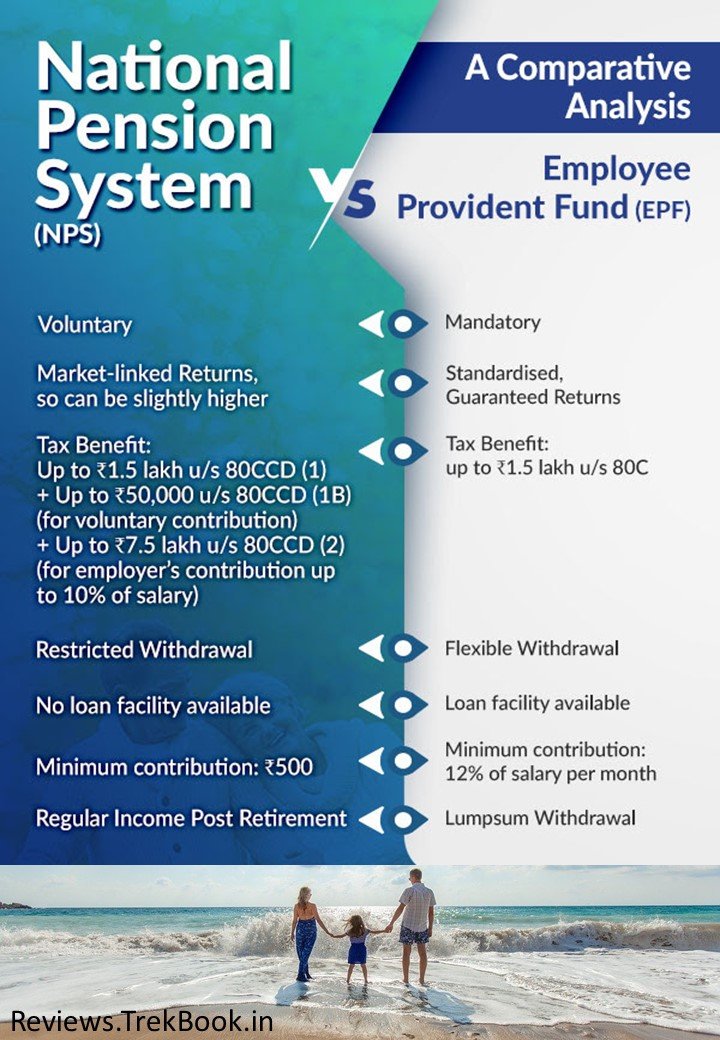 I really do not want to work till age of 60 and then dream of spending rest of life like million people dear of…
When the physical fitness goes for a toss and you have money but can't walk for whole day on a vacation and eat what you want! then whats the use?
So out of all the options that I am planning for retirement fund collection, one of the most known way is EPF which is mandate as per law, and so everyone have it.
However in my case I also have opted for additional voluntary contribution on my part.
Recently I came to know about  another investment option which is linked to equity market and may give me returns since the market grows over year .. so as my funds will grow .. which is called as NPS scheme.
EPF – Employees Provident Fund – Standard option for salaried
EPF as known is mandatory deduction which happens each month for all salaried people like me.
Also my employer have to add his own contribution each month, so I get almost double of my own part into my PF fund each month.
Also the interest rate on PF fund is decided by government (which is 8.65 % per annul in 2020 which is pretty good compared to the other debt fund options available in market)
NPS – National Pension Scheme – Optional or voluntary scheme
The other scheme that I am thinking about comparing with EPF is the NPS.
Although EPF is mandatory, NPS is voluntary scheme, which means you have an option of investing your money in this scheme.
This is also a good option for those who are not salaried and do their own business to help them collecting retirement funds.
TAX Exemptions
Both, EPF and NPS schemes are exempted for tax.
EPF is covered under Section 80C on investment up to Rs 1.5 lakh for income tax exemption.
NPS is covered beyond Section 80C on investment up to Rs 50,000 per annum for income tax exemption.
NPS investment options
There are 2 modes of investment under NPS option
Active mode
Auto mode
And you have full control over the equity exposure as well as debt exposure.
So you can decide how much to invest in Debt funds and how much risk you wish to take by going to Equity option.
How much funds I can withdraw from NPS?
As per latest regulations, at the time of maturity, 60% of the maturity amount can be withdrawn by the NPS scheme subscriber and rest 40% will become annuity that will be used for giving pension to the account holder
EPF vs NPS Scheme my conclusion :
What I think is look for NPS not for saving tax but also think that it will give you higher returns over long period of time than EPF.
If you are young then you are able to take more risk and put your NPS funds into equity and shift them to debt as you become old. This will ensure that over longer period of time you get best returns as a retirement funds.
So, if you look at loner horizon your NPS investment will yield higher returns over the EPF returns and if you put on auto mode then it will be like a regular habit.
Only one thing you must keep in mind is that compare to NPS, withdrawal of funds is difficult than EPF (in case you want to withdraw them early) however since I am thinking of purely as dedicated investment towards a retirement fund, and considering higher returns expected from NPS, I have started investing into NPS as well.
So finally ….
For me since I am thinking of retirement at the age of 50,  I feel that NPS is a better option than EPF since it gives higher returns than the EPF and I am ready to take market related risks. It will for sure grow alongwith the growing prices of commodities and shares.
LEGAL DISCLAIMER –
I AM NOT FINANCE EXPERT, VIEWS EXPRESSED ARE OF MY OWN AND NO ONE SHOULD FOLLOW THEM AND TAKE DECISION ON THEIR FINANCIAL INVESTMENTS. TREKBOOK INDIA WILL NOT BE RESPONSIBLE FOR ANY FINANCIAL DAMAGES TAKEN BASED ON ABOVE ARTICLE. YOU ARE ADVISED TO TAKE DECISIONS BASED ON YOUR OWN STUDY OR CONSULT YOUR CERTIFIED FINANCIAL ADVISOR FOR DETAILS.
INVESTMENTS IN MUTUAL FUNDS AND RELATED SCHEMES ARE SUBJECT TO MARKET RISK.