With FASTag sticker being mandatory from December 2019 there are lot of questions like "how FASTag works for return journey", what if I have exemption on particular toll plaza, which fastag service provide is best, how FASTag will work for military or police persons for whom toll passing is FREE today need to be answered.
I encourage you all to ask as many questions you have so that I can send mail to NHAI to get answers (for info all above questions are already being mailed to NHAI and I am waiting for their answer.
There is a FAQ section available on official website which has given vague answers to most of the questions, so over time period answers will evolve or we need to ask them explicitly to NHAI. (see NHAI FAQ section here) or visit ihmcl website
NOTE :
Most of the companies are offering some Fastag offers, like Airtel giving 150 Rs cashback, so please check in below links for such offers before buying  fastag.
---
Update 01 Dec 2019
Extension of deadline till 15 Dec given for Fastag implementation.
FASTag Update 21 Nov 2019 – Pay double toll if you go through FASTag lane without FASTag on your vehicle
According to the National Highways Fee (Determination of Rates and Collection) Rules, 2008, lanes at toll plazas will be reserved exclusively for FASTag users. Non-FASTag users will be charged double the normal toll if they pass through FASTag lanes, according to the rules.
Note – For some time Hybrid lane will be active till full transition happens.
---
FAQ's which I have in my mind and answers collected from various sources are as below
How to use FASTag information, questions?
Which fastag is better?
Before purchase of FASTag for my car, Main question came to my mind was which fastag is better? since there are options from most of the banks and wallet services like SBI, Axis bank, ICICI Bank, IDFC, HDFC, South Indian bank, PNB, Federal bank, Syndicate bank, Paytm etc its confusing.
Car / Jeep / Van / mini Light commercial vehicles Fastag charges comparison chart

Company / Bank

NHAI

Airtel

Paytm

ICICI Bank

HDFC bank

Axis bank

One time tag cost (inclusive of tax)
FREE
100
FREE
100
100
FREE
Refundable securiy deposit
FREE
200
250
200
200
200
Minimum balance
100
150
150
200
100
160
Total
100 
450
400
500
400
360
Fastag Offers
 
150 cashback
 
 
 
 
NOTE :The NHAI (National Highways Authority of India) is providing FASTags free of cost

NHAI is also providing the security deposit for each account, to encourage vehicle owners to immediately switch to electronic toll payment. This will be available for limited period only.

Required documents
RC Book (Front and back side)
KYC documents – ID and address proof, owner's driving license, PAN card, Voter ID, Passport or Aadhaar Card
Two passport size photographs
FASTag Customer care phone numbers :
ICICI Bank FASTag Customer care 1860 210 0104
Axis Bank FASTag Customer care 1800 103 5577
IDFC Bank FASTag Customer care 1800 266 9970
SBI Bank FASTag Customer care 1800 110 018
Equitas Small Finance Bank FASTag Customer Care 18004191996
HDFC Bank FASTag Customer Care 1800 120 1243
Syndicate Bank FASTag Customer Care 1800 425 0585
Paytm Payments Bank FASTag Customer care 1800 102 6480
Karur Vysya Bank FASTag Customer care 1800 102 1916
Punjab National Bank FASTag Customer care 08067295310
Quick links to websites for FASTag Online application :
I am using Axis bank fastag since last one year and have not face issue like fastag not detected on toll plaza.
Before I go ahead and describe my experience with Axis bank, I have interviewed many people having different Fastages and concluded that ICICI Bank FASTag is best. Also if you have ICICI Bank account, online recharge is real time and no additional charges applied.
AIRTEL FASTAG OFFER
One more latest update on 22 Nov is Airtel Payments Bank has partnered with National Payments Corporation of India (NPCI) and Indian Highways Management Company Limited (IHMCL). So if you buy Fastag  using their Airtel thanks App you will get cashback of 50 Rs. Also Airtel Payments Bank Fastag will be linked to the registered Airtel Payments Bank account or wallet to enable automatic deduction of toll charges. For me auto deduction does not sound SAFE, instead I will prefer loading my Fastag wallet for say 1000 Rs which means I will need to reload it manually, but at least it sounds SAFE, no-one can fetch money without my consent, or if done I have limited damage of only 1000 Rs …
Get the Airtel fastag offer details here
PAYTM FASTAG OFFER
Recharge your toll tag on PayTM and get 10% cashback offer
Get the PayTm fastag offer details here
---
Only issue I faced with Axis bank Fastag was adding money to it. Axis bank website is very old fashioned in terms of user interface and response time, menu etc is complex and recharging was a pain.
However rescently I learned that I can use my wallet ID similar to bank account, so now a days I use my ICICI Bank account to recharge through NEFT to the wallet ID which works fantastic. So as other Fastags (be it from any bank or directly purchased from toll plaza) can be recharged using any bank account of wallet services. All that you have to do is use Wallet ID as account number for money transfer.
How to Recharge Axis Bank FASTag?
customer care 18004198585 or 1033
Method 1 –
Goto Axis bank website https://etc.axisbank.co.in/ETC/
In drop down menu at right top corner, Select Retail road users and click on login.
You will see Next screen, where you need to click on "continue to login". (Not sure why this page needed)
Here you need to use your wallet ID to login (initially I tried using mobile number or vehicle registration number, but it won't work at all, so you must use your wallet ID) (So as the "quick top up" option on the site does not work even you try for ages !!)
Now you get shitty interface, keep finding where to recharge and how to recharge !! I spent lot of time and finally using Method 2 which is as below –
Method 2 (EASY one) – Add payee to your bank using your Fastag wallet ID as account number and IFSC code: UTIB0000ETC. Once done you can recharge this account with NEFT or RTGS or any method in a matter of seconds. Only remember that once the money is transferred from bank, it takes around an hour to reflect into your Fastag account, so make sure to do it in time, I mean do not do it just 5 mins before you reach the toll gate.
Method 3 (UPI ID)
UPI Handle:-netc.<10 digit Registered Vehicle Number>@axisbank
I tried using UPI ID method, however it is not working giving an error of invalid UPI ID
Method 4 (Auto Debit)
Exiting Axis customers can avail auto debit facility through email confirmation to etc.management@axisbank.com
---
How to recharge your HDFC FASTag?
Offline recharge :
You can make payment using cheque at HDFC banks
Online recharge :
You can do online recharge using your credit card/ debit card/NEFT /RTGS or through Net-banking.
However as per HDFC website information, convenience fee against transaction processing value will also be applicable if you recharge your FASTag online.
Convenience fee – 1.1% for Credit card, 1% for Debit card, 8 Rs per transaction for Net-banking + Taxes
For online recharge –
Log in to HDFC Net banking portal
Go to >> Road User Centre >> Payment and Top Up >> Recharge
Select the wallet ID to be recharged >>  add the amount you want to load in the prepaid wallet
Choose payment mode >> Pay by Online >> Click Continue
A new window will open with an option to select your bank >> Select & Continue
Enter the login credentials >> and complete the payment.
---
Is Fastag mandatory for all vehicles and what are the charges?
Yes, FASTage is mandatory for all vehicles and One-time Security Deposit Amount is as indicated in below table
| NPCI Vehicle Class | Description | Security Deposit (in Rs.) | Threshold Amount (in Rs.) |
| --- | --- | --- | --- |
| 4 | Car / Jeep / Van / Tata Ace and Similar mini Light Commercial Vehicle | 200 | 100 |
| 5 | Light Commercial vehicle 2-axle | 300 | 140 |
| 6 | Bus– 3 axle | 400 | 300 |
| 6 | Truck – 3 axle | 500 | 300 |
| 7 | Bus 2 axle / Mini bus, Truck 2 axle | 400 | 300 |
| 12 | Tractor / Tractor with trailer, Truck 4, 5 & 6 -axle | 500 | 300 |
| 15 | Truck 7-axle and above | 500 | 300 |
| 16 | Earth Moving / Heavy Construction Machinery | 500 | 300 |
Question : How FASTag works for return journey?
Answer :
FASTag deductions are managed by software hence it is easy to provide any benefits like the one you get for round trip savings.
As per current practice, if you opt for single trip journey i.e. pass the toll only once in a day versus if you opt for a round trip toll, then you get a concession in return toll charges.
What it means is that if your round trip happens within the stipulated time, which varies from locations and toll plaza), then your FASTag will automatically deduct appropriate charges i.e. if concession is applied software will automatically calculate the concessional charges.
For an example, if single trip toll charges are 30 Rs and a return trip charges are 45 Rs, then –
You cross the toll first time, FASTag account will be debited by 30 Rs after crossing the toll plaza and you wil receive SMS for the same.
If you happen to cross the same Toll plaza again i.e. on the back trip within specified time period, then automatically system will charge you only 15 Rs which is the difference between (45 – 30 = 15 Rs).
If you cross the same toll plaza again on the same day, system will charge 30 Rs again.

Note : The stipulated time period may vary from toll to toll.
Some of the toll gates have a 24 hour period for round trip calculation.
Whereas some toll plaza calculate round trip only till cut off time at 12 midnight of the same day!
Surprisingly some toll plaza have cut off time at 12 noon !! I think over time period this will get normalized and all toll gates will follow the same logic.
reference for this answer is taken from below websites
Team-bhp – post link here
What are the discounts available for monthly pass or day pass?
---
Question : I am exempted from toll charges since toll plaza is within 10, 20 kms from my home, do I have to pay charges now?
Yes
You will need to submit your documents to the concessionaire validating your residence within 20km of
a particular plaza. Once it is verified, you may avail the concession on the FASTag assigned to your vehicle
depending on the applicable Fee Rules. refer this PDF for further details.
---
Question : What is blacklist in FASTag?
Main reason of FASTage blacklisting is inadequate balance.
If you do not have sufficient balance in your FASTag card and you pass through the toll plaza, then your card will be automatically blacklisted by the system. In such case you will have to pay toll by cash.
Later you can call your service provide and get the card unblocked by paying appropriate charges which is called as white listing of FASTag.
Reference website – npci.org.in
---
How to check fastag balance?
Option 1 : Goto the website of issuer agency / bank / wallet service and you can get current balance of FASTag amount
Option 2  : As you cross the toll plaza the toll amount will be automatically deducted and within few minutes you will receive a SMS alert with toll amount charged and balance amount in your fastag. Also in parallel you will get an email of the same. You also get an email alert as soon as the fastag balance crosses the minimum threshold amount (for car its 100 Rs)
---
FASTag for exempted vehicles
There is a list of vehicles which can get exemption from paying toll fees – You can download PDF showing exemption of FASTag fees using link given.
As an example The awardee of Pram Vir Chakra, Ashok Chakra, Maha Vir Chakra, Kirti Chakra, Vir Chakra and
Shaurya Chakra are exempted from paying toll fees, if such awardee produces his or her photo identity card duly authenticated by the appropriate or competent authority for such award then they can pass through Toll plaza without paying any toll fees.
Do Army persons need to pay toll?
Toll is exempted only When Used for official purpose by –
(i) the Ministry of Defense including those which are eligible for exemption in accordance with the provisions of the Indian Toll (Army and Air Force) Act, 1901 and rules made there under, as extended to Navy also;
(ii) The Central and Sate armed forces in uniform including Para military forces and police;
Whether Ex-Servicemen are exempted from payment of user fee?
NO, they are not exempted and need to pay Toll fees.
Whether exemptions are available to Defense civilian employees?
NO, they are not exempted and need to pay Toll fees.
Serving army personnel who are using private vehicle for commute, are they exempted from payment of user fee?

Exemption to army person shall be extended only when the vehicle is used for official purposes.
If a patient is travelling in a private vehicle, shall it be exempted from payment of user fee?

No.

Are exemptions provided for news-paper/ media journalists?

No.

Are exemptions provided for RTI activists?

No.

Is exemption available to physically disabled person producing disability certificate?
Yes. Exemption is extended to mechanical vehicles specially designed and constructed for use of a person suffering from physical disability.
Is exemption available to religious dignitaries?

No.

I am a winner of Police Medal/ Padmashree. Am I entitled for exemption from payment of user fee?

No.
---
Precautions to be taken for FASTag sticker
Once pasted you can not remove and re position the FASTag, so think twice before pasting it on windscreen
FASTag sticker is think and designed as anti-theft, so any attempt of removal will only damage it and make it unusable.
Make sure that your windscreen glass is clean from dirt, grease, oil etc. else FASTag  RFID reader may not work correctly and you will face issue on toll gates.
I have seen people using cello tape or supplementary adhesives to fix the FASTag, please note that due to tape obstruction the RFID sensors may not be able to read the FASTag properly.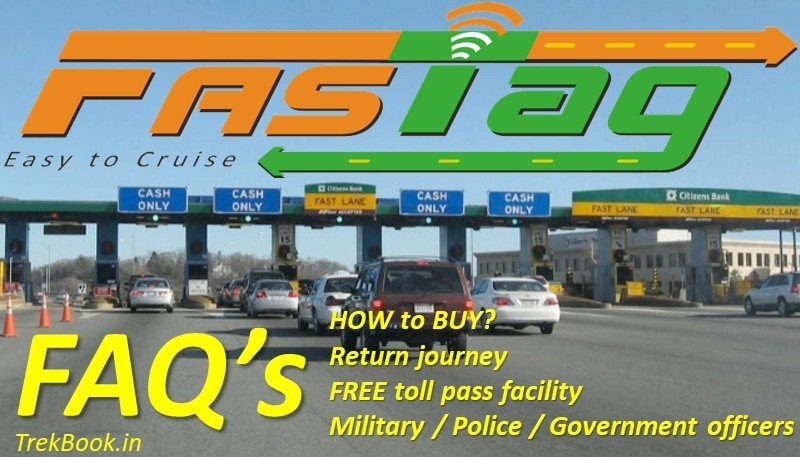 FASTag full form
FASTag do not have any full form, its name given by National Highway Authority of India (NHAI) for the Electronic toll collection Radio Frequency Identification (RFID) card that is pasted onto your vehicle windscreen. RFID scanners read it remotely from a distance and automatically deducts charges from linked account or prepaid card, toll gate will automatically open for you.
---
Complaints for toll plaza staff
In case of such a scenario, a complaint is to be lodged with respective Project Directors at the toll plaza. Further, the incident may be reported to us via our email at 
etc.nodal@ihmcl.com
.