Misal festival generally happens in Pune, however first time it is happening in PCMC – October fest 2020. Just before Diwalid. Located at Nigadi Prashikaran Pimpri Chinchwad.  पिंपरी चिंचवड मधील निगडी प्राधिकरण येथील पहिला मिसळ महोत्सव ऑक्टोबर २०२० ला भेळ चौकाजवळ महापौर बंगला आरक्षण मैदान येथे.
म मिसळ चा,
म मराठी चा,
म महाराष्ट्रा चा
यावर्षीचा मिसळ महोत्सव व शॉपिंग धमाका निगडी प्राधिकरण येथे वैशिष्ट्यपुर्ण, दिमाखदार व भव्य स्वरुपात.
दिवाळी च्या पुर्वसंध्येला मिसळ, शॉपिंग, आईसक्रिमस्, डेसर्टस्,गेमझोन आणि संगीत असा भव्य सोहळा म्हणजे मिसळ महोत्सव.
Misal Mahotsav in PCMC मिसळ महोत्सव 2020
First time ever Misal festival 2019 happening in PCMC area. At central location at large ground area of PCMC. This will be held just before Diwali festival and hence will be interesting for enjoyment of food and shopping too.
Dates – Oct 2020 (dates are not fixed due to Covid-19 pandemic situation)
Location – Mahapour Bangalow, Arakshan Maidan, A Prabhag, Near Bhel Chawk, Nigadi Pradhikaran, Chinchwad
Time 8 AM to 10 PM
Entry FREE
Misal festival attractions
1) Famous misal from Pune, Thane, Nagarm Shirur, Saradwadi, Kolhapur, Satara, Sangali, Narayangaon, Junner
2) Ice cream and deserts
3) Shopping festival
4) Music
5) Game zone for kids
6) Luckey draw
Expected crowd 15.000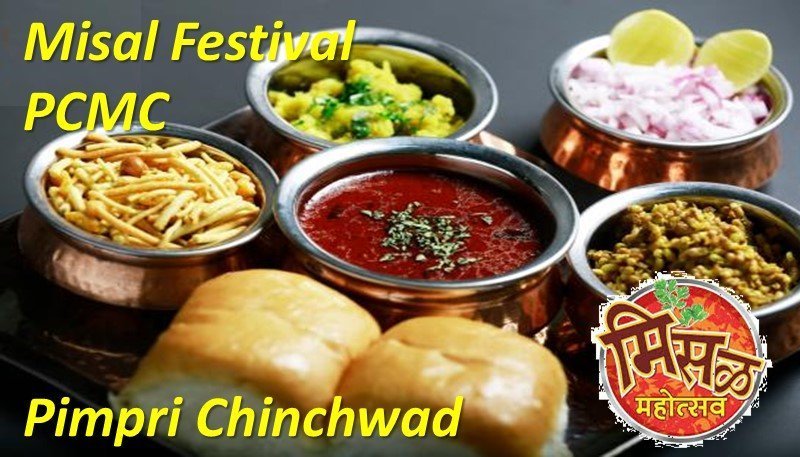 मिसळ महोत्त्सवाची आकर्षणे
१) पुणे, ठाणे, नगर, नाशिक, शिरुर, सरदवाडी,कोल्हापुर, सातारा, सांगली, नारायणगाव, जुन्नर, व इतर वेगवेगळ्या शहरातील सुप्रसिद्ध मिसळ खाण्याची सुवर्ण संधी.
२) नाविन्यपुर्ण डेसर्टस् व आईसक्रिमस्
३) वैविध्यपुर्ण वस्तुंचा शॉपिंग फ़ेस्टीवल.
४) अप्रतिम संगीत.
५) स्टॉल्सची आकर्षक मांडणी.
६) लहान मुलांसाठी, व मोठ्यांसाठी ही गेमझोन.
८) लकी ड्रॉ द्वारे भव्य बक्षिसे व आकर्षक भेटवस्तु.
९) अपेक्षित लोकसंख्या – 15000+
दिनांक – ऑक्टोबर २०२०
स्थळ- महापौर बंगला आरक्षण मैदान, प्रभाग 'अ' भेळ चौकाजवळ, निगडी प्राधिकरण, पिंपरी चिंचवड
वेळ-सकाळी ८.०० ते रात्री १०.०० वाजेपर्यंत.
प्रवेश मोफत/ Entry free
Stall booking started..
1) Misal & Dessert Stall Size-10ft.x10ft. – ₹15,000/- for 3 days
2)Shopping Stall ('A' section)Size-10ftx10ft – ₹ 10,000/-for 3 days
3) Shopping Stall('B' section) Size-10ftx10ft – ₹8,000/-for 3 days.
4)Shopping Stall ('C' section)Size Table space – ₹ 5,000/- for 3 days.
(Rent Including Gazebo/Cabin, 2 Tables, 2 Chairs, Tubelight, Ele. point.)
Stall bookings on first come first basis against full payment.
For stall booking & more details contact – Sharmila Mahajan – 9822870118