Pune Kisan Fair 2021: India's Largest Agri Show spread over 1,00,000 sq meters space
30th event for the Indian Agri -community. In this fair you will be able to meet agri-professionals, policymakers, like-minded individuals, government officials and media from all parts of India. You can see latest agri trends, new technology, innovation which can be adopted, learned, exchanged with others. It is seen over last year that over 2 lakh farmers & visitors come from across India to attend this fair.
Download information brochure for Kisan exhibition here – Kisan agri show pune 2019 location and information
What to expect from Pune Kisan Fair 2021 ?
Over 800 domestic and international participating companies and farmers who will display their products and services
Exhibition will be spread over 24 acres
15 pavilions specially focusing on different sectors of your interest
International Pavilion with innovations & advances
Dates : Wednesday, 15. December to Sunday, 19. December 2021 (
Dates are tentative due to Covid-19 pandemic situation

)
Timings : 9:00 am – 5:00 pm
Tickets: Rs. 50 for 1 day entry (Rs. 150 for 5 days entry)
tentative
Location : Moshi, Pune, India
International Exhibition Arena – Sector No. 5, Bhosari, Pimpri-Chinchwad, Maharashtra 412105 India
Organizer:
KISAN Forum Pvt. Ltd. – 1170/17-B, Shivajinagar, Pune 411005, Maharashtra India
Phone : +91 (0) 20-30252000
Email : team@kisan.com
What to see in Kisan fair
You will be able to see stalls from various
Agriculture equipment's & machinery,
farm implements,
seed and planting materials,
fertilizers, pesticides and irrigation systems,
material handling equipment's,
Agro processing & packaging and Agri business services,
Poultry equipment,
Poultry Machinery,
Dairy equipment,
Dairy Machinery,
aquaculture,
animal husbandry and bio technology,
green house & accessories,
horticulture,
organic farming and Agro forestry
Layout of Kisan fair exibition is as follows –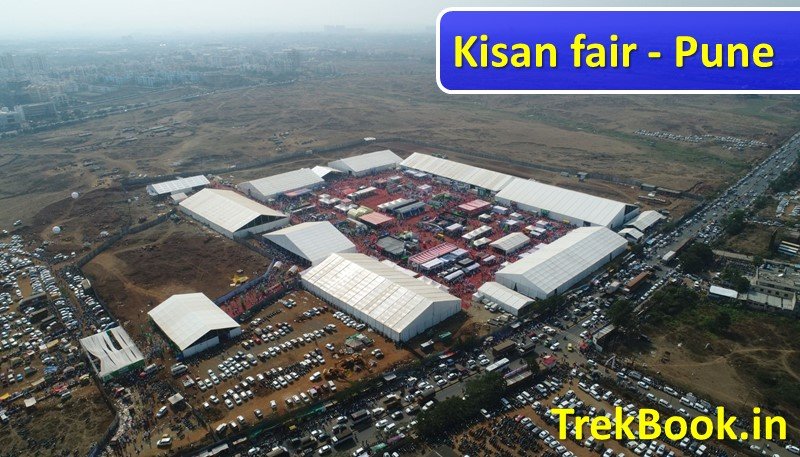 Open Arena
Display of Tractors, Farm Machinery, Implements, Automobiles, Solar products,etc. with live demo.
Water Management
Display the future of irrigation. Here you will see highlights of new concepts and technologies to save and manage water most efficiently.
Plasticulture & Protective cultivation
Mulching films, shade nets, pond liner, crop cover, polyhouse sheets etc.
Tools & Implements
Mechanisation is a new age requirement for Agriculture. See products related to Hand tools, Power tools, equipment, machinery, etc. in this pavilion.
Agri Input
Agri Input Pavilion includes manufacturers & dealers dealing in seeds, fertilizers, Agrochemicals, supplements, etc.
Pashudhan
PASHUDHAN Pavilion will bring together the important stakeholders on a common platform to set the agenda for a dynamic Indian livestock sector. This is your ideal opportunity for business development & networking.
Vatika
Display of wide range of planting material for Horticulture crops. Display of seeds, seedlings & tissue culture of vegetable, fruit crops & field crops.
Enterprise
Enterprise Pavilion is for emerging and enterprising companies that have transformed innovations into products. You get space in the Enterprise Pavilion at a subsidized rate.
Rural Auto
This pavilion is dedicated for automobile & allied industry. Showcase of Commercial & Passenger vehicles along with Engine oil, Batteries, Accessories, Online Auto portal, Tyre, Services, etc.