Tapola near Mahabaleshwar is also known as Mini Kashmir of Maharashtra is an upcoming weekend destination gaining popularity due to breathtaking landscapes and beautiful scenery of hills and valleys. Situated on the banks of Shivsagar Lake, which itself is a huge lake covering long 90 km water body, which is actually a reservoir of the Koyna Dam.
Also there is one more reason to be famous is presence of fort Vasota, which is popular among trekkers across Maharashtra.
So if you wish to enjoy serene nature and adventure together village Tapola will provide you rustic charm and fascinating views of Koyna and Solshi rivers.
Just to tell you that Best time to visit Tapola is almost year around, and you get Hotels & resorts costing as low as 750 Rs per person to 3000 Rs per person (budget to luxury)
I visited Tapola after Covid19 lockdown to enjoy the nature, tasting local food and water sports. This time I did not do the famous Vasota trek since  I have done that many times in past.
TAPOLA – Mini KASHMIR of MAHARASHTRA is a perfect weekend destination from Pune and Mumbai.
What you will not find here is horns, noises of cars and traffic, pollution, and pitch dark nights with pin drop silence.
I will say that this is a perfect destination for sky gazing, where one can see millions of stars at night (no light and noise pollution) …
You may like to read more on my Vasota fort trek here …
---
*** TIP ***
https://amzn.to/2Lbc9E3
I generally carry Portable toilet tent during my trips which helps my mother and wife along the way – Covid situations prevent me to goto many hotels to use the toilet. Look at this simple utility quick opening tent (takes 10 seconds to unfold) — https://amzn.to/2Lbc9E3
My Amazon affiliate link – I may get small commission if you buy from Amazon, which helps my channel too.
---
Comprehensive Tapola guide by TrekBook India 2021
1) How to reach Tapola from Pune and Mumbai?
2) Best time to visit Tapola
3) Things to do at Tapola
4) Local cuisine
5) Things To Carry
6) Entry fees (no entry fees applicable for Tapola)
7) Boating fees
8) Best hotels and resorts in Tapola
---

1) How to reach Tapola from Pune and Mumbai?
First thing to note is that the approach road from Mahabaleshwar is in GOOD condition.
The road is fairly simple since you need to first head down to the most famous hill station Mahabaleshwar from where Tapola is just 27 kms away.
Distances of Tapola from Pune and Mumbai
Pune to Tapoa distance is 147 kms
Mumbai to Tapola distance is 276 kms
Time required to reach Tapola from Pune and Mumbai
Pune to Tapola time required is 4 hours
Mumbai to Tapola time required is 7.5 hours via express way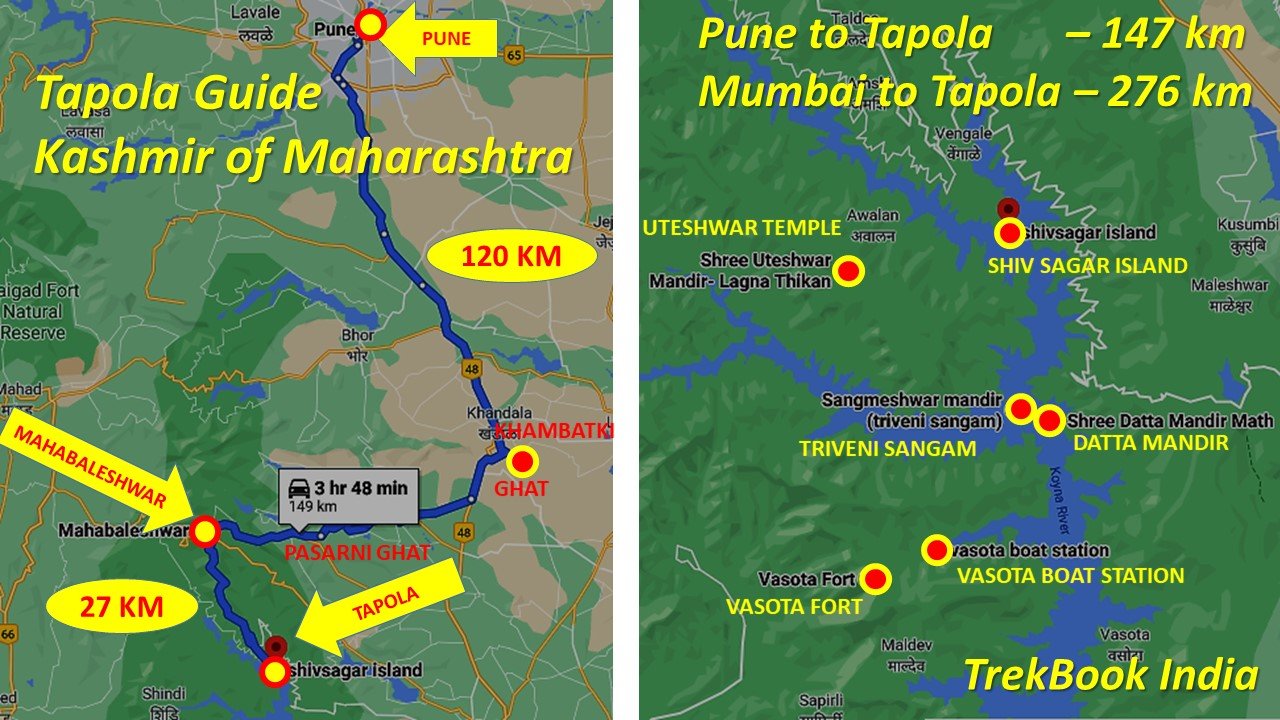 2) Best time to visit Tapola
Post monsoon Aug-Sept it will be totally misty and have waterfalls all around (be careful while driving)
Oct to January – is also best time to visit .. Enjoy Barbecue and campfire with the winter
After Jan it will start becoming hot, but by then you can enjoy water sports and swimming.
3) Things to do at Tapola
Kayaking,
Boating to nearby points (you can go for 8 hours tour)
Adventure sport – Visit to the famous fort Vasota
enjoy lake view with campfire and bbq
Fishing in lake (see my video on YouTube)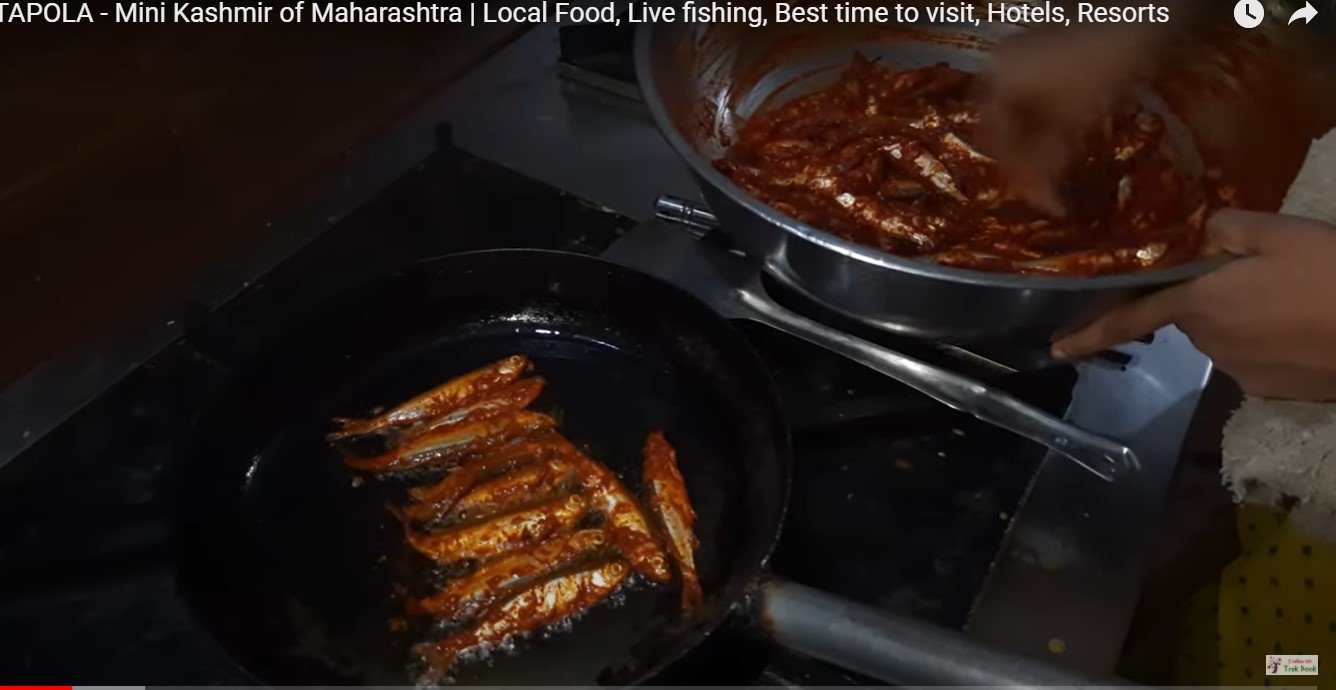 4) Local cuisine
Non veg special is local fish called as Ambli which is small river fish found in the backwaters of Shivsagar lake, you need to inform in advance to the hotel to get this fish
Remaining non veg dishes are pretty standard i.e. Chicken and Mutton
For vegetarian people I would recommend simple vegetables which are grown locally and organically by many farmers, they are pretty tasty and the preparation is done in traditional way. Again in this case also you need to explicitly tell the hotel owner, since most of the people prefer Panjabi type food and do not ask for Chulha made organic food, you need to inform them. (again see my video series on YouTube on Tapola guide)
5) Things To Carry
Apart from the standard list of things I would really recommend carrying ID proof (which is must for hotels and resorts)
Important is that you do not wear high hill sandals which will be an issue to enjoy boating
rest things like Camera, Cap, Goggles, shoes will help exploring this place well.
Cash or Card?
Better to carry cash since Mobile payment will not work due to network as well as credit card may give an issue (BSNL also do not work many times). Most of the resorts have WiFi but again they also depend upon GOD BSNL!!
Do not forget to download the google maps in advance or get BSNL card for navigation, due to lack of network it will be extremely difficult to contact each other as well as the hotel owners.
6) Entry fees (no entry fees applicable for Tapola)
You will be asked for an entry fee at Panchgani and Mahabaleshwar, so you need to inform them that you are going to stay in Tapola – in that case no entry fee will be charged by them (at both entry points)
7) Boating fees
I have added a snap shot here to show the boating fees at Tapola Shivsagar lake which is self explanatory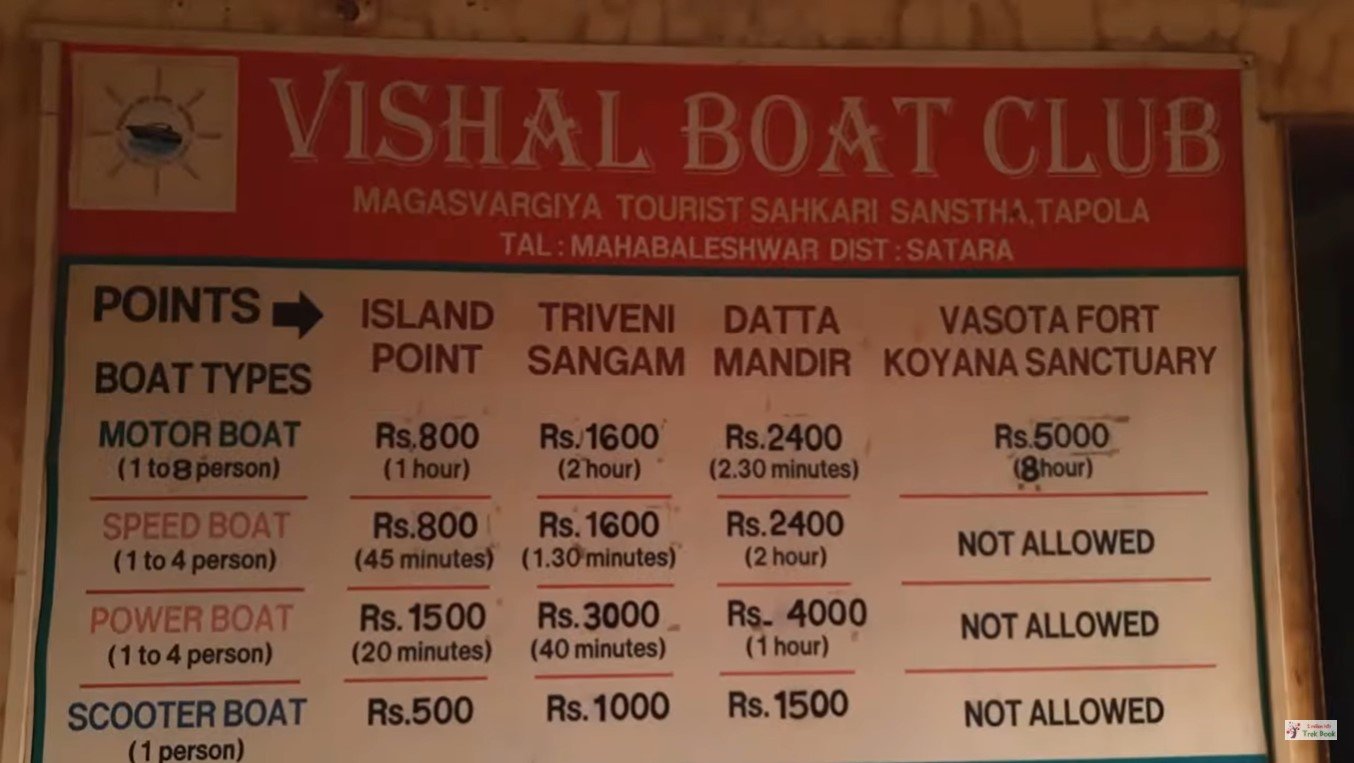 8) Best hotels and resorts in Tapola
So to find out best hotels and resorts at Tapola I visited almost 15-20 resorts in Tapola, took video of each resort outside and rooms, talked to the owners as well as the visitors there to know what they felt about the stay and I will be posting detailed videos on the same one by one.
Also I looked for luxury s well as budget friendly resorts during this tour..
So if you want to enjoy budget camping, authentic homestay or luxury resort .. Tapola is ALL IN ONE PACKAGE a right place for everyone.
Generally we select resort based on the google photos .. you see water from room .. good view .. but in reality it can be different .. so best way is to Gemba . go and see urself before booking .. which is not possible for every person ..
I have visited many resorts to find most luxury resorts as well as best budget friendly resorts in Tapola .. so stay tuned for my Tapola series on YouTube (do subscribe my channel TrekBook India on YouTube)...
so here I am Mahesh from TrekBook India to help you out choosing right resort as per your need in Tapola – Mini Kashmir of Maharashtra
All resorts are extremely clean (I have not seen this in any other city visited so far) – In general people in Tapola are kind and helpful .. all staff is good .. so as the food quality
As TrekBook India have tradition to help people (show blog pages with phone nos and photos) same tradition continued in my Vlog So this Vlog is comprehensive review of all resorts showing you lake view from resort, rooms, ambiance of resort, owner interviews, customer interviews and finally my own assessment on that resort including food.
So finally I stayed at 2 hotels at Tapola
Nisarg
River Orchid
Both these hotels are very good for stay and food.
I saw peacocks in morning at River Orchid. Also you can see fish in water while you do pedal boating (take atta with you as fish feed). Food at River Orchid was too good (Both veg and non veg)
I also went for fishing at night time in the backwaters which was arranged by Palavi Agro tours. Not only that they quickly organized surprise wedding anniversary celebration for me.
At Palvi resort you can try cooking on your own if you wish.
Special thanks to River Orchid resort for entertaining me at midnight 12 AM !!!! and really sorry for bothering them at so odd time !! Mr. Sitaram karande and staff was so helpful. I think this is one of the reason that I have listed their resort as NUMBER 1 in my top 10 resort list in Tapola
So I will add writeup as my YouTube video series progresses .. till then stay tuned and cheers!!