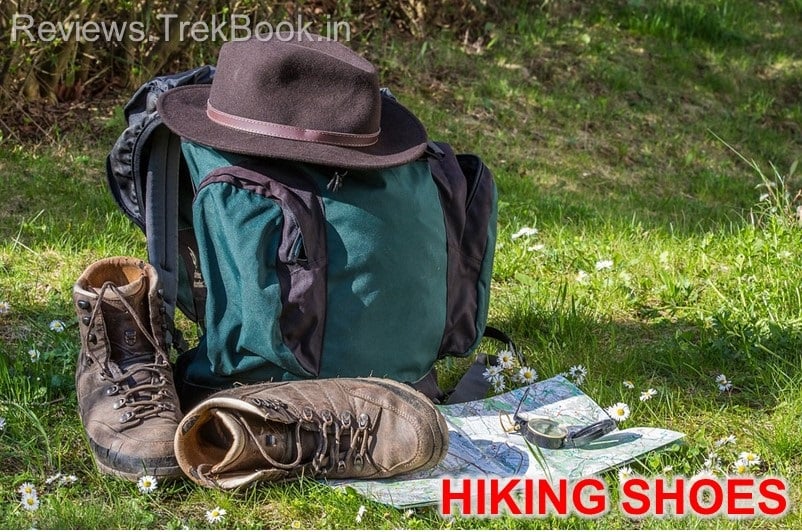 Year over years I am being trekking / hiking in India (Specially in the mountain ranges of Sahyadri, Maharashtra) where the terrain is mostly rocky, no snowfalls, plenty of water in monsoons season, slippery rock patches, muddy trails in rains. The temperatures also are typically 25 degree to 35 degree centigrade !
So question often asked to me is which is the best trekking shoes for Sahyadri mountain ranges ?
I have almost tried all famous brands including the basic ones from Bata, Adidas, Woodland, Lee coopers .. and so on …  Which one I think the best ? Making me choose or narrow down on use in my present Trekking / Hiking expeditions in Sahyadris ? Since most of the part of India does not have snowfall (except Himalaya) obviously the same recommendation almost stands true for best trekking shoes in India
Best Hiking & Trekking Shoes in India [My Recommendation]
Well needless to say the importance of Shoes as a safety measure during hiking & trekking. Any slip during trek can cost you small injury to your life ! yes, its that serious.
Also if you are comfortable in walking with shoes then only you will be able to enjoy the trekking & hiking.
Hence it is important to choose right shoes to match the terrain to avoid achy feet or blisters on foot!
Characteristics needed for trekking & hiking shoes

Lightweight – Provides you comfort during long trails, you need not carry extra weight in your feet ! already you would have enough in the backpack !
Waterproof – No not needed in India ! Most of the time you will be sweaty due to hot weather. And now for rains special treks, you can use new type of shoes having hole pattern onto it, so water goes in & comes out easily 🙂
Best fit – Mostly brands have their own style, try different brands make you narrow down the best for fit for you. Remember you should never wear brand new shoe for trekking, better try & test them for 15 days before the trek, so that you are comfortable wearing and walking.
Low Ankle or High Ankle ?
For day trek, low ankle shoes are fine, but for night trail you should go for high ankle shoes to protect from snake bites

Material for hiking shies

Leather – Honestly I do not prefer using leather shoes during any of my Indian expeditions ! Again reason being the hot atmosphere or monsoon rains makes them useless. Also normally they are less flexible making difficult to walk over rocky terrains of Sahyadri mountains
Canvas – I prefer material which absorbs sweat, provides ventilation through pours, makes water flow in-out freely, flexible base to grip variable rock surfaces

Brand – best budget hiking shoes
So finally as on now I am using the following brand and model for trekking [Please note that I am not being paid for recommending these shoes ! and it is my honest opinion based on actual use – updated in the year 2021]
Hope this helps …
Happy hiking !!
Cheers !!
---
15 Important Things to Carry for Trek in India