Today laptop is inherent part of my life and I need to carry it everywhere I go for my Official [email checking, presentations] as well as personal work [for blogging].
Well sometimes if its only travel inside the office, you can have very small tiny, just to fit laptop bag, however this is not the case always, hence it is necessary to see that during travel, you need to accommodate other things such as laptop charger (big mess), camera, power bank, tablet, and even sometimes a pair of cloths !
So considering different needs you will go for different type of laptop bags .. I have studied it carefully and jotted down suitable options. Please go through the same and let me know if you like it 🙂
Which are the Best Laptop Bags in India in 2019 ?
Lenovo Laptop Bag 15.6 inch backpack

Aircase 15.6 Inch Designer Neoprene Protective Handle Sleeve

American Tourister ABS 13 Ltrs Black Briefcase
Carry on Travel Backpack
The Journey Continues Backpack trolley Bag
Travel modes and My suggestion on Laptop Bag :
Office use of laptop bag –

Backpack

[In-office, Inter-office movement]


I do lot of movement inside my office for meetings as well as travel to nearby offices of company, where it is inherent that I need to carry my laptop.

Alongwith laptop, I need to carry my laptop charger, Mouse, USB drive, Notebook, Pen, Wallet, Water bottle
So I use Laptop Backpack, which allows me to carry it on my back (I can walk, I can travel on 2-wheeler or bicycle)
Normally Laptop BackPacks I found handy because of,

Lot of compartments & pockets
Good padding to the straps
Side compartment which carries my water bottle too 🙂
Also the inner padding keeps it safe from handling damages

Air travel –

Aircase

[Inside India movement, or even Abroad movement, air travels]

Main issue cased during my air travel is I need to travel light, here I need not have my Laptop Charger, Water bottle, Notebooks, Pen drive
I need to travel frugal, extra light. Also main issue is of Security Check at each post. Which makes it extremely important to throw out any extra things and keep only my laptop in the aircase with me

So during my flight travel I found aircase to be most suitable option 🙂
In fact it is so light and comfortable that many of my colleagues have started using it in office too !
It also have small compartment, but not to keep something big
It is padded to correct extent, very handy, looks smart, just enough for the travel needs
Small handle makes it comfortable to carry

[Where need is to look professional]

Some times I do need to attend Business meetings or Seminars which lasts for mostly one day.

I need to carry some important documents [Document pockets, Pen, Pencil, Calc stuff]
I need to carry some small one day stuff [Something extra, Charger, Adapters, Books]
I need to look smart [Professional look]
I need to carry my laptop too !!
Here the Laptop Briefcase [American Tourister] is an attractive option for me

Carry on Travel Backpack – Extremely useful for 2 days office trip

Super useful for a frequent flyer, who travels a lot on short trips
And hates waiting for baggage
This useful backpack from Amazonbasics is the one which you need for
Its expandable, contains sufficient space to carry clothes, toiletries and other essentials
Very good for 3-4-day journey.
An organizer will keep your business cards, stationery
An option to carry it on your shoulders.
Remember that it is not water resistant

The Journey Continues Backpack trolley Bag



30 L capacity, best for travelers who spend time dragging their bags on Airports 😛
Suitable for laptop up to 17 inches in size
Packs in a few pair of clothes.
Have Small compartments that can be used to keep cards, books, stationery and even few toiletries
Good convenient bag for leisure travelers.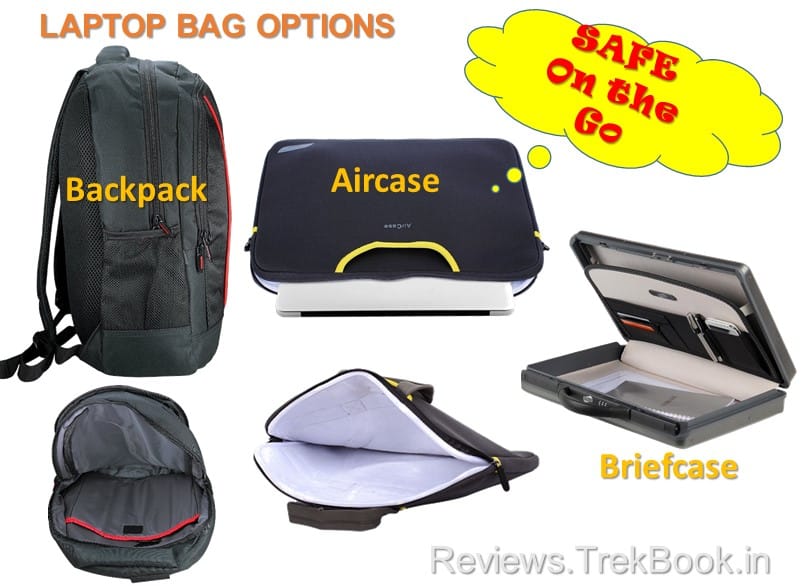 Summary
Reviewer
Review Date
Reviewed Item
Best Laptop bags in India
Author Rating