The Best Selfie Stick in India
Market is flooded with cheap selfie sticks & I myself wasted valuable time in getting those cheap 100~200 Rs Selfie sticks and breaking them during my travel & trekking 🙁
So I understood that buying cheap is not an option at least in case of selfie sticks!! because they are most important while you are on the pleasure tour and any failure will cost you value in terms of loosing beautiful memories.
After my learning not to buy something cheap, I discovered some quality stuff best selfie sticks which you  can buy in India online from standard website like Amazon.
Selfie stick Bluetooth vs Wired – Which one is the Best ?
With Bluetooth : I do not prefer BT Selfie sticks 🙁

Bluetooth consumes smartphone power:
These selfie sticks will need your Smartphone / Camera Bluetooth always ON and paired with stick. I personally do not like them since Bluetooth consumes battery of my mobile phone, which is valuable to me during trekking and travel.
Reliability of Bluetooth connection:
Also many times the Bluetooth connection is not reliable, whatever the version of Bluetooth you are using. At times it make me click stick many times to get the snap!
Trouble to pair smartphone with selfie stick:
Imagine that you want to take selfie using your friends phone, now your Bluetooth selfie stick is already paired with your phone. So you need to first switch off Bluetooth of your phone, then pair your friends phone with Bluetooth selfie stick, spending valuable time for pairing and waiting! I don't like it.
Risk of Bluetooth hacking:
While you carry the Bluetooth Selfie Stick, to save time you will need to keep the smartphone BT ON all the time, which is also security risk since hackers can take advantage to attack my phone systems.

Wired : I love wired Selfie Sticks 🙂

 Obviously they work without Bluetooth
Simply connect the wire connection to 3.5 mm Jack of your smartphone.
I love these type of selfie sticks for the simple reason that

they do not consume my mobile battery,
they are ready in microseconds after connection,
there is no compatibility issues with Android or iPhone!
No separate software need to be downloaded!
Very much reliable connection with Phone or camera.
How to connect wired selfie stick to iPhone7 Plus,8 Plus,X, XS?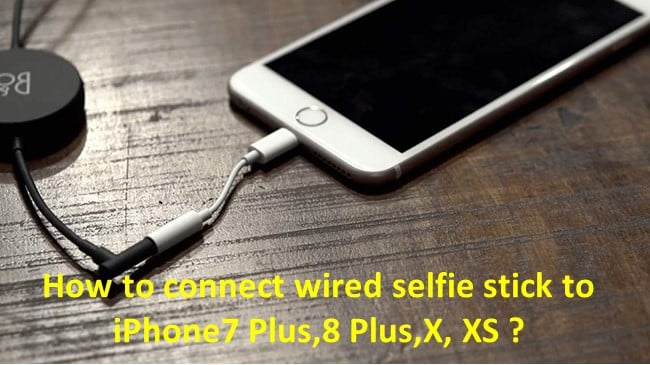 Well its simple, use a Aux Audio Cable Adapter Connector for 8 Pin To 3.5mm Jack Earphone Adapter for iPhone7 Plus,8 Plus,X, XS which will allow your iPhone to connect to any 3.5 mm jack compatible device like a headphone or a selfie stick.
While you buy any Wired Selfie Stick, Please do below test before buying:
Open your Smartphone Camera

Change Setting of Volume Key to Capture.

Plug in Earphone in Earphone Jack.

Open you Camera & press the Volume Button on the Earphone.

If you are able to click Pictures then the Wired Selfie Stick will work with your Smartphone

If the above is not working, then
Download camera 360 ultimate app from the Play Store & try above steps with this app.
If you can click pictures then, Wired Selfie stick will support your phone.
---
BTW just for fun …
Do you know What is a selfie-stick called in
Marathi

?
स्वयं प्रतिमा खेचक दूर संचालित दन्डुका
---
MUST TEST before buying a Wired Selfie Stick for smartphone
Click To Tweet
Question is that which selfie stick brand is best for me in India ? Here is my answer to The Best Selfie Stick in India
---
Which is The Best Selfie Stick India in 2020?
iVoltaa Next Gen Compact Wired Selfie Stick for iPhone and Android [no Bluetooth required]
Stuffcool Shutter Bluetooth Selfie Stick
Shopizone Yunteng Selfie Stick
PNY Selfie Stick
ApeCases Selfie Pod

iVoltaa Next Gen Compact Wired Selfie Stick for iPhone and Android [

no Bluetooth required

]

Wired or Bluetooth?
Wired Selfie Stick
Colour
Black and Golden
Extended Length
Fully adjustable and expandable 75 cms Length
( you can easily carry it in your pocket or bag)
Golden Base made of aluminium
Mount design
Built-in Scratch Proof, Silicon Padded Mount

Mount fits most devices ranging from 2.2 to 3.3 inches wide

270 Degree Adjustable Head

Locking mechanism
Grooved design helps to prevent twisting of selfie stick when you are taking selfies vertically.
Compatible phones
iPhone 4, 4S, 5, 5C, 5S, 6, 6S, 6+ Plus, 6 Edge, 7 / Samsung Galaxy S3, S4, S5, S6, S6 Edge, Note 2, 3, 4, 5 / HTC / LG / Sony Xperia / Nexus
For REDMI XIAOMI Phones –
Go to settings – Additional settings – Headphones & audio effects – Headphone remote buttons – Control volume level
Warranty
Lifetime guarantee
Selfie Sticks Best Buy in India
Selfie Stick Best Buy India
---
My Recommendation:
Go for  Mystical Master™ Selfie Stick : PLUG and PLAY [no Bluetooth required] Reliable Wired connection for your iPhone and Android phones which get connected in microseconds, no need to wait for Pairing, keep mobile Bluetooth ON consuming valuable battery resources.
Summary
Reviewer
Review Date
Reviewed Item
Author Rating