In Covid 19 situation the lifestyle has changed a lot and one of the most important thing that most of us have started doing daily is taking steam. So I researched for the Best Steam Vaporizer Machine for Cold and Cough available in India.
Before I bought this Steam vaporizer machine for cold and cough I was using a cheap 250 Rs steamer which used to burn after few months of use. So I thought better to have a steam vaporizer which can also be used as a facial steamer and of high quality so that I need not replace it every now and then.
I have also prepared a product review video which covers How to take steam from steamer?
Okay … so let me introduce myself …
Hi … I am Smita from HowzBuy.com which is a product review website working in the USA and one subdomain works in India for Indian product reviews.
So as I told in the beginning of review is that I used to have a cheap steamer at my home which costed only 250 Rs however it had 2 issues –
1) Boiling water droplets used to be thrown along with hot steam causing face burning issue for my grandmother
2) I was unable to put in herbs like Tulsi and lemon grass which are essential in Covid 19 situation as per my grandma.
So I bought the new EzLife Kingdom K-33S for around 1200 Rs from Amazon.
Link to the steamer which I bought : https://amzn.to/3b7MZyu
Product review of Steam vaporizer machine for cold and cough As well as facial steamer
You can go through below video which shows actual demo of product and how do I use the steamer … its a simple 10 mins video .. also do not forget to see the end where my dad have added Behind the Scenes 😛
After use of about 2 months now I can tell that this steamer is far better and safer than the previous mug type design for 2 reasons –
1) It has a long steam tube with drip-slots on tube which allows bleeding of any extra boiling water in case it happens
2) The provision to put essential oils and herbs is the most useful feature of this steamer – which I have demonstrated in my video (link to video already given in this review post)
EzLife Kingdom K-33S Herbal steamer comes from EzLife ® is a registered trademark of "BoxWish", India
EzLife With a history of more than ten years, Kingdom mini-household steamer is the best sales household steamer on the market presently.
Made from virgin plastic, to get more life and no plastic burning smell compared to ones in the market which are made from recycled plastic.
Also it is pretty lightweight and portable.
The steamer wattage is 350 Watts which means it can work on a standard 5 Amp socket at home.
The product link is given below in the description box of this video. (https://amzn.to/3b7MZyu)
Now I will Explain different parts of EzLife Kingdom K-33S Herbal steamer –
See video to see actual part locations and functions (how to use)
1) Power ON/OFF Switch
2) Steam tube – can be rotated as needed
3) Spray nozzle – rotates 360 degrees as per convenience
4) Transparent spray cap where you can put essential oil with help of cotton – what it means is that steamer will not get contaminated with oil fragrance after use
5) Herbal grid cup to put herbs – like use of herbal tea bags, pudina, leamon, rose petals, dalchini
6) Water level indicator – do not overfill to avoid problems, however if the level gets down the steamer automatically gets off Dry skin – pudina, green tea bags, leamon, rose petals, Oily skin – neem, green tea bag, lemongrass, mint leaves
Now I will demonstrate working of steamer in video –
1) How to assemble the steam tube (demonstrate rotation and locking)
2) Now demonstrate – fill in water from main inlet – check water level
3) Fill in herb grid cup with herbs
4) Switch it On and wait for 3-4 minutes
5) Water will start boiling and you will get steam
How it works – Steamer functioning demonstrated in video
Operating principle sprayer is composed of a steam generator which includes a beaker and electrical element with its principle similar to an electric kettle.
The electric heating element inside the beaker will produce heat energy by current. The temperature of the water inside the beaker will rise gradually until boiling and generating steam, which will spray out misty gas from the spout of the steam pipe to form mist spray.
– Minute, nano-ionic steam penetrates deeply into skin to quickly moisturize skin and supplement skin moisture.
– Regular use will reduce prevalence of acne and blackheads
– Easy way to remove dirt, make up, excess oil and impurities. Especially due to the pollution in cities.
– Promote blood circulation – Stimulate the vitality of skin cells – Effectively absorb moisture and oxygen
Note – Acne is a skin problem that starts when oil and dead skin cells clog up your pores.
Steamer Care to be taken
– Do not try to open lid when hot, due to steam pressure and expansion it generally expands and fits rightly
– Clean only after cooling
– Keep it dry when not in use Problems and resolutions
– water spillage alongwith steam
– I have not faced this issue, however if you fill in more water than max level indicated on steamer then there are chances that water can come out of output nozzle
Warranty
– I bought this product from Amazon, it does not have any warranty.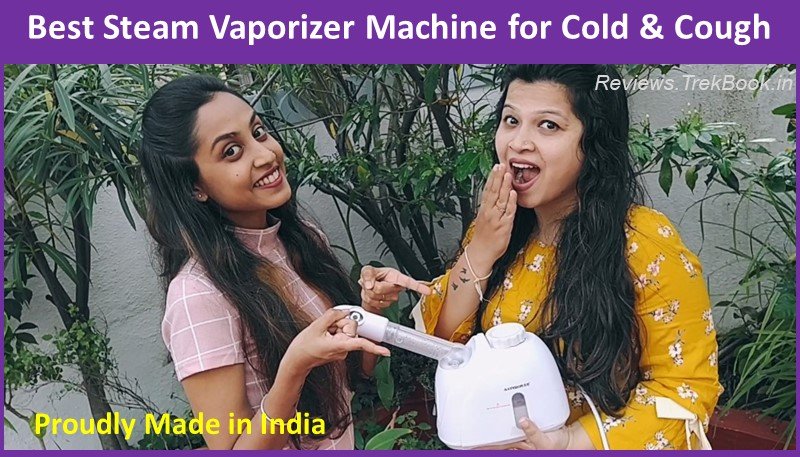 Summary
Reviewer
Review Date
Reviewed Item
EzLife Kingdom K-33S Herbal steamer
Author Rating
Product Name
EzLife Kingdom K-33S Herbal steamer
Price
Product Availability