boAt headphones are affordable and delivers good quality of sound, they look stylish too. As on date (Sept 2018) two Bluetooth On-Ear Headphones with Mic models are sold for around 2,000 Rs first one being boAt Rockerz 430 and the other being boAt Rockerz 510. Since both are placed so close to each other for the price range, it is important to compare the boAt Rockerz 430 vs 510 and decide which one will be value for money buy.
So in this post I will be deciding which one of the headphones I should but considering the price point (again as on Sept 2018)
At the end of post I shall be able to determine what are the pros and cons of both boAt Rockerz 430 and 510 Bluetooth On-Ear Headphones and why any one of them shall be selected.
So lets start with simple technical specs comparison table, where I have clearly indicated differences by change of background colour. And after the table is over I have detailed out my views on each headphone on each design perspective with my own views (unbiased, since I am not affiliated to boAt 🙂 )
boAt Rockerz 430 vs 510 Specs comparison
Over Ear headphone with Mic

boAt Rockerz 430

boAt Rockerz 510

Check latest price which is the determining factor for buying one of them

430

–

Check price

510 

–

Check price

Design
More functional
More stylish
Portability
Fold-able and adjustable
No folding option
Headband
High quality PU material
Leather ear cups cushion
Ear Cups
Soft cushion ear cups
Waterproof
No
Bluetooth
CSR 8635 Chip with Bluetooth 4.1
Driver size
40 mm
50 mm
Impedance
32 ohm
frequency range
20Hz – 20kHz
Sensitivity at 1KHz
108dB±3
MIC. Sensitivity
-42dB±3dB
Electret Condenser Microphone
 40*15mm
50*15mm
passive noise cancellation
Yes
CVC6.0 echo cancellation technology
a noise reduction CSR chip supports CVC6
3.5mm audio jack
Yes (cable included)
Lithium ion batteries required.
1 number
2 numbers
Battery capacity
300mAh
400mAh
Playing time
Up to 12 hours
Up to 10 hours
Full charge time
get a full charge in just 3 hours
Quick / Rapid charge time
15 minutes of charging will give you 1-2 hours of run time
Duel mode music listening
Duel mode wired and wireless
Wired mode calls
mic can not be used during wired mode.
Working voltage:
3.1V-4.2V
Charging voltage:
4.7V-5.3V
Weight
200 grams
231 grams
Dimensions
19 x 8 x 18.5 Centimeters
19 x 7.5 x 19.5 Centimeters
Included Components
Headphones, Charging Cable, Manual
Headphones, Aux Cable, Charging Cable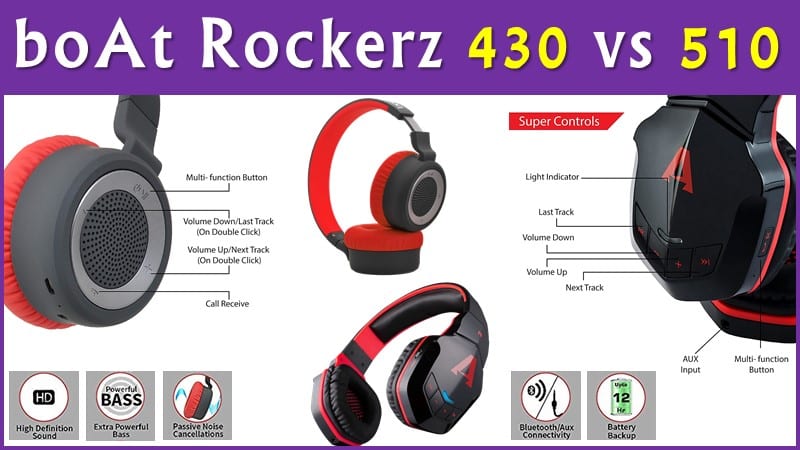 Design
Both these models from boAt in the Rockerz Wireless Headphones series are designed to provide amazing experience without entanglement of wires!
Rockerz series is known to deliver high-quality audio reproduction.
---
Function versus Style — 
The Rockerz 430 are more Functional
Firstly if you compare the looks of it, 430 has traditional round shaped cushion which I can say is a minimalist design, precisely what you need for. Obviously that result into a more functional design with light weight (200 grams)
The drivers of 430 are also 40 mm (smaller by 10 mm in diameter as compared to 510) so obviously the loudest sound it can deliver will be slightly lesser than 510.
The ear cups are made from soft cushion material to provide you comfort for long time wearing, however since the driver is smaller, the cups are also smaller in comparison to the 510.
Biggest advantage in this functional design is Folding capability, which is super useful for those who travel a lot where portability is more important. 430 wins over 510
The Rockerz 510 are more Stylish
The hexagon shape itself indicates its State-of-the-art crafted for … design intent. The overall design has sharpness in it as against roundness of 430. To me 510 looks more modern aged and contemporary. I can say that they look more sporty.
The use of leather gives a rich look to overall design including the headband.
Big flaunting logo A looks beautiful from a distance.
Controls placement —

430 wins over 510
The controls of 510 are also packaged in rectangular shape with a nice Blue LED indication over it. Only thing is that the volume Up/Down buttons are placed so close to each other, that while you operate them while wearing can create slight confusion in clearly identifying them.
As against that 430 has simple but more intuitive controls which are placed at a distance from each other, so identifying them and operating them while wearing is quite comfortable, there is no chance that you operate wrong button.
Wireless vs Wired modes —
Both are wireless but still capable of operated using a 3.5 mm jack pin, which allows use of them in case you exhaust with the battery power. Only hitch is that while you use the 3.5 mm jack, the microphone will not be active.
Both headphone microphones performs well using the CVC6.0 echo cancellation technology where the noise reduction Premium CSR8635 Chip does its job during the calls filtering background grubble, be it an air conditioner noise or car tyre rumble on high speed or a wind noise.
The built-in microphone is useful while chatting over FaceTime, Skype or even gaming.
---
Sound —
The remarkable Sound technology from boAt ensures deep & powerful bass and takes your music experience to a whole new level.
The Rockerz 430
With 40 mm drivers, the 430 provides finer details with powerful bass, warm vocals & precision highs.
The Rockerz 510
With 50 mm drivers, the 510 delivers an Extra Thumping BASS, the boAt signature SUPER BASS technology acts to its best level.
Both are able to cater to wide frequency range of 20Hz – 20kHz, I think this is more than suffice to listen to all sort of music including the rock or even classical.
If you love super heavy BASS, then 510 wins over 430
---
Battery —
Single versus Two battery
Both have Li-ion batteries, but differ in numbers.
430 has only single 300 mAh battery as against that 510 has two batteries with 400 mAh capacity.
510 being larger in driver size (50 mm) consumes more power to deliver super rich thumping BASS, so its being backed up by more powerful batteries, and so its slightly heavier than 430 (510 is just 31 grams heavier than 430!)
Although 510 has more powerful battery it delivers 10 hours of continuous operation as against 12 hours of 430, but it is only due to more power needed by the larger diameter drivers to deliver loud music.
That is being well supported in 510 by the QUICK Charging capability, so quick charge of only 15 minutes gives you 1-2 hours of music play time.
The full charge can be attained within just 3 hours using a micro-USB standard port.
---
Bottom line —
So what's the final call?
Which one you should buy?
Same price but different design intent makes it difficult to take a call of selection.
Obviously each coin has two sides, and benefit in one design may not be available in others, so you need to take a wiser call based on the intent of buying it.
Frequent Travelers
If you are a frequent traveler, if you are not fond of funky BASS, if you like simplicity.
Then go for 430, a lightweight, foldable, super portable, design delivering extra long music time of 12 hours in a single charge.
Home users, Even travelers, Office users
If you intend to use it mainly at home, or in office or roaming around in garden, you love listening to thumping BASS, you love style, you love colours.
Then go for 510.
In fact 510 scores high point on all points over 430, except that it does not have the folding design and plays 10 hours of music instead of 12 hours of 430. [but don't forget you can recharge it to life in just 15 minutes of quick charge]
Overall winner
Again its a personal choice indeed, everyone has his own taste of life.
For me 510 is clear winner over 430 ignoring the small hiccups of foldability.
Over Ear headphone with Mic

boAt Rockerz 430

boAt Rockerz 510

Check latest price which is the determining factor for buying one of them

430

–

Check price

510 

–

Check price
---
References for this post are taken from boAt official website product details pages
http://www.boat-lifestyle.com/rockerz430/index.html