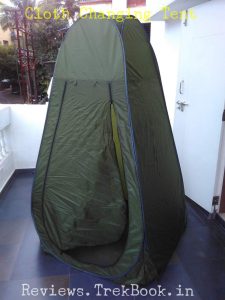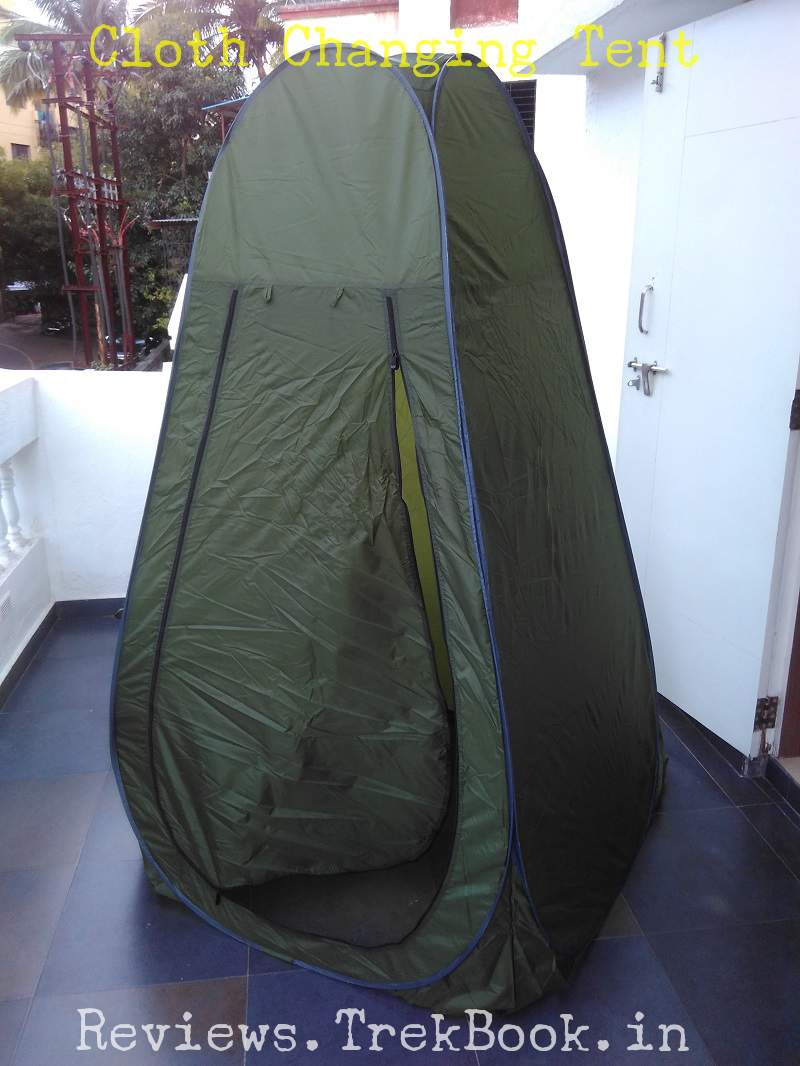 I saw similar cloth changing tent during my resent trip to Leh-Ladakh and decided to buy one for my personal use during travel as well as camping.
Specially when I was crossing Khardungla pass, we got stuck-up in traffic jam for two hours, snow was falling it was very cold, also we had to keep drinking water to make sure we have enough oxygen in body. Obviously  ladies & girls with me as well as in other travelers had issue (specially ladies) for toilet ! There was no place in the ghat section, we somehow managed by creating temporary shelter toilet!
That point I felt most need for such portable tent which can be used as portable toilet for ladies, you can immediately unfold it in 30 seconds and wind it up in one minute, keep back in car. so simple and so cheap solution to all travel needs, specially in India where no roadside toilets available or in case they are available they are not maintained clean & hygienic.
After coming back I ordered travelling cloth changing tent online, and here is what I recommend for you
Cloth Changing Tent cum Portable Toilet tent for Ladies in India
Cloth changing tent

Excellent for use during Camping, Picnic, Beach especially for girls for whom we need to hunt a private place for changing cloths (major problem faced in India)

Portable Toilet tent

I feel this is major problem in India, while you travel by private car, you don't get hotels with clean toilets (most of the time no toilets at all when you need them most !)
So this one is ideal for such use, example, when I camp on a fort like Harishchandragad, during night time, girls need to find a suitable place to answer nature calls, which is dangerous considering safety from snakes, loosing track, falling etc. So now if I fix this portable toilet near my tent, girls need not worry to find places during night.
Also during car travel I can use it for my mother, who is having Diabetes issue and hence need to answer nature calls too frequently.

I have checked and used it now and really it is Compact, Quick to Install & Easy To Repack (for repacking you can see videos on youtube) I could repack it within one go 🙂 so you also can (ask me if you have any issues)
It is big enough than I thought, see photo I have added above, a person can easily stand and change cloths or answer nature calls comfortably
Peg to fix it not provided with product, but I have spare ones from my camping tent, which I am using to fix it from inside (nylon hooks given)
How to Fold & Unfold Toilet tent?
After I got this tent I tried various videos on internet and could not do it correctly.
Even the method shown on their website is something different and does not work.
So after many trials I founded one simple trick to fold it quickly without any hassle.
Here is video demonstration of folding and unfolding this toilet or cloth changing tent.
Size of cloth changing tent
120 X 120 X 190 Cm

~4 x 4 x 6.5 feet

Just imagine size of spare tyre in your Car, good to pack and go

Packaged Size (Circular shape)
~23″ in diameter x 1.5″ wide
Colour
Green or Black and it is single layer

(Though shown dark gray in advertisements, also ad shows double layer but it is single layer)

Weight
~3 kg

(but it has handles by which you can put it on back – although not so sturdy)

traveling tent Price in India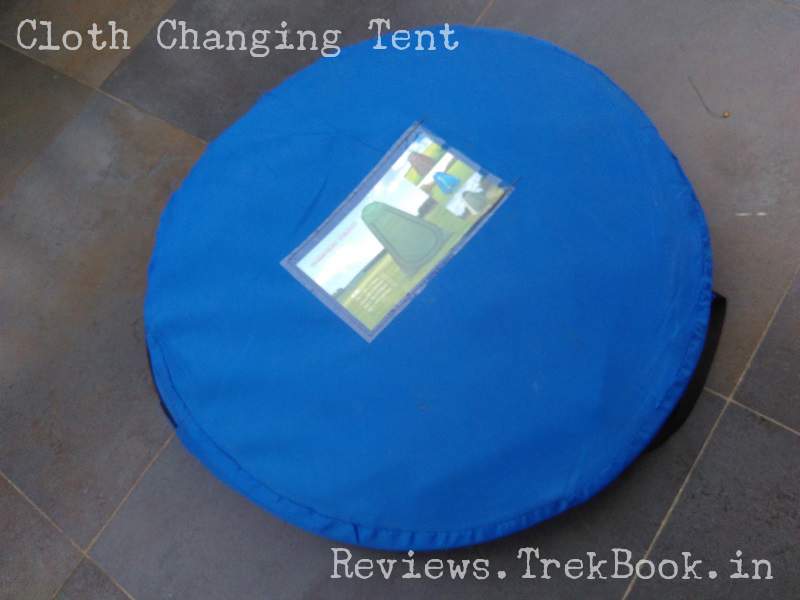 I hope this toilet tent review is helpful to you.
Happy travelling in India 🙂
Summary
Reviewer
Review Date
Reviewed Item
Author Rating