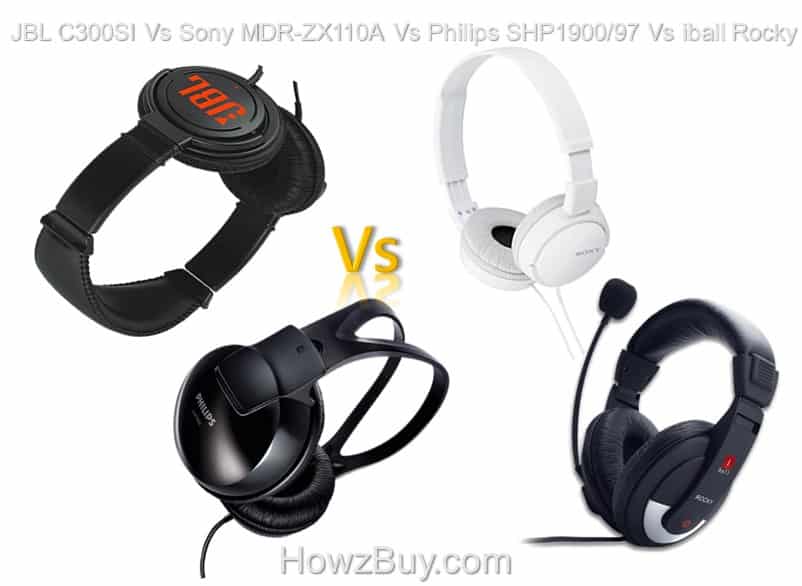 All that I have done is that selected the entry level headsets with price range of 500 Rs to 700 Rs.
These four selected headsets are from well known brands like JBL, Sony, Philips & iball these are the best selling headsets on Amazon India as on today.
I am big fan of JBL for its signature sound, but here Sony also competes with its great range of Bass, Mid to Treble range, Philips to its brand value and experience in speakers provides budget package as value for money, iball Rocky to my surprise is best seller ! hence I have included in this comparison and it is cheapest too 🙂
JBL C300SI Vs Sony MDR-ZX110A Vs Philips SHP1900/97 Vs iball Rocky Specifications Comparison
JBL C300SI
Sony MDR-ZX110A
Philips SHP1900/97
iball Rocky
High-power drivers
 Yes
30mm driver unit
40mm driver unit
40mm driver unit
Impedance
32 ohms
24 ohms
32 ohms
32 ohms
Dynamic frequency range
20 to 20kHz
12 to 22kHz
20 to 20kHz
20 to 20kHz
Sensitivity
98 dB/mW
98 dB/mW
Max Power Output
500mW
100mW
3.5 mm gold-plated connector
Yes
Yes
Yes
Yes
Self-adjust earcups
 Yes
 Yes
 Yes
 Yes
Cable length
1 meter
1.2 meters
2 meters
2.3 meters
Dimensions
23.8 x 17.6 x 5 cm
19 x 13 x 3.4 cm
18.2 x 9.5 x 17.1 cm
 19 x 16 x 9 cm
Weight
209 grams
191 grams
311 grams
331 grams
Warranty
1 Year
1 Year
1 Year
1 Year
Remarks
Deep Bass with JBL Signature sound
Delivers deep bass, rich mid-levels and soaring highs
Astounding listening experience
Impressive sound reproduction and enhanced bass response
Check for Latest Price
73% OFF on Amazon
52% OFF on Amazon
40% OFF on Amazon
7% OFF on Amazon
Sony MDR-ZX110A on Flipkart
Philips SHP1900/97 on Flipkart
iball Rocky on Flipkart
Apart from the technical specifications following points needs due consideration for selection of headsets
Comfort of fitting
This is important if you are fan of music or want to listen during hours of travelling, it must not happen that the sound quality is damn good but it starts hurting after wearing it for half an hour !!
 Subjective Evaluation
Each headset has its own signature of Bass, Treble & Mid-range delivery and what matters is personal taste in this regards. A person liking Bass may not like treble ! and so on .. Hence please take a trial before you buy.
Cable length
Very important in travel through railways !! Needless to explain why !!!
Please feel free to ask questions for selection of entry level headsets to me
Cheers !!