Friends I am planning a trip to Uttarakhand and being from Pune, wanted to have Best Thermos Vacuum Flask in India For Hot & Cold Water, Hot Coffee & Tea. So I carried out actual tests for 6 hours, 12hours, 24 hours for retention of water temperature and the results are really shocking !!
So please watch my video on Milton vs Cello Thermos Flask 24 Hour Temp Test | Best Hot Water, tea, coffee Vacuum Flask India which demonstrates the complete experiment I carried out .. its simple 10 minutes video so it should not take much of your valuable time, so do watch it and comment if you feel 🙂
The experiment to find best thermos hot water bottle is explained step by step
Step 1 – Pour boiling water into each vacuum flask
Pouring of Boiling hot water in all flasks at the same time and measure temperature
Results – All flasks showed stable temperature of 84.4 Degrees after 5 minutes of pouring boiling water
Step 2 – refrigerate all bottles for 6 hours at 10 Degree centigrade
Put all vacuum flasks in fridge at temperature of around 10 degree centigrade for 6 hours.
This was done so as to simulate low temperature conditions in Uttarkhand which I will be facing actually (in fact the temperatures will be further lower there)
So I removed all the bottles from refrigerator after 6 hours and checked water temperature in each. Noted down each temperature and quickly sealed the bottled back.
Step 3 – refrigerate all bottles for Next 6 hours (total 12 hours) at 7.2 Degree centigrade
Now I transferred all the bottles back to refrigerator for next 6 hours .. the temperature further dropped to 7.2 degrees since I had set the refrigerator temperature to the lowest possible since morning.
I removed the bottles after 6 hours so total they clocked 12 hours in refrigerator below 10 degree centigrade.
after 12 hours again measured water temperature of each flask and noted it down.
Step 4 – keep aall bottles for Next 12 hours (total 24 hours) at night temperature around 20 deg C
Now I kept all bottles open to room temperature of around 20 deg C for remaining 12 hours
So again measured water temperature of all bottles after total 214 hours.
Step 5 – Preparation of test results and preparing tables and graphs for easy interpretation
Finally all the results were compiled to make simple table showing temperatures after 6, 12, 24 hours for each brand and also converted them to percentage and graphical representation for easy understanding and conclusion.
Please have a look at table below comparing 5 brands
Vacuum Flask Brands available in India selected by me were as follows
Quechua by Decathlon

Milton

D-Homes by DMart

Cello

Prestige
Purpose of experiment
Purpose of this experiment was simple
To find out which of the hot water bottle performs best in similar usage conditions
Is copper coating in thermos vacuum flask helps?
Yes, my practical testing shows that this technology from Cello helps a lot retaining water / tea / coffee temperature for longer period of time even in lower temperatures.
Conclusion of my experiment to find Best thermosteel hot water bottle in India
My testing results showed that Cello vacuum flask performed best in terms of retention of temperature, so that is my pick for Uttarkhand trop, you can see price details for selected flask using below link
https://amzn.to/2JvOnBk Cello Cool Mate Thermos Vacuum Steel 750ml Bottle
The second runner up was D-homes bottle by Dmart, this I will say value for money since you get it as cheap as 299 Rs only (as on Dec 2020)
Please note that "DMart D-homes Vacuum Flask Double Stainless Steel" you need to goto local store, I could not find out link for online buying of this flask – this was the cheapest value for money flask in my view, I got it only for 300 Rs
https://amzn.to/3lk9CDq Prestige Stainless Steel Water Bottle, 750 ml, Silver
https://amzn.to/33upop2 Milton Thermosteel Flip Lid Flask, 500 milliliters, Silver
https://amzn.to/2HTex0m Quechua Insulated Stainless Steel Hiking Flask MH500 0.8L – Blue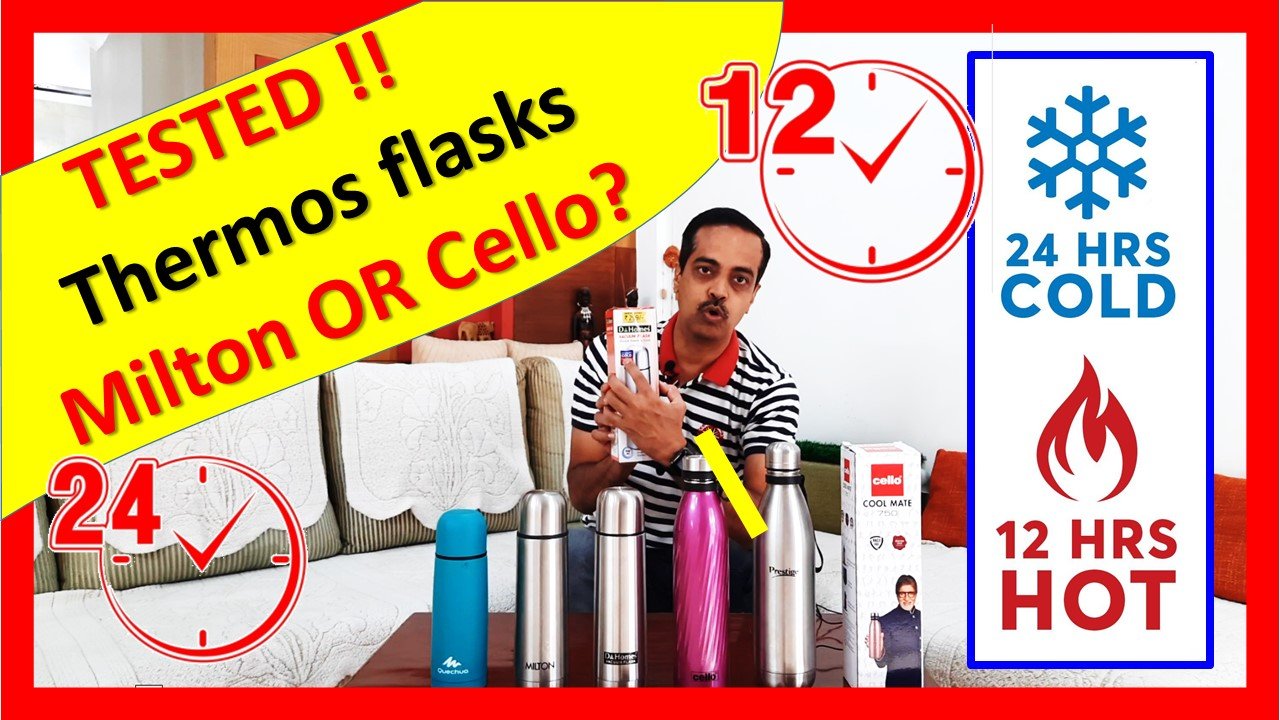 Related Questions which are being answered by my experiment
Which is the Best Thermos flask for tea?
Which is the Best Thermos flask for coffee?
Which is the best thermos flask?
Which flask keeps maintains longest temperature?
Which is the best stainless steel water bottle in India?
Which water bottle is best in India?
How long will a flask keep water hot?
Are thermos flasks good?
Do thermos flasks wear out?
How long does coffee last in a flask?
How long does Soup stay hot in a flask?
Do thermos flasks keep things cold?
How do you keep a flask warm?
How long will yeti keep coffee hot?
How do you keep drinks hot?
How long will a thermos keep water hot?
Who makes the best thermos?
What keeps coffee hot the longest?
Which is the best thermos flask in India?
Which is the best vacuum flask in India?
Which is the best thermos flask brand in India?
Which is the best vacuum flask brand in India Name top 10 thermos flask in India?
Name some good quality thermos flask in India?
What are the top thermos flask brands in India?
Which is the best thermosteel water bottle in India?
Which is best hot water flask 24 hours India?
Which is the best insulated water bottle 2019 India?
What are the top 5 thermos flasks?
Name some good Milton flask?
keywords used for this blogpost are
Cello Vs Milton, Milton Vs Cello, best thermosteel flask in India, best thermosteel bottle in India, cooling test, heating test, temperature graph for thermosteel flask, Cello thermosteel flask 1000 ml, milton thermosteel flask 1000 ml, cello thermosteel flask unboxing and review, Milton 1 liter flask unboxing and review, best 500 ml thermosteel flask, best 1 liter thermosteel flask in India, is thermosteel flask working, best water bottle for kids in India, comparison video best vacuum flask in India, best thermos flask in India, review Milton thermosteel, stainless steel insulated water bottle, copper coated thermos flasks, best vacuum flask, best thermos flask brand, top 10 thermos flask, good quality thermos flask, top thermos flask brands, thermosteel water bottle, best insulated water bottle, top 5 thermos flasks, thermos, water bottle, vacuum flask