Pune is place for food lovers and over the year various food festivals takes place across this city. One of the most awaited event is Misal Festival aka Misal Mahotsav where organizers try bringing the best of Maharashtra, means Misal hotels all around Maharashtra which are famous for their typical taste will be invited like some from Nasik, Kolhapur, Nagar, Mumbai and Pune. In year 2020 Misal fest is happening on 10,11, 12 Jan 2020 in Pune.
सिंहगड रॊड वर प्रथमच! प्रकाश मसाले प्रस्तुत-मिसळ महोत्सव २०२० 😍 १०, ११, १२ जानेवारी २०२०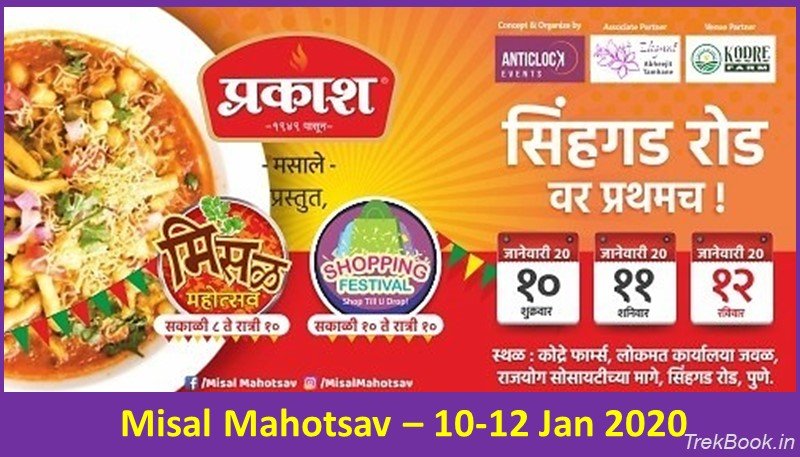 Pune Misal Festival 2019 All Details
मराठी आणि हिंदी गाण्यांची सुरेल मैफिल रोज संध्याकाळी 7 ते 10 PM गंधार entertainment पुणे निर्मित मनीषा निश्चल प्रस्तुत कार्यक्रम
December 2019
Misal Mahotsav for the first time in Kodre farm, Simhagad Road from 10 Jan 2020
Dates – 10,11, 12 Jan 2020
Time – 8 AM to 10 PM
Location – Kodre farm, Near Lokmat Karyalaya, Behind Rajyog society, Nanded Fata, Pandurang Industrial Area, Nanded, Pune, Maharashtra 411041
कोद्रे फार्म्स ,लोकमत कार्यालय जवळ राजयोग सोसायटीच्या मागे ,सिंहगड रॊड पुणे
---
So get ready to taste some Misal tarri, Misal Pav, Misal Farsan with spicy mirchi and Kanda bhaji with different stalls serving their best misal across Maharashtra under one roof without travelling hundreds of kilometers.
One must remember that if you wish to get authentic Misal taste, then it should be a perfect combinition of spices which will tempt to have you more and more … and at the end of it you will feel a real kick of spices … If you get one, surely its an authentic Kolhapuri Misal.
To add flavor there will be certainly assisted stalls for Sweet and deserts like Gulab Jamun, Jalebi, Kheer, Ice creams and so on.
And as per the trend most of the food festivals are associated to some shopping festival too as it adds to festival fever.
Please note that there will be some entry fee to the event since there is cost associated with the reservation of space like big lawn and parking, so be ready to pay small fees of around 40-50 Rs per person while entering the fest.
---
November 2019 event is happening at Gharkul lawns with around 15 food stalls featuring misal and sweets too.
For cricket lovers you have Virat Misal and Dhoni Misal too 🙂
Stall 1 – Zhaakas Misal ( Kolhapuri misal in kala masala special)
Misal thali would contain Farsan, Onion, Lemon, Curd, and Papad
(I am not sure who has started giving Papad in misal dish since its not original method, however now a days anything becomes a trend!)
Price 80 INR per plate
Stall 2 – Shinde Mama's Satari Misal
Price 80 INR per plate
Stall 3 – Kaat Vada
Vada with hot spicy tarri rassa topped up with Shev and Onion.
Price 35 INR – a single Vada with Pav
Stall 4 – Damodar P30 Misal from Kolhapur
Stall 5 – मिसळ1984
Stall 6 – M3 Misal
Stall 7 – Le Kheer
Le Kheer contains a small cup of chilled Rabddi, available in 5 flavors like Gulkand and Oreo nuttela
Stall 8 – Jalebi from Dill Chaatt Darbar.
Stall 9 – Cric Cafe – Virat Misal & Dhoni Misal and Cold Coffee.
Price 60 INR – Virat Misal & Dhoni Misal
Price 25 INR for Cold cofee
Stall 10 – Mauli Misal – Special Nashik Kala Rassa
Stall 11 – Shardhanand Misal
Stall 12 – Chulivarchi Misal from Kolhapur
Stall 13 – Vakratund Misal
Stall 14 – Misal Darbar
Other food items available at below price at different stalls
French fries 50 Rs per plate
Batata bhaji 40 Rs per plate
Cold coffee 25 Rs
Dates
01 Nov 2019 to 03 Nov 2019
Time
8.00 AM to 10.00 PM
Entry Fees
Rs 50
Contact
Enquires: Mayuresh: 97639 73499
Location
100, Raja Mantri Road DP Road, near, Mhatre Bridge, Pune, Maharashtra 411004, India