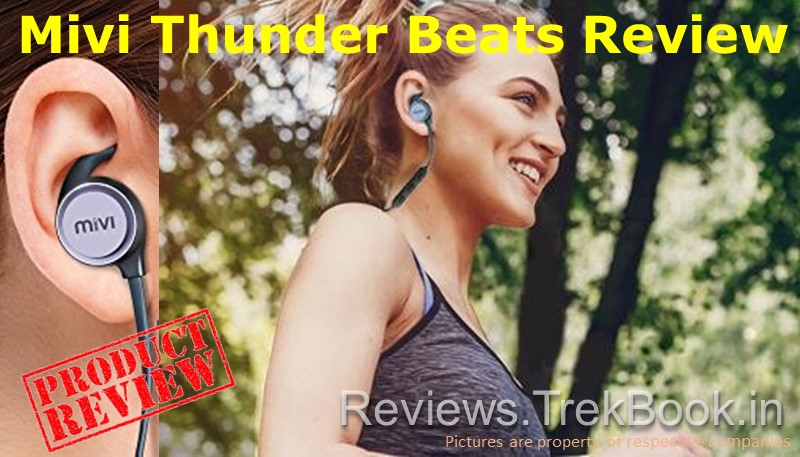 Mind it .. These headphones are from India's homegrown brand Mivi ….
So under the slogan Make-in-India I would surely support thinking on Indian products before I buy something Chinese!
The market trend shows that Bluetooth headphones are gaining popularity over wired headphones due to its convenience as well as latest smartphones like iPhone as loosing their 3.5mm jack capability making it inevitable to go for Bluetooth headphones.
As the market trend goes you will see many low priced Chinese headphones floating around expect for few brands likes Altec Lansing or Skullcandy, but obviously they are priced somewhere under Rs 3,000.
So why not to Be Indian Buy Indian ?
Here is my post regarding India's own homegrown brand Mivi, which was till now selling cables on Amazon, has rescently entered in the headphone space that too Bluetooth headset ! Also its well within reach of common man with affordable price, I would say real value for money product.
Mivi Thunderbeats Review, Specs and features
In ear Indian headphone
Mivi Thunder beats Best Buy Price
Style
in-ear canalphone-style pair of Bluetooth headphones
Design
Metallic exterior body with premium materials looks really Stylish and beautiful gives feeling of Ruggedness by just looks of it
Frequency response range
20Hz – 20,000Hz
Drivers
13.5mm audio drivers
Impedance
16 Ohms
Controller
Qualcomm CSR8645 chip
Bluetooth
Version 4.1 with the aptX codec
Smartphones like OnePlus 5 or Google Nexus 6P supports aptX HD quality audio
Bluetooth range
8-10m
Water proof ? Water resistance ? Sweat proof ?
Yes, it is IPX4 rated (Sweat proof)
What is IPX rating?
Noise cancellation
CVC 6.0 Passive Noise cancellation
Want to know what is CVC6.0 ?
Duel pairing
Allows connection to two devices at the same time
In line remote
3-button inline remote
Magnetic lock
Good feature to keep headphone together, this is normally available in premium range of headphones, available here in the affordable price
Ear tips and fins
2 sets of ear hooks and ear tips to suit your ear canal size, ergonomic design
Battery life
7 hours of music playtime
Auto shut down
Yes, If not paired to any device, the earphone shuts down automatically, premium feature which extends battery life and playtime.
Clip
Provided with adjustable clip, simple to change length of cable
 Warranty
 1 Year
Lets look into each aspect of Mivi Thunderbeats hadphones in details:
Design
Metallic Body:
I appreciate the way these headphones are styled using premium materials giving immediate Rugged feel, fit and finish is well with respect to the price tag and compared to similar headphones in market. It uses both metal and plastic in its construction.
The driver chambers are made of plastic, while the metal caps house the battery & clasping magnets
[I have given latest price compare chart at end of this post, there prices are shown dynamically as on date]
Ear Hooks & Ear tips:
Good aspect of the ear hooks and tips design is that they are not joined together, what it means is that you have choice of opting for larger tips but still use smaller hooks, so this provides combinations which can be  more comfortable for you.
In line remote: Hands FREE calls
It features an inline 3 button remote control plus a microphone, an LED light, and a Micro-USB port to charge the headphones.
The port is covered with a rubber flap, making if IPX4 water and sweat resistant.
Duel connection mode:
Facilitates pairing your headphone to two devices simultaneously.
Simply press the volume up and down buttons simultaneously to switch between paired devices.
The center button is a multi function button, which can be used to answer and disconnect the call.
Also double-press multi function button to switch audio between the phone and headset.
Even you can mute the call by pressing the volume up and down buttons simultaneously.
Magnetic back:
Very good function to keep the earbuds together when not in use, it forms a necklace around your neck and you need not search for a space to keep them safe and secure. This is one of the common design now a days in all premium headphones, its available here at an affordable price 🙂
Long Music Playtime ( 7 hours)
As Mivi claims to have battery life over 7 hours, most of the customers have got it practically, so really nice that during most of your travel it will suffice your needs.
Mivi Thunderbeats performance
CVC 6.0 Passive Noise cancellation: Qualcomm's CVC
Passive noise cancellation works well with ear tips, means you need not increase the volume too much protecting your ears. Specially useful during Gym workout where other noises disturbs your workouts.


Outdoor Calls quality:


Qualcomm's CVC Noise Cancellation Technology surely helps you to get clear Audio calls even outdoors.
AptX codec support:
If you really want to get HD quality sound from these headphones, then remember that you also need a headphone which supports AptX, like Google Nexus 6P or OnePlus 5.
If your smartphone is not AptX compatible then you will get normal audio quality. (then people keep complaining about sound quality written in other reviews !)
Sound Quality:

Great for an Indian who loves high Bass and high Treable with low mids


Mostly Bass is slightly overpowered in these headphones compared to the mids and highs.
So if you are not a Big BASS freak, don't go for these headphones, since it can be irritating over the time.
Keeping Indians like Bass & Highs to higher extent than the mids, these headphones are perfect 🙂
Final Recommendation on Mivi headphones 
The Mivi Thunderbeats are a decent entry-level Bluetooth headphones.
We found it good for Running and Gym exercise, the eartips and fins keeps them secured to your ears.
The stylish design with different sized ear hooks and ear tips, allows perfect fit for your ears.
The back magnets works perfectly for handing around the neck like a necklace or even while storage.
While an audiophile will like a more neutral sound signature, most of the Indian people love to have contrasting Bass & Highs with almost no mids present, this is perfect design for such people.
Overall I would say that Mivi Thunderbeats offers good value for money.
As on April 2018, you are getting this super headset at very much lower price than competition in the market, as per me this is the only Bluetooth earphones at this price range with apex codec.
as an example check price of Sennheiser cx275s and Skull Candy Smoking buds2 and you will find that Mivi Thunderbeats is available at much lower price than both these headsets.
Summary
Reviewer
Review Date
Reviewed Item
Mivi Thunder Beats Headphones
Author Rating