Main reason behind writing this post is my previous Panasonic cordless phone is dean now after giving me 7 years of service and this time I wanted to buy a new phone, but duel version to cater requirement of second floor in my house. When I began searching for duel cordless phones, I found three models in the KX TG series and spent lot of time in comparing the three models 3612 BX, 3712 BX and 3722 BX to find which one is what model?
Yes, unfortunately neither the Panasonic official website nor any other website (yes, out of millions of website on this earth!) is giving precise information on what is the basic difference in these three models sold by Panasonic?
Hence it became extremely difficult for me to decide which one I should buy, since there is a small price difference in two models 3612 and 3712, and there is big difference in the last model 3722.
So I spent about 3 hours in understanding what is the difference, and since it is not clearly available on any website, I literally looked into the photographs of products to figure out the differences.
Also when I went to local market as well as malls like big-bazaar or chrome, I could not get these phones on display not these showrooms in my area are selling Panasonic cordless phones. May be the reason being that BSNL landlines in India are almost reduced to none or no-one is interested in buying & using landlines at all. So since the market does not demand basic landline phones, why should someone sell cordless phones?
So only option left for me now is to buy it online (my last Panasonic phone also I bought online from Amazon 7 years back and it served well)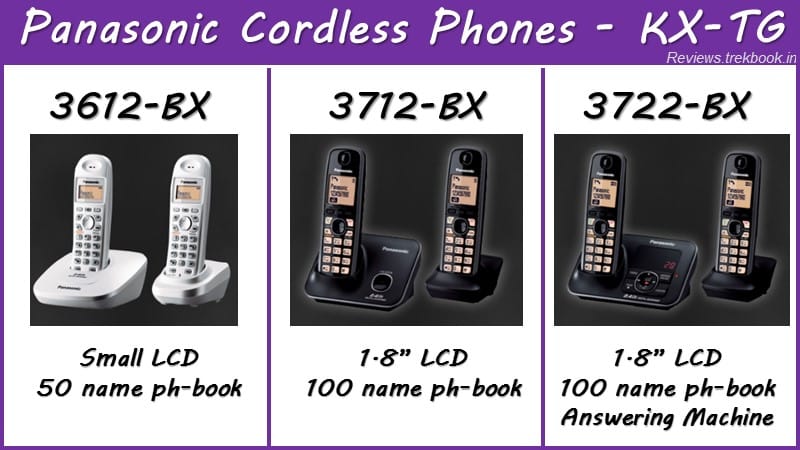 Panasonic cordless duel phone KX-TG series Specs compare table
| | | | |
| --- | --- | --- | --- |
| Panasonic cordless duel phone KX-TG series | | | |
| LCD size | Small LCD | 1.8″ LCD | 1.8″ LCD |
| Name & Number Phonebook | 50 numbers | 100 numbers | 100 numbers |
| Caller ID | Yes | Yes | Yes |
| Illuminated display | Handset | Handset | Handset |
| Wall mountable | Yes | Yes | Yes |
| Power Failure Talk System | No | Yes | Yes |
| 50 Name & Number caller ID memory |   | Yes | Yes |
| Answering machine | No | No | 2 digit message counter & Digital answering machine |
Panasonic Cordless Phones – KX-TG Series Review and Comparison
Coming to the main reason why I am going again for buying a Panasonic phone is that previous cordless phone from Panasonic was great performer, sound clarity was damn good, range is awesome – it not only worked on both floors of my home but also covers the backyard till really long range (not measured in meters but its really good)
Also this time I want to have an intercomm facility so that I can talk on the second floor of my home using it (as on now I do what's app call using wifi system 😛 )
Anyway so now lets look at the common features among these three models and the differences too, so as to decide which one to buy.
Common features

of Panasonic cordless duel phone KX-TG series
Working Frequency – 2.4 GHz, I am not sure what is significance of this, but my previous phone also had the same frequency and worked great without any interference from other systems at home or around. So I assume this frequency works great in India.
Specific Channel Numbers – 90 channels, Again this will be useful in case your area have many cordless phones and will distinct your phone from the crowd without interference, however in my area landlines itself have reduced and no cordless phones are there at all, so no worries at all.
Number of Lines – 1 line,
Up to 3-Way Conference Call with 1 Outside Line (Handset – Handset – Line) Call Share (Barge in)
Now all these facilities I have not tested so far, but as soon as I receive the unit I will update this section too. But again my use of landline itself is so much reduced that I can't imagine to get a conf call.
Intercom (Handset – Handset)
Yes, this is the facility I need for my two story home, be it calling for dinner or any other work this will work great for me.
7 Ringer Patterns (3 tones, 4 melodies)
Yes, this is what was lacking in my previous model from Panasonic, may be its old version, lets see how these ring tone options look like!

5 Redial Memory

Any Key Answer – Good to have feature

Clock / Alarm – I don't think I will use this facility in any way, since mobile works as my alarm clock.

Handset Locator (Base Unit) – Yes, this is the most used by me, since most of the time the handset gets lost somewhere in house! mostly inside the bedroom!

11-Day Standby Time
Yes, this used to work great on my previous Panasonic cordless mode, so I am sure will work great in my new phone.

5-Hour 

Talk Time – Yes worked fine for me

7-Hour Charge Time – Never noticed it since when you keep the handset on cradle it automatically starts charging and stops automatically. 

Wall Mountable (Base Unit)

1 year manufacturer warranty from the date of purchase
Differences

between Panasonic cordless duel phone KX-TG series
LCD Display
– 3612 has mainly smaller LCD display as compared to 3712 & 3722.
– 3712 & 3722 both have got nice 1.8″ large LCD display
(my previous phone also had 1.8″ display which is minimal requirement in my opnion, since the font size is also good on this size, even good for my mother who is 70 years old)
Name and Number Phone Book
– 3612 has only 50 numbers memory
– 3712 & 3722 both have 100 numbers memory
Now if you ask me 50 numbers is more than sufficient since use of landline (at least for my) is very much limited and done only in case I do not have mobile network or my mother wants to talk to her relatives who also have landline or in case I get phone calls from my relatives in USA (my experience is international call clarity is much better on landlines – till date)
Power failure talk system
– 3612 do not have this system
– 3712 & 3722 both have this sytem
Mainly this system works in case of power failure, however after reading reviews I could figure out that its not that in case of power failure the cordless phone will work! In fact you need to keep the cordless handset back to the cradle which in tern provides power to the base unit where you can then switch on the speaker phone to talk during power-failure! What it means is that the handset powers the base unit!!
Caller ID memory
– 3712 & 3722 have 50 numbers of Name & Number caller ID memory
Answering Machine
Finally 3722 is the high end cordless phone with Answering machine capability on base unit.
It has 2 digit message counter & Digital answering machine.
So if you are ready to pay around 2,000 Rs more just to add an answering machine you can select the 3722.
But again in this modern world where landlines itself has reduced I don;t feel to spend 2K more to get this capability.
My Final selection to buy Duel cordless phone for my duel story home
Okay, coming back to my final call.
I discarded the base model 3612 since the display is smaller and I have a senior citizen at home, who needs to get bigger fonts to read easily.
I discarded the premium model 3722 for the reason that I don't need Answering machine for my home use.
I selected the 3712 model due to its larger display, 100 names phone-book, intercom capability and why Panasoic? since I have used it before.
I have ordered my new duel phone and will update on my experience and some photos as soon as I receive it.
Till then .. bye bye. ..
---
9 most essential features you shall look for in cordless phone selection
Caller ID
Since BSNL supports for caller ID feature for FREE, you must select cordless phone with Caller ID support. This is essential as security feature
Phone book
Since you are very much used to mobile phones, you are not so habitual to memorize phone numbers, so find a phone with phone book facility. This will allow you to use it just like mobile phone.
Speakerphone
I found this feature very very useful, specially for my mother, due to age she is not able to listen to normal phone, but on cordless speaker phone she is very much comfortable in listening. The clarity is very good. Also all at home can listen to and discuss on the same call, really useful feature for families.
Display size
I selected phone with 1.8″ Monochrome display (103 x 65 pixels) and I feel that size is pretty much okay for readability of names and numbers. Also it is important that the display shall be illuminated for ease of reading.
Talk time
My phone takes about 6 to 7 hours of full charging time and has 5 hours talk time. Really speaking if I charge it to full and has one or two calls a day then the charging lasts for 2~3 days
Base Unit battery backup
Very much essential feature in India where power failures is normal. Without battery backup for the base unit, an ongoing call will be dropped w/o power. For me I have selected set w/o this feature since my house is backed up by Inverter power. [read How to select home inverter]
Multiple handsets
This is not an essential feature, will only be useful in a large multi floor house, it is wire-free extension as well as you can use it as an intercom within the house
DECT 6.0 Technology
DECT stands for 'Digital Enhanced Cordless Telecommunications', uses the 1.9 GHz frequency band which is reserved solely for cordless phones and completely interference-free, longer range with superior voice quality. I selected phone with this technology and it's awesome in terms of range and voice quality
Locate handset
My phone has this feature which I found very much useful to locate the lost handset (which happens once in a while though), pressing button on base unit creates ring to the handset.
---
References for writing this post are taken from Panasonic official website for respective products as below –
https://www.panasonic.com/in/business/phones-communication/phones/24-ghz/kx-tg3612bx.html
https://www.panasonic.com/in/business/phones-communication/phones/24-ghz/kx-tg3712bx.html
https://www.panasonic.com/in/business/phones-communication/phones/24-ghz/kx-tg3722bx.html