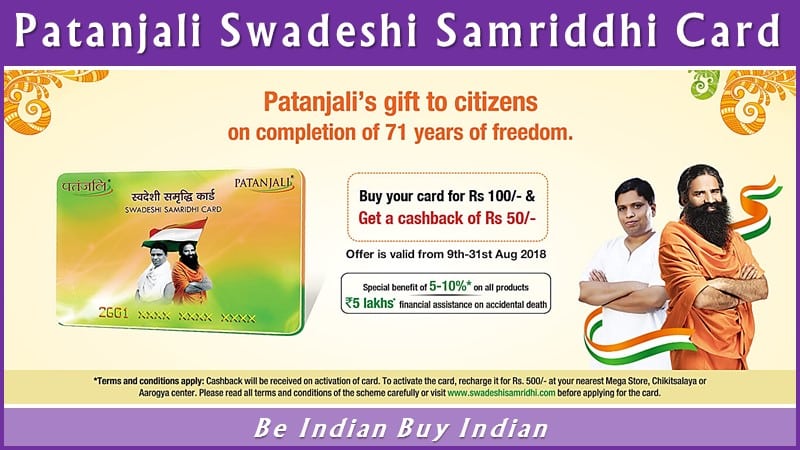 Me and my family are big fan of Shri Baba Ramdev and most of my home products are being from their own Patanjali brand. Of-course it is because of high quality of their products and the only Made in India Brand. So I am really happy to hear the special introduction of Patanjali Swadeshi Samriddhi Card yojana which also provides lots of benefits while buying from the Patanjali Mega Stores, Patanjali Arogya Kendra & Patanjali Chikitsalaya.
Patanjali is one of the most trusted Fast Moving Consumer Goods brand in India which thrives on the desi products and Be Indian Buy Indian concept.
And mind it 100% of the profits goback to the society in the form of charity ( Source )
But not only I think that Patanjali is the best, but also research shows that —-
According to a recent report by UK-based research and data analytics firm YouGov, Patanjali has been voted as the most patriotic brand in personal care space while it stood second after Amul in terms of food brands.
So coming back to the subject, here is now a new debit card from Patanjali, but only to buy Patanjali products, so useful only if you are using many products from their brand. So you now can go cashless as well as avail discounts using this card at Patanjali stores.
So it will be interesting to know more information on What is Patanjali card, how to apply online and what are the benefits.
Lets look at it:
Patanjali Swadeshi Samriddhi SIM card and membership card
Baba Ramdevji has introduced Patanjali Swadeshi Samriddhi SIM cards for their company employees, and the membership card is introduced to the general public means you and me.
These membership cards are available with an online application and provides loads of discount offers, loyalty benefits, and more.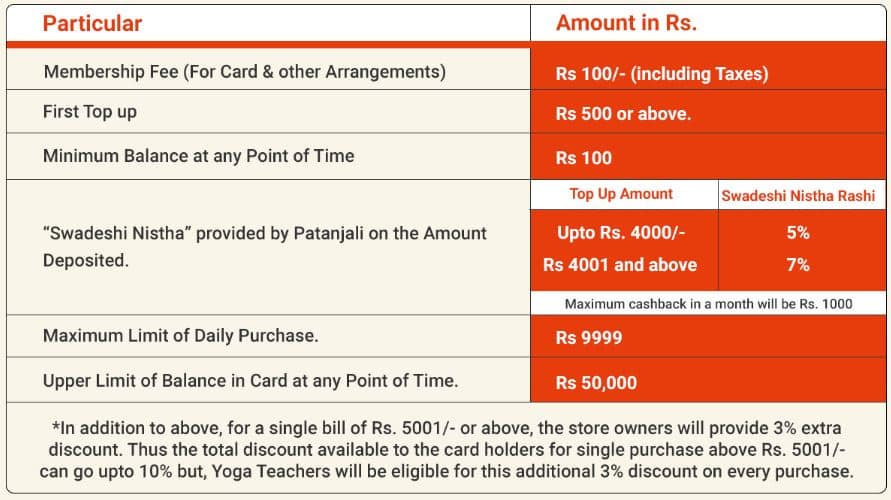 What are the benefits of Swadeshi Samridhi Card?
Its simple, you can earn up-to 10% additional benefit over loaded amount.
However remember that the loaded amount in the card can only be used to purchase products at Patanjali Exclusive Stores. ###Read terms###
5 Lakh Accidental assistance
The Card holder or card holder's nominee will get upto Rs 5.00 Lacs in case of death or upto Rs 2.50 Lacs in case of permanent disability due to accident subject to terms and conditions. $$$ Read terms $$$
Discount terms and conditions – ###
You can use this card only for purchasing products at Patanjali Mega Stores, Patanjali Arogya Kendra & Patanjali Chikitsalaya.
To check the list of Patanjali Exclusive Stores please visit www.patanjaliayurved.org
The store names is updated from time to time, so you should visit the website to check for nearest store.
Each Patanjali Mega Stores, Patanjali Arogya Kendra & Patanjali Chikitsalaya. are equipped with a POS Machine, using which they are able to accept the Swadeshi Samridhi Card to purchase products from Exclusive Stores ( You should have balance equal to the purchase amount plus 100 Rs more )
Since this card is only used for Patanjali products, you can not use it outside as well as the Swadeshi Nistha amount loaded to the card will not be refunded in any case.
Also note the point that the Swadeshi Nistha Amount (loaded balance) cannot be used against selected category of products.
Accidental assistance terms and conditions $$$
Swadeshi Nishtha Sahyog will be provided only if the member/Card holder has purchased a minimum of Rs 6000/- in last 180 days from the date of accident.
Card holder Military/Paramilitary & Police personnel died during any terrorism incidence will also be covered in the definition of accident for the purpose of financial assistance under the scheme
How to recharge or topup the card ?
You can recharge the card at Mega Stores or Chikitsalaya or Arogya Kendra for Zero Fees
However if you do recharge using online facility using payment gateways, then the payment gateway charges will be borne by you!
How many places you can use this membership card?
Patanjali Swadeshi Samridhi Card can be used at more than 5200 stores across India.
245+ Patanjali Mega Stores
1226+ Patanjali Chikitsalaya
1661+ Patanjali Arogya Kendra
How to online register for Patanjali card?
Step 1 – visit official website
Goto official website of Patanjali on www.swadeshisamridhi.com
Step 2 – Registration
On the right hand top side you will see button "BUY YOUR CARD"
Press the button to get online registration form
Fill in your personal details along with your Aadhaar Card number or Voter ID number for proof and Submit it.
Step 3 – Payment of fees
You need to pay 100 Rs as one time card registration fees ( non-refundable )
After completing the transaction, you will receive a unique application number via SMS.
Step 4 – Get the card & PIN
You will get the card delivered through a welcome envelop and the PIN on your registered mobile.
Step 5 – Activate the card
To activate the card you can go to any Patanjali Megastore, Arogya Kendra or Chikitsalya and show the application number.
Step 6 – Recharge the card
Now before you start using this card, you need to recharge the card to minimum 500 Rs and activate.
What is the minimum and maximum balance in card?
It is required that you have to maintain a minimum balance of Rs. 100 in the card at any point of time while the maximum balance in the card can be Rs.50,000.
What care cashback offers?
If you top-up the card for amount of up to 4000 Rs, You get 5% cashback in the form of 'Swadeshi Nistha Rashi'
If you top-up the card for more than 4000 Rs then you get cashback of 7% for the top up amount.
However remember that the maximum cashback you can get in a month is 1000 Rs.
Is there any purchase limit?
Yes, The maximum limit on the daily purchase is 9,999 Rs only.
What are special discount offers for registration between 9 Aug to 31 Aug 2018?
Patanjali is offering a special cashback offer of Rs. 50 upon registration of the card between 9th and 30th August for customers buying the card online.
The cashback will be given once the card gets activated.
Furthermore, for the single bill of Rs. 5001 and above, the store owners will provide an extra 3% discount. The maximum total discount can go up to 10%.
Also for Yoga teachers you get special 3% additional discount on every purchase, regardless of the amount spent.
I really liked this Patanjali Swadeshi card which is an initiative to promote digital transactions aligned with the mission from respected PM of India Mr. Narendra Modi.
And ff you are a fan of Patanjali and their products (like me) then this membership card is a boon, since you save lot of rupees per month. Like I purchase various products like Toothpaste, KeshKanti Hair Oil, Face wash, Soap, Chavanprash and my most favorite ghee.
Note : Chikitsalay means a hospital and Aarogya Kendra means a wellness center
The card can be used as a debit card at Patanjali's stores, hospitals, and wellness centers.
How to open Patanjali shop / Franchise / Distributor business?
Here are Step by Step guide to apply for distributorship of Patanjali Ayurved Limited.
Step 1
Visit the official website of Patanjali Ayurved Ltd – Patanjali Ayurved.
Step 2
Goto the download section in the top menu.
Open the 'Application Form for Distributorship' from the download section.
Click on 'English Form Download' and the Distributor Application Form will get downloaded in PDF format.
(Hindi language option is also available)
Step 3
Take print of this form (its a single page form).
Fill it up to provide all details (refer instructions)
Step 4
Scan and send the application form to abhuydaivibhag@patanjaliayurved.org .
Also submit required documents such as last year ITR and balance sheet. (Scan and send them alongwith the application form)
Step 5
Wait for confirmation. If shortlisted company officials will contact you.
What is indicative Budget to open a Patanjali shop?
Approximate investment as per me to ope a franchise outlet of Patanjali, is about Rs 7-15 lakh and an area of about 300 to 1,000 sq.ft is needed.
Store Location :
Location of store is also important, however now a days Patanjali fever is so high that any location even in rural, semi-rural or urban area goes well.
Which products are sold across Patanjali stores?
Grocery: Tea , biscuits, jam chocolates noodles flour oil rice pulses etc.
Medicine: Medicines that are listed as Ayurvedic
Personal care: Toothpaste, face wash, shampoo , soaps etc.
Home care: Incense sticks, dish wash bar and herbal gulal.
Books: Books, CD's and DVDs for spreading awareness of yoga.
Also if needed you can reach out directly to the company on the below address:
Patanjali Ayurved Ltd.
Patanjali Food & Herbal Park,
Vill.- Padartha, P.O.- Dhanpura, Laksar Road,
Haridwar-249404 (Uttarakhand) INDIA
Ph. – 01334-24000801334-265370
In May this year, Patanjali had launched its SIM card in collaboration with state-run BSNL.
Yoga guru Ramdev's Patanjali Ayurved offers a SIM card, called 'Swadeshi Samriddhi SIM', in partnership with state-run BSNL (Bharat Sanchar Nigam Limited)