While going to Pune International Airport or coming back (pickup or drop) we have to hire cab services like Ola, Uber or Rikshaw which are costly as well as for specially girls and women it feels unsafe sometimes. So now you can have safe Air conditioned Public transport by PMPML to save money as well as to reduce city pollution. Hence I have added the Airport Buses – Pune Airport Bus Service Time-table 2021 for your quick reference. PDF, Image and Text format tables are added so that it helps.
Specially for frequent visitors this is a boon. All buses are synchronized with the flight timings, so you need not wait for hours.
PMPML have made your life easy with this convenient mode of transportation.
The Airport Special buses are specially targeted to offer travelers hassle free and comfortable ride to and from the airport.
And that is the reason these AC Electric buses have became the most popular choice of transport for most Pune and PCMC people.
The buses ply every 30 minutes interval.
Tickets can be booked both online and offline.
If you want to book your ticket ONLINE then goto BOOK PMPML AirPort Bus here
A total of 6 Ac buses cater the service from boarding points, Hinjewadi and Pune Station.
Download Pune Airport Bus Service Time-table PDF file
Airport Buses – Pune Airport Bus Service Time-table 2021
PUNE MAHANAGAR PARIVAHAN MAHAMANDAL LIMITED

Pune Airport Bus Service Time-table

Route Number
Destination
Bus Time
A-1
Hinjewadi Maan Phase-3 to Pune Airport
05:30
06:00
06:30
07:00
07:30
08:00
08:30
09:00
09:30
10:00
10:30
11:00
11:30
12:00
12:30
13:20
13:50
14:20
14:50
15:20
15:50
16:20
16:50
17:20
17:50
18:20
18:50
19:00
19:30
19:50
Pune Airport to Hinjewadi Maan Phase-3
07:30
08:00
08:30
09:00
09:30
10:00
10:30
11:00
11:30
12:00
12:30
13:00
13:30
14:00
14:30
15:20
15:50
16:20
16:50
17:20
17:50
18:20
18:50
19:20
19:50
20:20
20:40
21:00
21:20
21:40
A-2
Bhekrainagar (Hadapsar) to Pune Airport
06:10
06:40
07:10
07:40
08:10
08:40
09:10
09:40
12:40
13:10
13:40
14:10
14:35
14:00
14:30
15:00
15:30
16:00
16:30
17:00
17:50
18:00
18:30
19:00
19:30
Pune Airport to Bhekrainagar (Hadapsar)
07:10
07:40
08:10
08:40
09:10
09:40
10:10
10:40
11:40
12:10
12:40
13:10
13:35
15:00
15:30
16:00
16:30
17:00
17:30
18:00
18:30
19:00
19:30
20:00
20:30
A-3
Swargate to Pune Airport
05:30
06:00
06:30
07:00
07:30
08:00
08:30
09:00
09:30
10:00
13:30
14:00
14:30
15:00
15:00
14:00
14:30
15:00
15:30
16:00
16:30
17:00
17:30
18:00
18:30
Pune Airport to Swargate
06:45
07:15
07:45
08:15
08:45
09:15
09:45
10:15
10:45
11:15
12:15
12:45
13:15
13:45
14:15
15:15
15:45
16:15
16:45
17:15
17:45
18:15
18:45
19:15
19:45
A-4
Kothrud Stand to Pune Airport
05:50
06:20
06:50
07:20
07:50
08:20
08:50
09:20
09:50
10:20
13:40
14:10
14:40
15:10
15:40
14:40
15:10
15:40
16:10
16:40
17:10
17:40
18:10
18:40
19:10
Pune Airport to Kothrud Stand
07:05
07:35
08:05
08:35
09:05
09:35
10:05
10:05
10:35
11:05
12:35
13:05
13:25
13:55
14:25
15:55
16:25
16:55
17:25
17:55
18:25
18:55
19:25
19:55
20:25
A-5
Nigdi to Pune Airport
05:40
06:10
06:40
07:10
07:40
08:05
08:20
08:50
09:20
09:50
10:20
10:50
15:15
15:45
16:15
16:45
17:15
17:45
18:15
18:45
19:15
19:45
20:15
20:45
Pune Airport to Nigdi
06:55
07:25
07:55
08:25
08:55
09:25
09:50
10:20
10:50
11:20
11:50
12:20
13:15
13:40
14:10
14:40
15:10
15:40
16:40
17:10
17:40
18:10
18:40
19:10
19:40
20:10
20:40
21:10
21:40
22:10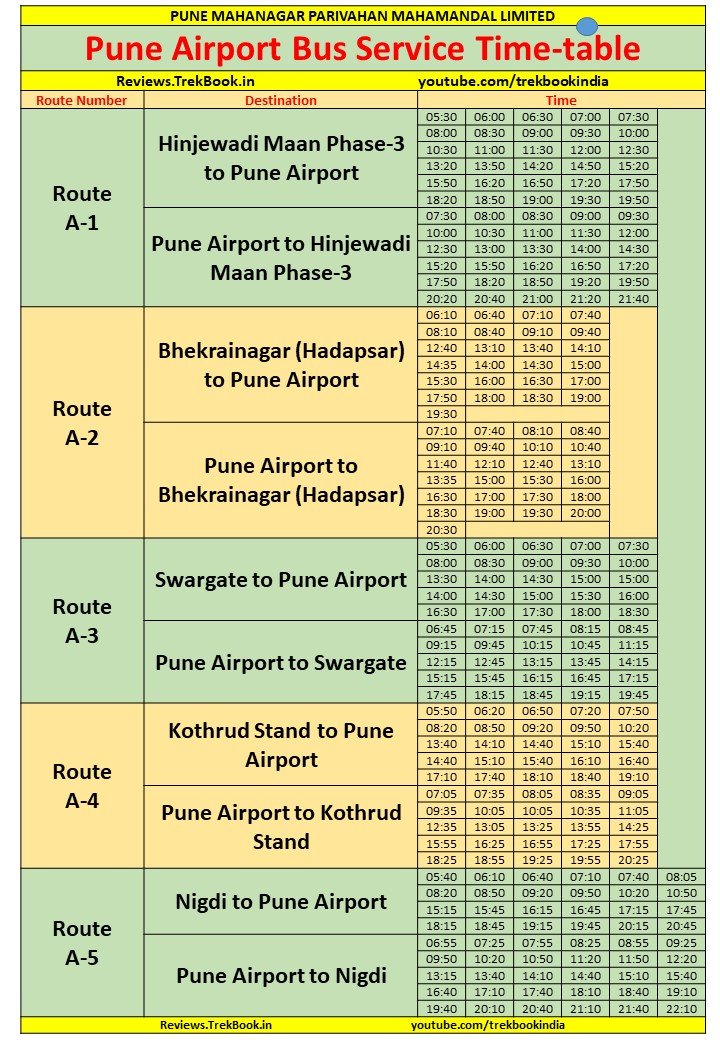 Route No A1

Lohgaon Airport To Hinjawadi Maan Phase 3  (Up)

Stage No
Route
Stop Code
Stop Name
Rate
1
A1-U
0
Lohgaon Airport
0
2
A1-U
1
Hotel Novetal
20
3
A1-U
2
Hyatt Hotel
20
4
A1-U
3
Shastrinagar Nagar Chowk
30
5
A1-U
4
Hotel Ritz Carlton
40
6
A1-U
5
Sun & Sand
50
A1-U
6
Lemon Tree Hotel
60
7
A1-U
7
Collector Kacheri
60
8
A1-U
8
Ma Na Pa
70
A1-U
9
Shivajinagar / Simla Office
80
9
A1-U
10
Pune Vidhyapeeth Gate
80
A1-U
11
Bremen Chowk
90
10
A1-U
12
Medi Point
90
A1-U
13
Jupiter Hospital
100
11
A1-U
14
Laxmi Mata Mandir Balewadi
100
A1-U
15
Hystreet / Cummins Road
110
12
A1-U
16
Radha Hotel
110
A1-U
17
Wakad Bridge
120
13
A1-U
18
Shivaji Chowk Hinjawadi
120
14
A1-U
19
Infosys Phase 1
130
A1-U
20
Wipro Company Circle
130
15
A1-U
21
Infosys Phase 2
140
16
A1-U
22
Hinjawadi Maan Phase 3
150

Route No A1

Hinjawadi Maan Phase 3   To Lohgaon Airport  (Down)

Stage No
Route
Stop Code
Stop Name
Rate
16
A1-D
0
Hinjawadi Maan Phase 3
0
15
A1-D
1
Infosys Phase 2
20
A1-D
2
Wipro Company Circle
20
14
A1-D
3
Meza Nine
20
13
A1-D
4
Shivaji Chowk Hinjawadi
30
A1-D
5
Wakad Bridge
40
12
A1-D
6
Radha Hotel
40
A1-D
7
Hystreet / Cummins Road
50
11
A1-D
8
Laxmi Mata Mandir Balewadi
50
A1-D
9
Jupiter Hospital
60
10
A1-D
10
Medi Point
60
A1-D
11
Bremen Chowk
70
9
A1-D
12
Pune Vidhyapeeth Gate
70
A1-D
13
Shivajinagar / Simla Office
80
8
A1-D
14
Ma Na Pa
80
7
A1-D
15
Pune Station Moledina
90
A1-D
16
Pune Railway Staion
100
6
A1-D
17
Sun & Sand
100
5
A1-D
18
Hotel Ritz Carlton
110
4
A1-D
19
Shastrinagar Nagar Chowk
120
3
A1-D
20
Hyatt Hotel
130
2
A1-D
21
Hotel Novetal
140
1
A1-D
22
Lohgaon Airport
150

Route No A2

Bhekrainagar To Lohgaon Airport  (Up) Via Hadapsar, Magarpatta City, Kharadi Gaon,  Eion Chowk

Stage No
Route
Stop Code
Stop Name
Rate
1
A2-U
0
SPCT / Bhekrainagar
0
2
A2-U
1
Hadapsar Gadital
20
3
A2-U
2
Noble Hospital
20
4
A2-U
3
Magarpatta Main Gate
30
5
A2-U
4
Seasons Mall / Amanora Mall
40
6
A2-U
5
Mundhwa Chowk
50
7
A2-U
6
Redisson Hotel / Relaince Mall
60
8
A2-U
7
Eion Main Gate
70
9
A2-U
8
Kharadi Bypass Chowk
80
10
A2-U
9
Tata Guardroom
90
11
A2-U
10
Hyatt Hotel
100
12
A2-U
11
Lohgaon Airport
110

Route No  A2

Lohgaon Airport To Bhekrainagar (Down) Via Eion Chowk, Kharadi Gaon, Magarpatta City, Hadapsar

Stage No
Route
Stop Code
Stop Name
Rate
12
A2-D
0
Lohgaon Airport
0
11
A2-D
1
Hyatt Hotel
20
10
A2-D
2
Tata Guardroom
20
9
A2-D
3
Kharadi Bypass Chowk
30
8
A2-D
4
Eion Main Gate
40
7
A2-D
5
Redisson Hotel / Relaince Mall
50
6
A2-D
6
Mundhwa Chowk
60
5
A2-D
7
Seasons Mall / Amanora Mall
70
4
A2-D
8
Magarpatta Main Gate
80
3
A2-D
9
Noble Hospital
90
2
A2-D
10
Hadapsar Gadital
100
1
A2-D
11
SPCT / Bhekrainagar
110

Route No A4

Kothrud Stand To  Lohgaon Airport (Up)

Stage No
Route
Stop Code
Stop Name
Rate
1
A4-U
0
Kothrud Stand
0
2
A4-U
1
SNDT College
20
3
A4-U
2
Deccan Corner
20
4
A4-U
3
Goodluck Chowk
30
5
A4-U
4
Lokmangal
40
6
A4-U
5
Ma Na Pa
50
7
A4-U
6
Pune Station Moledina
60
A4-U
7
Pune Railway Staion
70
8
A4-U
8
Residency Club
70
9
A4-U
9
Blue Diamond
80
10
A4-U
10
Golf Club
90
11
A4-U
11
Lohgaon Airport
100

Route No  A4

Lohgaon Airport  To Kothrud Stand  (DOWN)

Stage No
Route
Stop Code
Stop Name
Rate
11
A4-D
0
Lohgaon Airport
0
10
A4-D
1
Golf Club
20
9
A4-D
2
Blue Diamond
20
8
A4-D
3
Residency Club
30
A4-D
4
Lemon Tree Hotel
40
7
A4-D
5
Collector Kacheri
40
6
A4-D
6
Ma Na Pa
50
5
A4-D
7
Balgandharv
60
4
A4-D
8
Deccan Gymkhana
70
3
A4-D
9
Deccan Corner
80
2
A4-D
10
SNDT College
90
1
A4-D
11
Kothrud Stand
100

Route No A5

Lohgaon Airport  To  Nigdi / Bhakti Shakti (Up)

Stage No
Route
Stop Code
Stop Name
Rate
1
A5-U
0
Lohgaon Airport
0
2
A5-U
1
Vishrantwadi
20
3
A5-U
2
AIT College
20
4
A5-U
3
Magzine
30
5
A5-U
4
Bhosari PMT Chowk
40
6
A5-U
5
Landewadi Corner
50
7
A5-U
6
CIRT
60
8
A5-U
7
Nashik Phata
70
9
A5-U
8
Pimpri
80
10
A5-U
9
Chinchwad Station
90
11
A5-U
10
Akurdi Chowk
100
12
A5-U
11
Nigdi
110
13
A5-U
12
Bhakti Shakti
120

Route No A5

Nigdi /  Bhakti Shakti To  Lohgaon Airport (Down)

Stage No
Route
Stop Code
Stop Name
Rate
13
A5-D
0
Bhakti Shakti
0
12
A5-D
1
Nigdi
20
11
A5-D
2
Akurdi Chowk
20
10
A5-D
3
Chinchwad Station
30
9
A5-D
4
Pimpri
40
8
A5-D
5
Nashik Phata
50
7
A5-D
6
CIRT
60
6
A5-D
7
Landewadi Corner
70
5
A5-D
8
Bhosari PMT Chowk
80
4
A5-D
9
Magzine
90
3
A5-D
10
AIT College
100
2
A5-D
11
Vishrantwadi
110
1
A5-D
12
Lohgaon Airport
120

Rout No A3

Swargate To Lohgaon Airport  (UP) Via Westend, Pune Staion,  Koregaonpark

Stage No
Route
Stop Code
Stop Name
Rate
1
A3-U
0
Swargate
0
2
A3-U
1
Juna Pulgate
20
3
A3-U
2
Westend / Arora Tower Hotel
20
4
A3-U
3
Pune Station Moledina
30
A3-U
4
Pune Railway Staion
40
5
A3-U
5
Conard Hotel
40
6
A3-U
6
Blue Diamond Hotel
50
7
A3-U
7
O Hotel
60
8
A3-U
8
Gold Adlabs Chowk
70
9
A3-U
9
Shastrinagar Nagar Chowk
80
10
A3-U
10
Golf Club
90
11
A3-U
11
Lohgaon Airport
100

Rout No A3

Lohgaon Airport  To  Swargate  (Down) Via Koregaonpark, Westend

Stage No
Route
Stop Code
Stop Name
Rate
11
A3-D
0
Lohgaon Airport
0
10
A3-D
1
Golf Club
20
9
A3-D
2
Shastrinagar Nagar Chowk
20
8
A3-D
3
Gold Adlabs Chowk
30
7
A3-D
4
O Hotel
40
6
A3-D
5
Blue Diamond Hotel
50
5
A3-D
6
Conard Hotel
60
4
A3-D
7
Lemon Tree Hotel
70
3
A3-D
8
Westend / Arora Tower Hotel
80
2
A3-D
9
Mahatma Gandhi Bus Stand
90
1
A3-D
10
Swargate
100

Route No A1

Bhakti Shakti To Hinjawadi Maan Phase 3 (Up)

Stage No
Route
Stop Code
Stop Name
Rate
1
A1-U
0
Bhakti Shakti
0
2
A1-U
1
Nigdi
20
A1-U
2
Akurdi
20
3
A1-U
3
Chaphekar Chowk
20
A1-U
4
Dange Chowk
30
4
A1-U
5
Bhumkarvasti
30
A1-U
6
Hinjawadi Gaon
40
5
A1-U
7
Shivaji Chowk Hinjawadi
40
A1-U
8
Infosys Phase 1
50
6
A1-U
9
Wipro Company Circle
50
7
A1-U
10
Infosys Phase 2
60
8
A1-U
11
Hinjawadi Maan Phase 3
70

Route No A1

Hinjawadi Maan Phase 3 To Bhakti Shakti (Down)

Stage No
Route
Stop Code
Stop Name
Rate
8
A1-D
0
Hinjawadi Maan Phase 3
0
7
A1-D
1
Infosys Phase 2
20
A1-D
2
Wipro Company Circle
20
6
A1-D
3
Meza Nine
20
A1-D
4
Shivaji Chowk Hinjawadi
30
5
A1-D
5
Hinjawadi Gaon
30
A1-D
6
Bhumkarvasti
40
4
A1-D
7
Dange Chowk
40
A1-D
8
Chaphekar Chowk
50
3
A1-D
9
Akurdi
50
2
A1-D
10
Nigdi
60
1
A1-D
11
Bhakti Shakti
70

Route No A3

Bhekrainagar To Swargate  (Up)

Stage No
Route
Stop Code
Stop Name
Rate
1
A3-U
0
SPCT Bhekrainagar
0
2
A3-U
1
Hadapsar Gadital
20
A3-U
2
Magarpatta Dawakhana
20
3
A3-U
3
Ramtekdi
20
A3-U
4
Fatimanagar
30
4
A3-U
5
Mahatma Gandhi Stand
30
5
A3-U
6
Swargate
40

Route No A3

Swargate To Bhekrainagar (Down)

Stage No
Route
Stop Code
Stop Name
Rate
5
A3-D
0
Swargate
0
4
A3-D
1
Mahatma Gandhi Stand
20
A3-D
2
Fatimanagar
20
3
A3-D
3
Ramtekdi
20
A3-D
4
Magarpatta Dawakhana
30
2
A3-D
5
Hadapsar Gadital
30
1
A3-D
6
SPCT Bhekrainagar
40

Route No A4

SPCT Bhekrainagar To Kothrud Stand (Up)

Stage No
Route
Stop Code
Stop Name
Rate
1
A4-U
0
SPCT Bhekrainagar
0
2
A4-U
1
Hadapsar Gadital
20
A4-U
2
Magarpatta Dawakhana
20
3
A4-U
3
Ramtekdi
20
A4-U
4
Fatimanagar
30
4
A4-U
5
Mahatma Gandhi Stand
30
A4-U
6
Nehru Stadium
40
5
A4-U
7
SP College
40
A4-U
8
Deccan Corner
50
6
A4-U
9
SNDT College
50
7
A4-U
10
Kothrud Stand
60

Route No A4

Kothrud Stand To SPCT Bhekrainagar (Down)

Stage No
Route
Stop Code
Stop Name
Rate
7
A4-D
0
Kothrud Stand
0
6
A4-D
1
SNDT College
20
A4-D
2
Deccan Corner
20
5
A4-D
3
SP College
20
A4-D
4
Swargate Depo
30
4
A4-D
5
Mahatma Gandhi Stand
30
A4-D
6
Fatimanagar
40
3
A4-D
7
Ramtekdi
40
A4-D
8
Magarpatta Dawakhana
50
2
A4-D
9
Hadapsar Gadital
50
1
A4-D
10
SPCT Bhekrainagar
60

Route No A4

Bhekrainagar To Swargate  (Up)

Stage No
Route
Stop Code
Stop Name
Rate
1
A4-U
0
SPCT Bhekrainagar
0
2
A4-U
1
Hadapsar Gadital
20
A4-U
2
Magarpatta Dawakhana
20
3
A4-U
3
Ramtekdi
20
A4-U
4
Fatimanagar
30
4
A4-U
5
Mahatma Gandhi Stand
30
5
A4-U
6
Swargate
40

Route No A4

Swargate To Bhekrainagar (Down)

Stage No
Route
Stop Code
Stop Name
Rate
5
A4-D
0
Swargate
0
4
A4-D
1
Mahatma Gandhi Stand
20
A4-D
2
Fatimanagar
20
3
A4-D
3
Ramtekdi
20
A4-D
4
Magarpatta Dawakhana
30
2
A4-D
5
Hadapsar Gadital
30
1
A4-D
6
SPCT Bhekrainagar
40