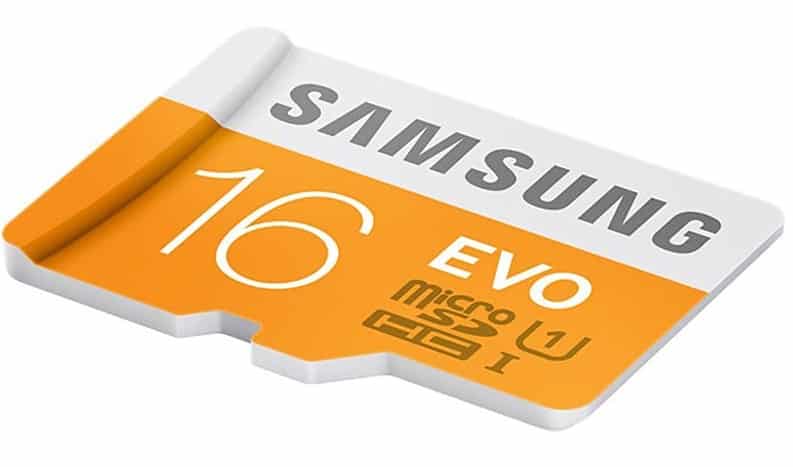 Improved Samsung Evo 16GB Class 10 micro SDHC Card
Most versatile, fastest and inexpensive card with speedy random read and write speeds for phones or tablets plus fast sequential speeds for other uses.
Key Features :
Reading speed ~ 48 MB/s

Writing speed ~ 10 MB/s

X-Ray proof
Protects your precious data from damage caused by airport X-ray machines.
Magnet proof
Can even resist up to 13 times the magnetic force of home theater speakers.
Water Proof
Highly important since slight dip during your picnic will make loose all important photo data, here it ensures your files remain safe during life's little mishaps

Heat proof

Password setting [Optional]

Shock resistant
Samsung Evo 16GB Class 10 micro SDHC Card Review
Family Lane
microSD
 Device Compatibility
 Cellular Phones, Smart Phones, Tablet PCs
USB 3.0, 2.0
 Capacity
 16 GB
 Speed Class
 UHS-I Grade1, Class 10
Reading speed
 ~ 48 MB/s
Writing speed
~ 10 MB/s
Dimensions
15 x 11 x 1 mm
Weight
 9 gm
Manufacturer
 Samsung
Warranty
 10 Years
Customer Service
Read Samsung Evo 16GB Class 10 micro SDHC Card Reviews on Amazon & Flipkart …
Read 5,892  Reviews on Flipkart
Tips :
Remember that you need UHS "enabled" device to get mentioned high data transfer speeds
How to identify Fake Samsung SD card (or any other SD card for e.g.)

Check for the printing :
If the print on the package seems off and if the logos don't look quite right, you're probably looking at a fake SD card.
If the text on the microSD card itself is misaligned or poorly printed, then it is most likely a fake
Install "SD Insight" on your Android phone or tablet from Play Store [It is a free app]
This App will list details about your microSD card. Real microSD cards will have data about them listed, including their manufacturer. Fake Counterfeits will have no manufacturer name stated.
Third practical test you must do
Just fill your micro SD card with data. Copy bunch of music/video files onto your microSD card to full capacity Or record a test video using your phone with the microSD card set as storage location.
Once your card is completely full, check if the data you just put on it is accessible…. Now if you get an error then for sure your micro SD card is Fake.
Please have a look at video embedded at end of this blog-post showing how to identify fake
Items Supplied Check List (May change from time to time) :
Samsung EVO 16GB microSD Card
SD adapter [Depending upon offer available]
---
Value for Money Product, Just Go For It
… Click here to Purchase …
Samsung Evo 16GB Class 10 micro SDHC Card  …
… Offer going on  Amazon …
---
See Bad points / Complaints / Problems customers faced for Samsung Evo 16GB Class 10 micro SDHC Card
Card not working in a weeks time use
---
What improvements I expect in the next release ?
---
Samsung Evo 16GB Class 10 micro SDHC Card Video Review on how to identify fake SD cards
Summary
Reviewer
Review Date
Reviewed Item
Samsung Evo 16GB Class 10 micro SDHC Card
Author Rating