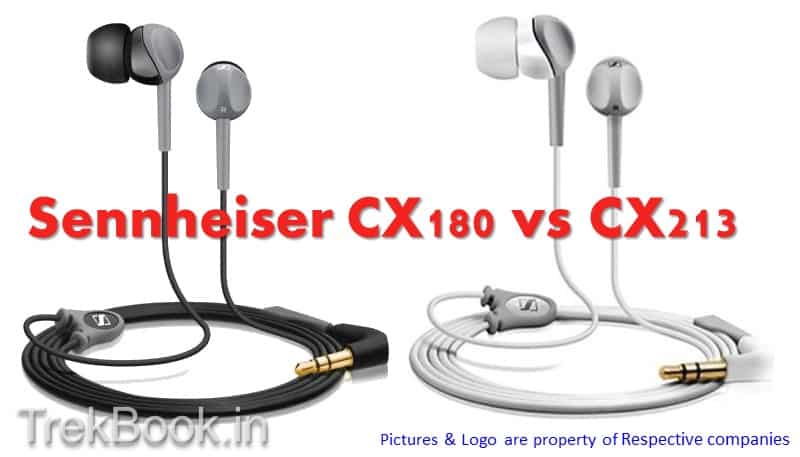 With over 60 years of headphone engineering and sound/ audio solutions expertise and Sennheiser  headphones are popular in India too.
Sennheiser with a high seller CX 180 in ear canal headphones has introduced its upgrade.
Main question is that if you have to pay almost double price to get CX 213, then is it worth it?
Lets see:
[price indication is as on Feb 2018 as per prevailing rates of both headphones in India]
Lets understand what is difference in latest upgrade CX 213 and is it worth buying at that price ?
Design:
Both CX180 & CX213 are in ear type earphones with finger contouring housing and easy adjustment providing the best wearing comfort for you.
Ear canal sealing provides best sound quality.
To suit different ear canal shapes, you get different ear adapters (small/medium/large)
Colour:
Sennheiser CX213 is available in 4 different colors including Blue, White, Gray, and Pink.
Sennheiser CX180 is available only in gray colour.
Sound Quality:
Both, Sennheiser CX180 and CX213, delivers very high-end stereo sound quality with balanced bass, balanced mid-high end frequency handling capability.
(CX180 handles 20HZ to 20,000 Hz, whereas CX213 handles 25Hz to 20,000Hz)
Technically speaking CX 180 will be able to handle the lowest frequency of sound i.e. 20 Hz. I am not sure why in the upgrade Sennheiser  engineers have not thought of carrying over this freq range !
Coming to the sensitivity, CX 213 can deliver 115 dB @ 1kHz as against only 110 dB @ 1kHz by CX 180, So here CX 213 wins by performing best by playing louder music.
Both drivers have 16 ohm impedance, which means technically the drivers have remained the same.
Further the sound quality is also contributed by the way ear tips seal inside your ear canal, here the Silicon ear adapters come into picture, providing a good sealing from ambient noises as well as allowing reflection of sound to deliver good bass.
Jack:
Both are having 3.5 mm pin, which is as on now the most common thing used across India. So useful.
Headphone cable:
Sennheiser CX180 has traditional cable which is more prone to entanglement.
CX 213 has improved twin symmetrical cables before the split, hence are less prone to entanglement.
Sennheiser CX180 vs CX213 review & comparison
 

Sennheiser CX180 specs

Sennheiser CX213 specs

Best Offer
Best Buy
Best Buy
Color
Gray
Gray, Blue, White, Pink
Impedance
16 ohms
Frequency response (Headphones)
20 Hz – 20,000 Hz
25Hz to 20,000Hz
Sound pressure level (SPL)
110dB (1kHz/1Vrms)
115dB@1kHz
Sound signature
Heavy Bass, Muted Mids & Highs
Heavy Bass, Refined Mids & Highs.
Ear adapters
3 Pairs of Silicon Eartips for Comfort
Mic

No, both do not have microphone

Cable length
1.2m long regular cable
1.2 m two symmetrical cables before the split for less entanglement
Connector
3.5 mm stereo mini plug
Final words:
Looking at the comparison of both CX 180 vs CX 213, both are best budget headphones in India as on now.
However as you know Indian population is highly sensitive to the price, as on Feb 2018 CX 213 is almost double he cost of CX180.
Mainly for only choices of more colours and improved cable, you are loosing Lower frequencies i.e. BASS.
And that is the reason of CX213 being less popular in India. The Amazon reviews also is an indication of the same.
In line with best Bass, and sacrificing the colour choice I will still go for CX 180 🙂
Summary
Reviewer
Review Date
Reviewed Item
Author Rating