Best Gas Stoves in India with Price comparison list is prepared since I wanted to replace my 25 years old gas stove which is almost to its end of life. Since so long time has passed there are new generation of 3 and 4 Burner Gas Stoves available from various new Brands that too with Glass top which is latest trending model. So here is comprehensive study on gas stoves done in 2021 after visiting Star Bazaar, Big Bazaar, D-Mart, Reliance stores in my area as well as online shops like Flip-kart and Amazon India. Some research also done by meeting my friends and relatives to get an opinion on if to go for a 3 burner or 4 burner stove.
Best Gas Stove Brands in India with Price comparison and research in local / online stores | 2021
The first question as I decided to replace my old 2 burner steel stove was –
My present gas stove is old 2 burner, now shall I go for 3 or 4 burner stove?
Obviously since I am used to the old 2 burner stove first I thought of looking for a 2 burner stove with good budget price and brand reputation.
To do so I visited all nearby super stores like Star Bazaar, Big Bazaar, D-Mart, Reliance where I could physically see different brands, models, types of gas stoves with prices and warranty.
I also interacted with the sales persons in each store to know what are the pros and cons, which gas stove brand is good, which gas stove brand is most selling and why. All these interactions I will be capturing in my YouTube video which is under preparation.
So most of the sales persons told me that people prefer going for 3 burner gas stoves as compared to 2 burner or 4 burner due to the following reasons –
3 burner stove adds spare capacity for catering to high demand in case you have guests at home
3 burners are spaced comfortably in most of the models thereby avoiding clutter during actual use
4 burner stoves have comparatively cramped layouts thereby having less space in between utensils
4 burner stove utilization is comparatively less since most of the families now have 4-6 persons which does not demand cooking using all 4 burners
So looking at all above points 3 burner stove strikes a golden mean in terms of price, utilization factor, burner spacing/layout. It generally consists of 1 small, 1 medium and 1 jumbo burner to cater for different cooking needs.
So I decided to go for a 3 burner gas stove in place of my old 2 burner gas stove.
Side buttons or top button layout for gas stove?
Second question asked to me by the sales person is
"Do I need side buttons or top button layout for gas stove?"
Since my present gas stove is having side button layout, I just asked why do I need a top button layout?
Answer was that if you have modern kitchen which demands for embedded type of gas stove built into the katta design then you must go for top button layout, since the gas stove in modern kitchen is matched to the top surface of kitchen katta.
I do not have modern kitchen design so I decided to go for side button type of traditional gas stove layout.
Note – Top button layout have one issue that any water / hot curry spillage over buttons can be cumbersome to clean.
What are the essential factors I considered during selection of new gas stove?
After elaborate discussion with the sales persons in different super stores, local shops and my family/friends I considered the following factors for selection of new gas stove.
1) Removable drip tray
Indian cooking involves making lot of curry like things which are evidently spill out most of the time 🙂 so the first and foremost thing that you should look while selection of new gas stove is removable type of drip tray.
Removable drip tray will make your life easy in case of spillovers during cooking. Sticky substances can be easily cleaned when the plate is separate. This is a must for daily cleaning activity.
2) Gas knob ergonomics
For me its my mother who want to use the new gas stove. So like my old gas stove she would like to have gas stove knobs which are big in size, easy to operate and having big symbols for easy reading.
So while you select the new gas stove, do Gemba, means see it your self, operate the gas knobs yourself to see if the operation is easy (it should not be sticky rotation)
Also see that the knobs can be easily removed for cleaning purpose (you can just pop them up using a screw driver or even a spoon) such knobs have spring clips instead of screws to hold knob on rod with a D-shape for mechanical motion locking.
In short do not select stove having knobs screwed or having difficulty in operation and removal for cleaning.
After all this knob is going to be operation million times during daily cooking 🙂 so give it a top notch priority over all other points.
Another important point I saw on most of the online feedback's is quality of gas knobs, Yes – this is also related to safety related aspect, I saw in many online reviews about melting of gas stove knobs and catching fire. So make sure to get a good brand who uses first grade plastic to manufacture knobs.
3) Anti-Skid Feet
You may feel this is not that important, however like my old gas stove working fine on its feet since last 25 years I have experienced that anti-skid feet have helped me (I mean my wife) the most.
While you keep utensils for cooking which are heavy and do operations like stirring say making a suji halawa, then if the gas stove feet are not anti-skid then you are gone for a toss. Whole stove will move like anything!!
So look for good quality plastic feet with rubber bottom which will make them anti-skid.
4) Brass burner or Aluminium burner?
Olden days gas stoves like the one I have presently – the burners used to be made from Aluminium.
But you can see that many modern manufactures are going for Brass burners, so its important to know which one is better than other Brass vs Aluminium burner.
Brass gas burners are said to be more durable and resistant to corrosion and high heat as compared to the aluminium burners.
Having said that I must mention here that my aluminium burners are working fine since last 25 years.
Brass burners are costlier than Aluminium burners, so your budget will also affect depending upon this selection.
Brass will have slightly high edge in terms of heat carrying, however it must be noted that Aluminium burners get heated quickly (and so as get cooled faster making cleaning more quick after cooking is over)
However for Heat Distribution what matters is the nozzle size, the gas distribution arrangement in the burner, and the pattern of holes – all of these design parameters govern the flame size and quality, and hence the efficiency of burning.
In short I will say that the burners material be it Aluminium or Brass will not play vital role in in burning gas efficiently.
So finally it will not make much difference apart from Aesthetics where brass burner looks more attractive than Aluminium, rather important factor is burner design in terms of efficient gas flame creation.
5) Toughened glass
Finally when it comes to aesthetics and modern looking kitchen, now a days everyone prefers a glass top stove as compared to the old designed pure stainless steel stove.
Generally the glass is 6 to 8 mm thick which is toughened (heat treatment)
However please note that although the glass is toughened does not mean that it will not crack. Toughened glass only ensures that in case glass cracks due to certain reason it will not shatter into sharp edge pieces. Its like a car glass which is also toughened, if it breaks, it gets into small pieces which are blunt so not hurting much in case of an accident.
So when you go for a Glass top gas stove, remember that glass is prone to crack in case you drop some heavy & sharp object onto it or you something spills on glass top when its too hot. Both cases glass is prone to crack (it has nothing to do with 7 years or lifetime warranty some manufacturers provide, remember its only against any manufacturing defects – no company can save the glass against its abuse like I have mentioned)
Some companies like Prestige uses SCHOTT German technology Glass with lifetime warranty.
So if you want fashion – go for glass top
if you want function – go for steel gas stove
Fit and finish
Again this is the point which I have kept at the last, since I think function supersedes everything.
I have seen many reviews from online stores like Amazon and Flipkart complaining about the fit and finish of product. I visited local stores to check for those complaint and found that even in local stores these products have the same issue of fit and finish. So its not online store responsible but the original company itself delivers such fit and finish.
Shall I buy Gas stove online or from local store?
So my suggestion is that first look for actual gas stove in local stores and if you feel online offer is attractive then order the same model from online stores.
In fact in my video you can see that gas stove kept in store also rusted even from good brands. Such rusting can happen when the painting / powder coating processes quality issue.
For quality issues like plastic knob broken etc can be quickly addressed if you have bought the gas stove from local store. ( I have seen reviews where users have not received proper service for small irritants like gas knob damage/operation difficulty etc)
One more advantage I can see in local store buy is that you can check the piece completely for any casting damages,
pipe rusting, knob operations proper/ tight before you tell the shopkeeper to deliver product.
---
Online vs Local Supermarket Gas stove price comparison
So during my investigation as said I visited all local stores / supermarkets to check the brands and prices, later I compared them with online prices.
I observed that some of the supermarkets are selling outdated models as compared to the online stores and the prices were same. so in such case its better to go for online order to get latest models in the same price.
Some of the examples of prices I am giving below –
Usha cook top ebony neo gs2 001 2 burner
This is outdated model – not available online
MRP 5090 offer price 2499 Rs
ONLINE – New model available – USHA Ebony Neo GS 2003 SS 2 Burner Cooktop (Black)
MRP 5090 offer price 3345 Rs
Prestige gas royale plus schott glass top gt 02
MRP 7345 offer price 4999 Rs
ONLINE Price – 4989 Rs
Prestige edge 2g gs black
MRP 7995 offer price 4999 Rs
ONLINE Price – 5790 Rs
TTK Prestige 3 burner marvel
MRP 7295 offer price 3999 Rs
ONLINE Price – 4290 Rs
Preethi Blu Flame Sparkle Glass Top 3-Burner Gas Stove, Black
MRP 8195 offer price 5699 Rs
ONLINE Price – 5999 Rs
Prestige Edge Schott Glass 4 Burner Gas Stove, Black
MRP 12195 offer price 7999 Rs
ONLINE Price – 8573 Rs
Faber Splender Gas stove 3 Burner Glass Cooktop, Auto Ignition, Steel Frame Body, Black
MRP 8490 offer price 6290 Rs
ONLINE price 5999 Rs
7 years warranty
---
So there is further investigation done to find out which are the top selling best gas stove brands in India in 2021, here is my complete research and recommendation (based on all above factors I have already mentioned)
Best Gas Stove Brands in India | 2021
Below recommendations are done based on discussion with my friends and family, local stores / supermarkets, extensive online study of customer reviews. So since this helped for me selecting my new gas stove, I am sure it will help you too.
Ranking is done from 1 to 10, best being featured first rank.
My recommendation for 3 burner gas stoves –
Rank 1) Lifelong 3 Burner Gas Stove, Black (Glass Top, ISI Certified)
Product MRP 6415 Rs
4 STAR rating with over 3122 Customer reviews which is good thing
Many times online offers are available for this product as low as 2,700 Rs – Check latest price on Amazon here
Lets have a look at salient features of this Glass Top Gas Stove
Break Resistant Glass Top
The toughened glass made to withstand very high temperatures, and its elegant design makes it a perfect addition to your modern kitchen.
The top of the Lifelong 3 burner gas stove has a layed over by a break resistant glass, which not only adds a touch of elegance to your kitchen, giving it a modern finish but also protects top from scratches.
High Efficiency Burners
These burners are long lasting, with brass material to give your kitchen a premium look and feel.
The burners are designed to consume less LPG and have a stronger flame than other gas stoves in market.
Anti-Skid Feet
The Lifelong 3 burner gas stove have four anti-skid feet which ensures that the gas stove remains stationary even when excess force or pressure is applied during cooking. So you are fear free and a comfortable cooking experience during regular use.
360 Degree Swivel Gas Inlet
Any movement of the cooktop is easy & safe if the Burner has 360 degree swivel gas inlet pipe, here the inlet is located on the back of the stove for convenience.
Easy To Clean
As said at the beginning of this post, one of the greatest challenges while cooking is maintaining a clean kitchen. The Lifelong 3 burner gas stove due to its glass top can be cleaned very easily, simply by using a wet cloth. This is again an advantage over the regular pure stainless steel gas stove (old type).
Thick Pan Supports
While you put on big utensils for cooking, you need to have strong supports with wide spread of legs. This helps the utensil to maintain balance on the stove during hand movements during making things like dal or non-veg items.
The supports must be thick enough to ensure that they serve purpose extremely well preventing any accidents which might occur in the kitchen.
Note – This gas stove do not have Auto-ignition.
Rank 2) Butterfly Smart Glass 3 Burner Gas Stove, Black
Product MRP 6495 Rs
4 STAR rating with over 2203 Customer reviews which is good thing
Many times online offers are available for this product as low as 3,000 Rs – Check latest price on Amazon here
Again with whooping customer reviews over 2K, this Smart Glass Top Gas Stove will surely add new definition to your kitchen experience.
This glass top stove will add new flavor to your kitchen, saving both time and energy in the kitchen.
Company claims to provide high quality burners, ranging from small to big size options for fulfilling to your cooking requirements appropriately.
Also the burners are designed to look sleek and modern, adding a new dimension to your kitchen, while also serving the purpose of fast cooking. Further the gas stove has an easy-to-use smart lock pan support and spill tray which ensures your convenience at the kitchen.
Lets have a look at salient features of this Glass Top Gas Stove
Smart Lock pan
The Smart Lock pan feature will provide you a greater stability while cooking.
What it means is that your cooking utensils will not wobble since the spill trays almost lock with each other, enhancing more stability, this is useful especially cooking over large utensils.
Stainless-steel spill tray
Spillage is an inherent part of any Indian kitchen !
Further the spills are corrosive in nature due to content of Imali like things which is part of all recipes in India.
So first thing is that there has to be spill tray which is made of stainless steel making the cleaning easily since its removable. and being SS it will sustain longer life too maintaining its shine for years.
Heat-efficient brass burners
I have already discussed at beginning of this post that Brass burners are a step better than Aluminium once, but slightly costly.
On this gas stove, the brass burners are designed to ensure equal distribution of heat which aids in proper cooking processes.
With higher thermal efficiency of Brass, optimum retention of heat while cooking is ensured.
Flame-retardant panel
Sometimes traditional Indian dishes like mutton curry or dum biryani takes hours to cook. In that case its almost important that your gas top have to be flame retardant to sustain this thermal abuse.
Heat-resistant legs
Again one of the selection criteria as mentioned by me. The support legs of the gas stove must ensure stability. This gas stove have high quality polymer legs which also are heat-resistant which enhances product durability over years.
Powder coating
Powder-coating pan stands ensures long lasting durable product. Since powder coating is scratch free and non-reactive, it sustains all abuse done to it during typical Indian cooking which have heated oil, curry, milk spill and so on. And the looks will remain the same over years to come.
Note – This gas stove do not have Auto-ignition.
Rank 3) Elica Vetro Glass Top 3 Burner Gas Stove (703 CT VETRO BLK)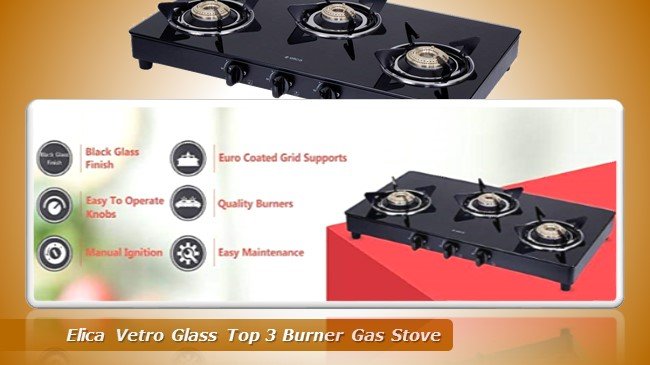 Product MRP 6490 Rs
4 STAR rating with over 1600 Customer reviews which is good thing
Many times online offers are available for this product as low as 3,500 Rs – Check latest price on Amazon here
In the year 2010 Elica SpA formed a joint venture Elica PB India Private Limited in India.
This state-of- the-art manufacturing plant equipped with machinery, automated assembly lines, and equipment imported from Italy for making of gas stoves is located in Pune, Maharashtra.
Lets have a look at salient features of this Glass Top Gas Stove
Glass Top finish
Modern kitchen calls for products with high aesthetic value, means every inch of product including the glass edge finish shall be well thought of and well made of.
A good quality toughened glass top with fine finish makes a ncie blend with all modern kitchen décor.
The toughened glass tops are beautiful and durable too.
EURO Coated grid
The Euro coated grid supports prevents the pan from chipping off which is evident while you move heavy utensils during cooking.
This durable finish standards ensures a genuine & rigid performance over years to come.
Toughened Glass
A toughened glass top makes the cook top beautiful adding a class to your kitchen as well as makes it durable for rough use. Its important to see the way in which the glass top is made imparts a lot of strength to it and prevents minor breakage with ease.
Heavy BRASS Burners
This gas stove features 2 Medium and 1 Small size burners which can be useful for almost all cooking requirements in typical Indian family. These high-quality burners provide you safe, energy & time-saving cooking experience with consistent flames.
Stainless Steel Support Plate
SS material provides all in one thing, aesthetics, durability and reliable operation over years.
The Elica 703 CT VETRO Gas Stove SS Support Plates are perfectly designed to enhance its sturdiness.
High Quality Gas knobs
One of the most used feature of gas stove is its knobs. They must be ergonomic and easy to operate. Knobs should function smoothly, still looking super stylish to complement the gas top.
Note – This gas stove do not have Auto-ignition. If you wish to buy that option get it here from Amazon India,
Rank 4) Pigeon by Stovekraft Favourite 3 Burner Line Cook Top Stove, Black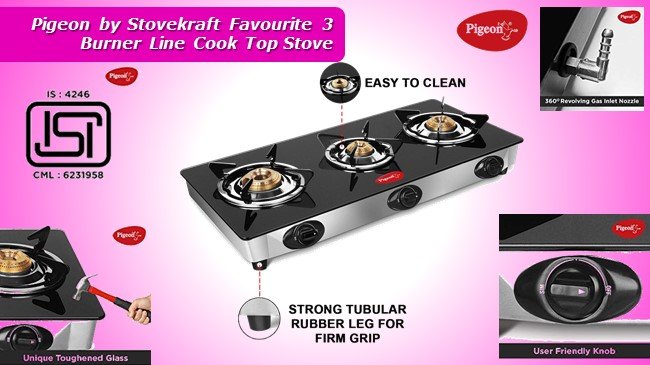 Product MRP 4295 Rs
4 STAR rating with over 1380 Customer reviews which is good thing
Many times online offers are available for this product as low as 2,300 Rs – Check latest price on Amazon here
The  Pigeon Favourite Gas Cooktop is designed to have functional, energy efficient still stylish.
The gas stove is quite compact considering modern kitchens still designed to hold larger dishes with strong tabular legs.
The burner delivers even distribution of the flame ensuring a perfect cooking experience and optimum fuel utilization every time.
Lets have a look at salient features of this Glass Top Gas Stove
The pan supports provides good wide utensil support to balance the pan.
The Toughened glass gives your kitchen a touch of elegance and a premium feel.
Screw less spill tray is very easy to remove, clean and maintain.
The Pigeon Favourite Gas stove is ISI Certified.
The ergonomically designed knob ensures smooth functioning and easy to handle.
The tabular rubber legs makes easy to balance the vessels which helps in connecting to gas cylinder without bending the pipe.
Note – This gas stove do not have Auto-ignition.
Rank 5) Prestige Royale Plus Schott Glass 3 Burner Gas Stove (Black)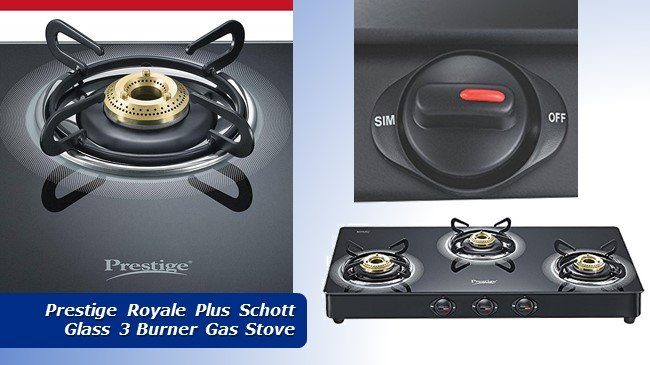 Product MRP 10,295 Rs
4 STAR rating with over 235 Customer reviews which is good thing
Many times online offers are available for this product as low as 5,995 Rs – Check latest price on Amazon here
Prestige is one of the oldest brand in India's kitchen appliance arena.
It is present in kitchen appliances area with varied product portfolio ranging from pressure cookers, non-stick cookware, gas stoves, induction cooktops, mixer grinders to varied other electrical appliances and kitchen tools.
Prestige further manufactures a wide range of home cleaning accessories including air purifiers, water purifiers, ladders, mops and many more.
The company is one of the pioneers in India with its innovation in the kitchen products and seen as one of the fastest growing company in the kitchen appliance space.
Prestige Royale Plus Aluminium Gas Stove is designed to combine maximum convenience with great looks. Its a great combination of performance and stunning looks.
The gas stove uses Schott glass coupled with superior German manufacturing standards ensuring finest quality experience. The Sabaf valves used in this cooktop are imported from Italy, which are known for its quality and smooth functioning.
These glass tops will not only add flavor to the aesthetics of your kitchen but also will last for years with its durable and long lasting designs to deliver a trouble free and safe operation.
Lets have a look at salient features of this Glass Top Gas Stove
High Quality German Technology Schott Glass
The German technology Schott glass with superior manufacturing standards assures lifelong durability with elegance. Again as said earlier glass top makes it extremely easy to clean and maintain.
Gas Valve from Sabaf-Italy
The gas valves used to make these gas tops are imported from Italy, boasting a high precision extremely durable valve, designed to give high performance trouble free operations for years of long usage.
Individual Pan Support
Prestige Royale Plus is designed to provide individual pan support for greater durability and steadiness to bigger sized pots and pans placed on it.
Further wide based pots enables uniform heating for perfect cooking and helps easy cleaning.
Tri-Pin Burners
The Tri-Pin brass burner ensures uniform heating still using lesser gas. The different sized burners are designed to cater typical Indian cooking needs .
Ergonomic Knob Design
The ignition control system of Prestige Royale Plus delivers a precision flame control with smooth and safe operation. The knobs are ergonomically designed to make turning the knob, easy on the fingers.
Note – This gas stove do not have Auto-ignition.
Rank 6) Eveready TGC 3B Glass Top Gas Stove, 3 Burner Gas Stove, Black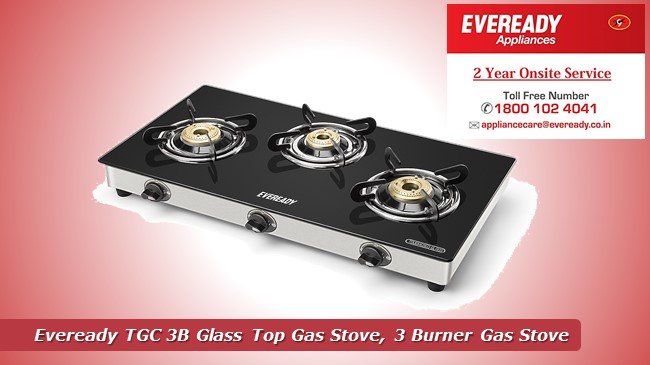 Product MRP 6,995 Rs
4 STAR rating with over 670 Customer reviews which is good thing
Many times online offers are available for this product as low as 2,595 Rs – Check latest price on Amazon here
Eveready's range of gas stoves are incredibly versatile still providing an exquisite blend of superior design and unbeatable performance compared to other gas stoves in market. (This brand is known for their most famous battery since decades in India)
Lets have a look at salient features of this Glass Top Gas Stove
Elegant design
Toughened glass top
Easy to clean
Rust resistance
Heavy duty brass burners
Stainless steel drip tray
Spill Proof Design
Eveready 3B gas stove have a Stainless steel drip tray which gathers all spills and overflows, easy to remove and clean. Making sure best cooking experience and a clean cook top (always).
360 Degree Swivel Type Gas Inlet
Indian kitchens are variable in terms of location of gas inlet pipes. Left / right or back !! So this gas stove have a 360 degree swivel type gas inlet allowing to place the LPG gas cylinder on any side of cooktop as per your kitchen design.
Ergonomically Designed Knobs
The three operation knobs are ergonomically designed to provide comfort and safety while cooking. They allow easy & precise adjustment of flame and heat of the burners.
Toughened Glass Top
The glass top is highly durable and offers a rust resistance texture while adding a touch of elegance to your kitchen.
The Eveready gas stove delivers long-lasting performance for years with its premium finish toughened glass top.
High Efficiency Brass Burners
This gas stove is equipped with 3 highly efficient brass burners to allow you cooking various dishes simultaneously and quickly while consuming lesser LPG.
Note that these burners have manual ignition function so you need a lighter to ignite the burners.
Powder Coated Pan Supports
Powder coated pan supports prevents the pan from chipping off while providing splendid durability.
It delivers durability with excellent exterior finish, reliable performance and rigid construction.
Note – This gas stove do not have Auto-ignition.
Rank 7) Amazon Brand – Solimo 3 Burner Gas Stove (Glass Top, ISI Certified)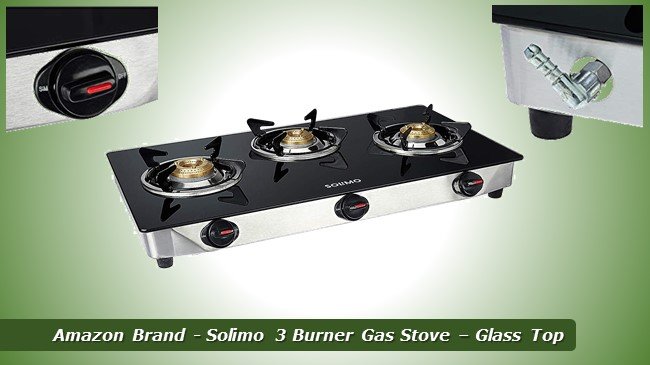 Product MRP 5,499 Rs
4 STAR rating with over 76 Customer reviews which is good thing
Many times online offers are available for this product as low as 2,500 Rs – Check latest price on Amazon here
Solimo products are of premium quality still a value for money proposition.
The company believes in investing resources optimally, hence minimizing design and manufacturing costs.
The product prices are kept at low avoiding expenses like advertising. So in short they are value for money products.
Amazon Brand – Solimo 3 Burner Gas Stove is crafted with stainless steel body with  an elegant glass top to beautify your kitchen. It is fantastic combination of performance, efficiency and good looks.
Their 3 burner gas top is good choice for a mid-sized families with optimal utilization of kitchen space.
The optimized pan supports takes care of most of the pan sizes used in any average Indian Kitchen.
The spill free tray makes life easy with hassle-free cleaning of the gas stove.
Lets have a look at salient features of this Glass Top Gas Stove
Brass burner with a Spill proof tray
3 burners are perfect companion of any typical mid sized family in India. A spare burner helps you during family get together and serving guests.
It is equipped with 1 big burner and 2 small burners which are made of brass.
These burners have 3 concentric array of flame exits, providing uniform heat distribution to the pan making the cooking efficient and time saving.
Hassle-free cleaning
Well designed spill proof trays can gather any spills and overflows while cooking. Their easy to clean design helps maintaining hygiene and cleanliness in your kitchen.
Toughened elegant glass top & PAN Support
A touch of elegance and toughness with the 6 mm black glass is a perfect addition to your kitchen. The toughened glass top can withstand high temperatures making it durable and long lasting.
The pan supports are rigid and hence reliable in construction providing ample support to the pans and utensils to help maintain the balance on the stove during operation.
Ergonomic Knobs
Ergonomically designed knobs provide comfort, smooth operation with safety while switching on the stove. They ensure precision flame control, safety and smooth functioning during day to day usage.
360 degree Swivel inlet & Safety certification
The gas stove is equipped with a 360 degree revolving gas inlet on the back right side of the stove, making it convenient to direct the inlet toward the pipe connecting the LPG avoiding extreme wear and tear of the pipe.
This also helps movement of gas stove without twisting the pipes.
Solimo 3 Burner Gas Stove is ISI Certified, which assures quality and authenticity.
Manufacturer provides a 1-year manufacturer warranty on their gas stove.
Note – This gas stove do not have Auto-ignition.
Rank 8) Sunflame GT Pride Glass Top Gas Stove, 3 Burner Gas Stove, Black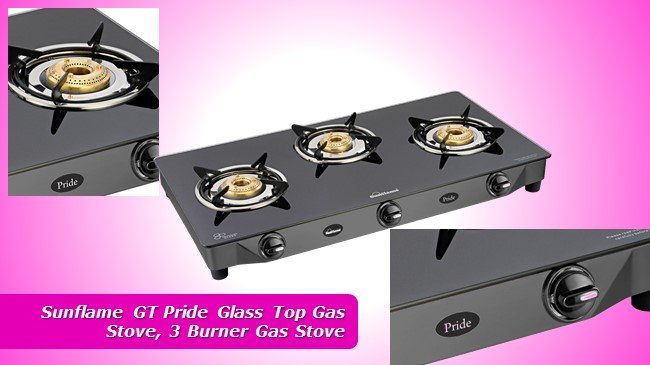 Product MRP 7,095 Rs
4 STAR rating with over 332 Customer reviews which is good thing
Many times online offers are available for this product as low as 3,799 Rs – Check latest price on Amazon here
Sunflame brand is present in Indian kitchen industry since last 30 years or so.
They have sustained due to introduction of new technology and constantly endeavored to provide a luxurious and pleasurable kitchen experience.
I think such long relation is possible only when the company has pursuit of the true understanding of customer's needs and necessities have made us constantly innovative. Always exploring the possibility of new designs, technologies, features, and innovations with great stress on R&D.
Sunflame has established its leadership in creating better products for its consumers with vast network of dealers and service centers across the country ensures unfailing service and support for ultimate satisfaction.
Sunflame's kitchen products like gas tops are highly efficient cooking with a hassle-free life, making it a most trusted and loved householder brand in the country making it clearly the clear choice for its customers.
Their products are stylish, elegant sturdy and efficient with comfort and convenience, keeping your kitchen ahead of the times
Lets have a look at salient features of this Glass Top Gas Stove
Powder coated steel metal base
The Powder coated Steel Metal Base ensures high quality aesthetic finish with scratch resistance, without wearing, fading and chipping.
Good manufacturing makes the Sunflame cooktop tougher and sturdy to last for years without any fear of wear and tear.
High efficiency brass burners
The overall life of the burners are increased for years due to its durable and corrosion resistant nature.
Burner design helps cooking quicker and its uniform distribution of heat making the meals more tasty in no time.
Ergonomic Knob Design
Ergonomic and safe-handling knobs are located so as to have easy and quick access for daily operations. The smooth and sturdy grip makes it easy for senior citizens to operate with fingers.
These knobs are 360 degree rotating type with a fine smooth finish.
Note – This gas stove do not have Auto-ignition.
---
And once you decide upon which gas stove to buy, then final thing is also to buy the accessories which will make the gas stove fully functional. Like Gas hose pipe to connect the gas stove to LPG cylinder and a trolley to keep gas cylinder (if you have piped connection then forget about trolley)
OLRADA Reinforced LPG Gas Hose Pipe,ISI Marked 2 Meter Pipe with clamp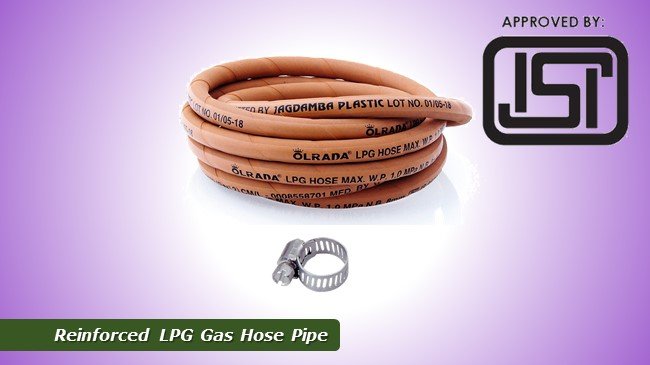 Product MRP 499 Rs
4 STAR rating with over 56 Customer reviews which is good thing
Many times online offers are available for this product as low as 350 Rs – Check latest price on Amazon here
Hazel Gas Cylinder Trolley With Rollers , Stainless Steel, Silver
Product MRP 500 Rs
4 STAR rating with over 215 Customer reviews which is good thing
Many times online offers are available for this product as low as 350 Rs – Check latest price on Amazon here