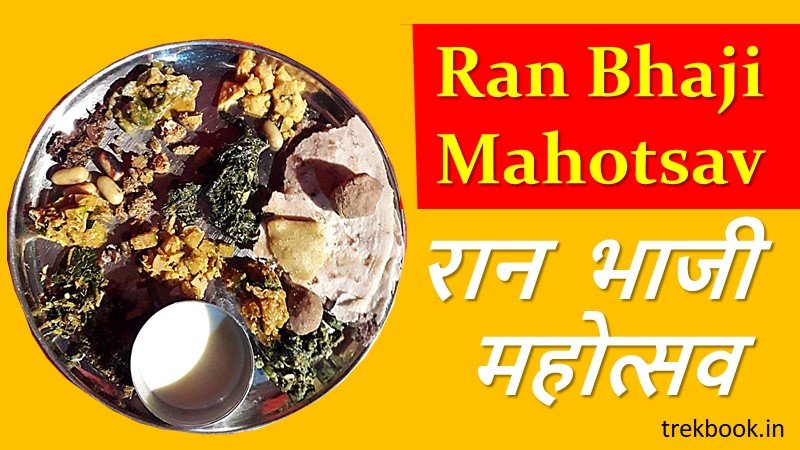 Wild Vegetables Festival / Forest food festival / Ranbhaji Mahotsav 2021
—— रानभाजी महोत्सव 2021 —— 
tentative due to Covid19
खेड तालुक्याच्या पश्चिम पट्यातील डेहणे येथे जागतिक आदिवासी दिनानिमित्त 9 ऑगस्ट रोजी रानभाज्या महोत्सव आयोजित करण्यात येणार होता.
रानभाज्या महोत्सव आयोजित करून प्रामुख्याने आदिवासी भागातील नागरिकांना बाजारपोठ उपलब्ध करून देण्याबरोबच त्यांना रोजगार उपलब्ध करून देता येईल, हा त्या मागचा उद्देश होता.
मात्र कोरोनाच्या पार्श्वभूमीवर रानभाज्या परिपक्व न झाल्याने सद्यस्थितीत रानभाज्या महोत्सव घेणे शक्य नसल्याचे कृषी विभागाकडून स्पष्ट करण्यात आले आहे.
Preserve the wild vegetables of Maharashtra villages, tasty & nutritious. preserve own food culture.
This is a kind of Food festival which supports attempts to preserve our own culture. Vegetables which are easily available around villages in Maharashtra.
These vegetables are not only tasty but nutritious too.
📅 WHEN ?
Sunday xx September 2021 (final date yet to be declared due to Covid-19 pandemic situation)
10:00 AM Onwards Sharp, Followed by Wild Lunch
📌 WHERE ?
Smt. H.M.Nanavati English High School Dixit Cross Road No. 1,
Vile Parle (E) Mumbai 400 057.
Google Map Location:
https://goo.gl/maps/o3EgrC5v2Z2maUyD7
💰 COST ?
₹ 900 / Person
1 Kid Free Entry (below 8 years) With each Registration
Includes WILD LUNCH
📞 CONTACT
7208002008, 9116666066, 9967339413
Email: ooofarms@gmail.com
Ranbhaji Mahotsav 2021 highlights
➠ Enjoy Nutritious LUNCH & Taste The #Mountain #Cuisine Cooked by Expert #Jungle Chefs from Sahyadris.
➠ Great Opportunity to taste 40 Wild Edible Vegetables straight from the Jungles
➠ 8 Special Recipes Of Mahuva Flower ( Kalpavruksha of #Tribals)
Your Yummy Lunch also Consists of
➠ Millet Papadams,
➠ 2 Wild Edible Vegetables
➠ #Niger Seed Chutney (खुरासणी)
➠ 2 Varities of Mountain Lentil Curry
➠ 2 Varieties of Indigenous Aromatic Rice Grown on Sahyadris #Ambemohar & Sahyadri Black
➠ Finger Millet Rotis & Rice Rotis
➠ Wild Tea made from Herbs found inside Sahyadris
➠ Aambil – Energy Booster Mountain Malt
➠ #Mahuva Salad
➠ Sweets from Mahuva
Along with it
➠ Market of More then 40 Different Wild Vegetables and Various grains grown inside #Sahyadris Available to buy along with it's Recipies
➠ Presentation On Wild Vegetables, #Millets, #BioDiversity & Traditional Art
➠ Expert Speakers
➠ Art Show #Warli & #Tarpa
➠ Recipes Of Wild vegetables
➠ Showcase of Diverse Native Seeds & 125 Wild Edible plant diversity
➠ This WILD FOOD FESTIVAL is For Everyone irrespective of All Age groups
The Focus of this Wild Food Festival is not just to eat Lunch or Showcase a Market for Wild Produce from jungles, but also to throw light and Direction towards Food Security, Nutrition Security of our Country . It is a Step to Avoid India from going Protien/Nutrition Deficient.
Here are some of the names of these ran bhaji –
Kakadi Chi Pisoli
Kanthi Avala
Kombla
Ratale
Umber Bhaji
Green Papaya
Shevga leaf
Kusra chi Bhaji
Bhoplya che Bhoke
Kombdya chi Bhaji
Kathe Math
Karat Kanguni
Ran Keli – Wild Banana
Chichardi
Kurdu
Chavet